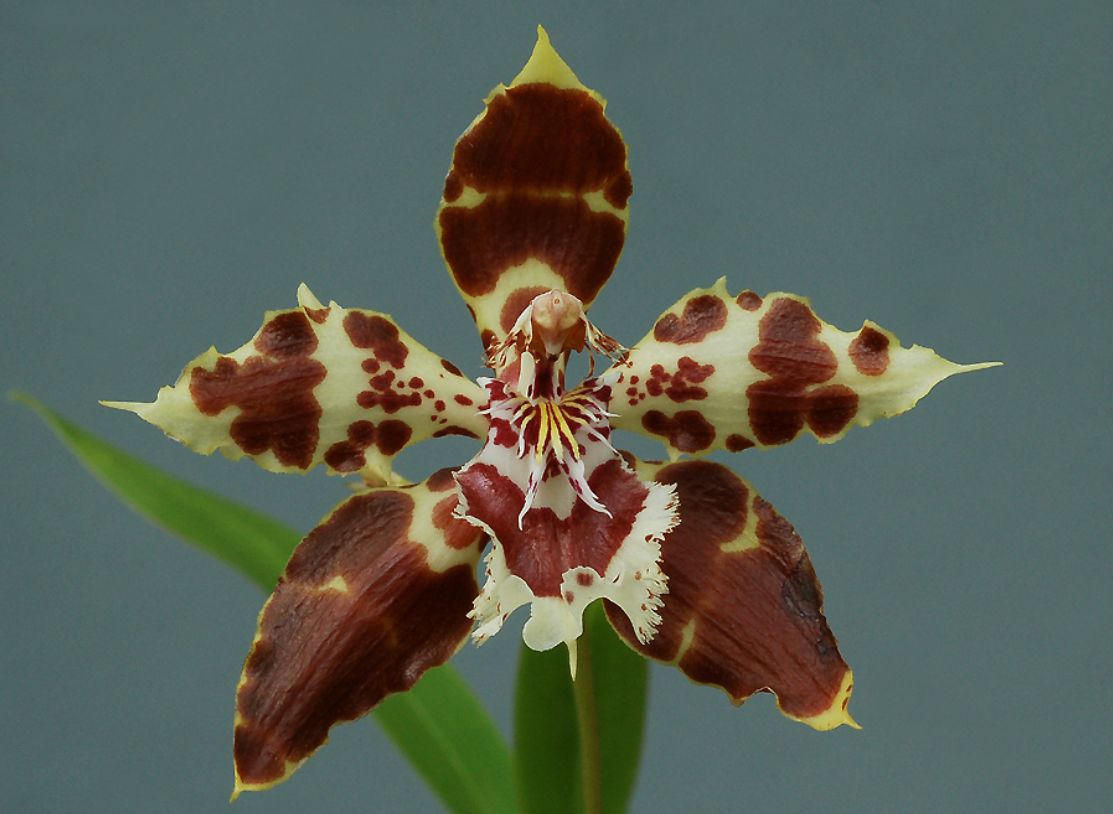 Odontoglossum luteopurpureum Lindl. 1846 SUBGENUS Odontoglossum Photo by © Pieter C. Brouwer and his Nature Photo Website
Inflorescence Photos by © Jay Pfahl
FAINT



to



Common Name or Meaning The Yellow-Purple Odontoglossum
Flower Size 3 to 4" [7.5 to 10 cm]
Found in Andean Colombia at elevations of 2000 to 3000 meters in wet, cold cloud forests as a large sized, cold growing epiphyte with robust, oval, compressed pseduobulbs enveloped basally by 2 to 3 basal leaf bearing sheaths and carrying 2 apical, rather rigid, ensiform, acute to acuminate leaves that blooms in the spring and summer on an erect to lateral, many flowered, to 3 1/2' [105 cm] long, racemose inflorescence arising from the leaf sheaths of a mature pseudobulb and carrying up to 12, large, waxy, faintly fragrant, highly color-variable flowers.
Synonyms Odontoglossum hystrix Bateman 1864; Odontoglossum radiatum Rchb.f. 1865; Oncidium luteopurpureum (Lindl.) Beer 1854
References W3 Tropicos, Kew Monocot list , IPNI ; Die Orchideen Schlechter 1915; Atlas des Orchidees Cultivees Constantin 1920 as O radiosum drawing good; Atlas des Orchidees Cultivees Constantin 1920 drawing good; Encyclopedia of Cultivated Orchids Hawkes 1965; Orquideologia Vol 12 No 3/4 1977/8; AOS Bulletin Vol 65 No 11 1996 photo; Orchid Species Culture: Oncidium Bakers 2006; Native Colombian Orchids Vol 3 COS 1991 photo fide; Encyclopedia of Cultivated Orchdis Hawkes 1987; Manual of Orchids Stewart 1995; Rudolf Schlechter Die Orchideen Lieferung 33-6 1997 photo fide; Botanica's Orchids Laurel Glen 2002; Manual of Cultivated Orchids Bechtel, Cribb and Laurent 1992; The Illustrated Encyclopedia of Orchids Pridgeon 1992; AOS Bulletin Vol 77 No 11 2008 photo; Libro Rojo de Plantas De Colombia Vol 6 Primera Parte Saenz 2007; AOS Bulletin Vol 77 No 12 2008 photo

Odontoglossum luteopurpureum Lindl. 1846 var aureum

Photo courtesy of Jay Pfahl
A yellow color form of the previous species.
--------------------------------------------------------------------------------------------------------------------------