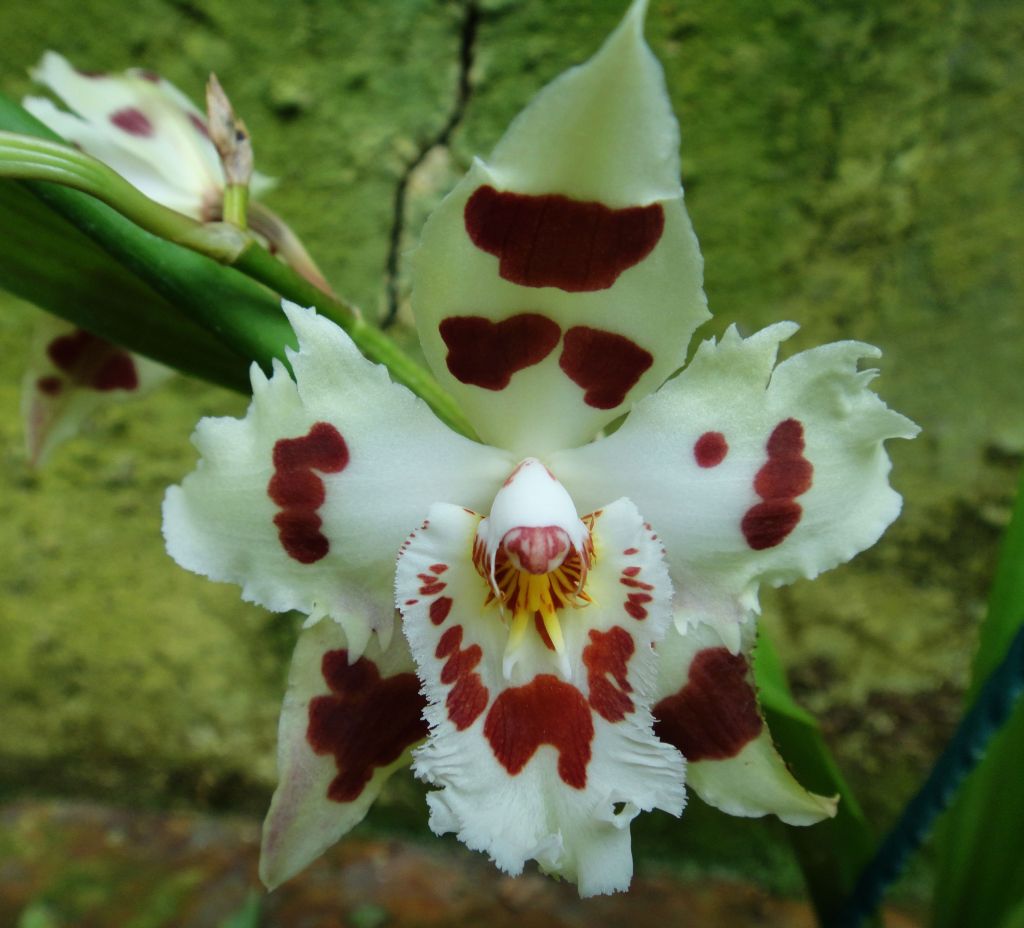 Odontoglossum crispum Lindley 1845 SUBGENUS Odontoglossum
This is the closeup lip detail of Odontoglossum crispum var pacho
Odontoglossum crispum var. fusagasuga
Odontoglossum crispum var. veliz
Odontoglossum crispum var. veliz Lip detail with anther cap removed by insect Photos by © Jay Pfahl
O crispum var alba Photo by © Eric Hunt and his Orchid Species Photo Website
Odontoglossum crispum var. xnthotes
Odontoglossum crispum var. lehmannii Rchb.f. 1880 Photos y © Steve Gettel



MOSTLY

Common Name The Curled Odontoglossum
Flower Size 3" to 4" [7.5 to 10 cm]
A medium sized, cold growing epiphytic species from Colombia, found at altitudes of 2000 to 3000 meters in the western slopes of the Cordillera Oriental with broadly ovoid or oblong-ovoid, ancipitous pseudobulbs carrying 2 apical, suberect, linear-lanceolate, acute, narrowing below into a long, narrow, conduplicate, petiole-like base leaves and has a varied blooming season, but most often in winter, with fragrant, variable in color and size flowers on an axillary, to 1 1/2' [45 cm] long, many [8 to 20] flowered inflorescence with a racememe at the upper third with a few short basal branches that comes from the side of the newest forming pseudobulb.
These orchids require cool, well watered, humid conditions, with medium to heavy shade to thrive and after growth has slowed in the fall they need a slight lessening of water and fertilizer.
This species is used often in improving odontoglossum hybridizing.
Synonyms Odontoglossum alexandrae Bateman 1864; Odontoglossum alexandrae var. cooksonii B.S.Williams & T.Moore 1884; Odontoglossum alexandrae var. flaveolum (Rchb.f.) B.S.Williams & T.Moore 1883; Odontoglossum alexandrae var. outramii B.S.Williams 1891; Odontoglossum alexandrae var. stevensii B.S.Williams & T.Moore 188l; Odontoglossum alexandrae var. trianae Hook.f. 1868; Odontoglossum alexandrae var. wilsonii B.S.Williams 1891; Odontoglossum bluntii Rchb.f. 1864; Odontoglossum crispum f. hyperxanthum (Rchb.f.) Christenson 2007; Odontoglossum crispum var. bluntii (Rchb.f.) Stein 1892; Odontoglossum crispum var. chestertonii A.H.Kent 1887; Odontoglossum crispum var. flaveolum Rchb.f., 1880; Odontoglossum crispum var. hyperxanthum Rchb.f. 1887; Odontoglossum crispum var. latranum Bosschere 1895; Odontoglossum crispum var. lehmannii Rchb.f. 1880; Odontoglossum crispum var. lyntanthum F.Lehm. 1899; Odontoglossum crispum var. plumatum B.S.Williams 1891; Odontoglossum crispum var. reginae F.A.Philbrick 1887; Odontoglossum crispum var. trianae (Hook.f.) L.Linden & Rodigas 1887; Odontoglossum crispum var. wolstenholmiae Rchb.f. 1887; Odontoglossum crispum var. wrigleyanum B.S.Williams 1897; Odontoglossum edithiae Warn. 1864; Odontoglossum latimaculatum L. Linden 1888; Odontoglossum reichenbachianum F.Lehm 1883; Odontoglossum sanderianum Rchb.f 1881; Odontoglossum warocqueanum Linden & Linden 1888; Oncidium alexandre [Bateman] Chase & Wms. 2008;
References W3 Tropicos, Kew Monocot list , IPNI ; Die Orchideen Schlechter 1915 photo fide; Die Orchideen Schlechter 1915 as O crispum var solum; Atlas des Orchidees Cultivees Constantin 1920 drawing good; Beitrage Zur Orchideenkunde Von Colombia 27:106 Schlechter 1924; AOS Bulletin Vol 26 No 10 1957 photo fide; AOS Bulletin Vol 27 No 5 1958 drawing good; AOS Bulletin Vol 31 No 9 1962 photo fide; Encyclopedia of Cultivated Orchids Hawkes 1965; AOS Bulletin Vol 36 #4 1967 photo fide; AOS Bulletin Vol 49 #7 1980 photo fide; Orquideologia Vol 15 #1 Luer & Escobar 1981; AOS Bulletin Vol 52 No 11 1983 drawing fide; AOS Bulletin Vol 56 No 2 1987 photo fide; Native Colombian Orchids Vol 3 COS 1991 photo fide; The Manual Of Cultivated Orchid Species Bechtel, Cribb & Launert 1992 photo fide; Orchid Digest Vol 58 No 3 1994 drawings fide; AOS Bulletin Vol 65 No 9 1996 photo fide; Orchid Digest Vol 61 #1 1997 photo fide; Rudolf Schlechter Die Orchideen Band 1C lieferung 33 - 36 2057 - 2308 Brieger 1997; Orchid Digest Vol 64 #1 2000 drawing fide; Orchid Digest Vol 65 #1 2001 drawings/photos fide; Orquideologia Vol. 23 No 2 2004 photo fide; AOS Bulletin Vol 73 No 7 2004 drawing fide; AOS Bulletin Vol 75 No 11 2006 drawing fide; Orquideologia Vol 24 #2 2006 photo fide; Orchid Species Culture: Oncidium, Bakers 2006; Orquideologia Vol 25 #1 2007 as O crispum var xanthotes photo fide; Libro Rojo de Plantas De Colombia Vol 6 Primera Parte Saenz 2007 photo fide; AOS Bulletin Vol 77 No 12 2008 as Oncidium alexandrae; Orquideologia Vol 25 #2 2008 as O crisp[um var pacho photo fide; Orquideologia Vol 26 No 1 2009 photo fide; Orquideologia Vol 26 No 1 2009 as O crispum var xanthotesphoto fide; Orquideología Vol 26 #2 2009 photo fide; Orquideologia Vol 27 #1 2010 as O crispum var xanthotes photo fide; Orchid Digest Vol 75 #4 2011 photo fide; Orquideologia Vol 28 #2 2011 photo fide; AOS Bulletin Vol 88 #5 2019 as Oncidium alexandre photo fide; Orchideen Series C Band 74 Thiv & Worz 2012 photo fide; AOS Bulletin Vol 85 #10 2016 as Oncidium alexandre drawing fide; Orchid Digest Vol 81 #2 2017 as Oncidium alexandre photo fide;
--------------------------------------------------------------------------------------------------------------------------
------------------------------------------------------------------------------------------------------------------------------------------