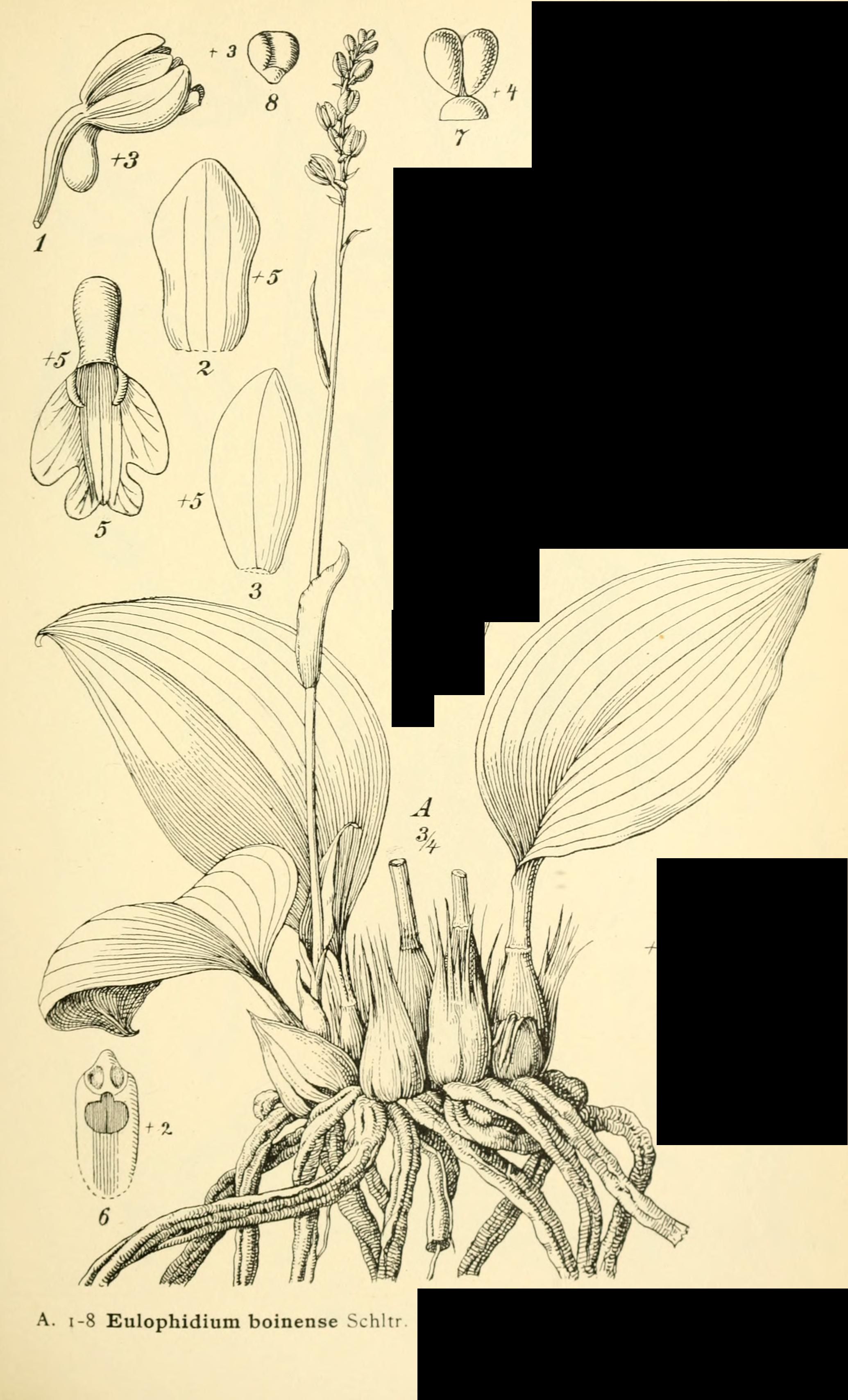 Oeceoclades boinensis (Schltr.) Garay & P.Taylor 1976 Photo by © Lourens Grobler.
TYPE Drawing TYPE Drawing by © Schlechter.



Common Name The Snake-Like Oeceoclades [The Boine snake group - refers tothe idea that the leaf varigation is similar to the snake]
Flower Size 1" [2.5 cm]
Found in northwestern Madagascar in humid forests at elevations around 100 meters as a medium sized, warm growing terrestrial with ovoid, slightly compressed, pseudopbulbs carrying a single, apical, thick, coriaceous, flat, auriculate towards the base, elliptical, equally attenuate at both ends, very shortly petiolate base leaf that blooms in the summer on an erect, to 16" [40 cm] long, 6 to 10 flowered inflorescence arising from the base of the previously developed pseudobulb with several distant sheaths and lanceolate, almost equal to the pedicel floral bracts.
CAUTION!!!!!I am fairly sure that the photo is actually of O antysingyensis, the real O boinensis is yellow flowered with red veins radiating on the side lobes and down the midlobe. The type drawing by Schlechter is absolutely correct.
Synonyms *Eulophidium boinense Schltr. 1913; Lissochilus boinensis (Schltr.) H.Perrier 1941
References W3 Tropicos Kew Monocot list , IPNI ; Flora of Madagascar Perrier 1939 as Lissochilus/Eulophidium ambongense; Orchids of Madagascar Hermans, DuPuy, Cribb & Bosser 2007; Orchids of Madagascar Hermans 2007 photo fide; Field Guide to the Orchids of Madagascar Cribb & Herman 2009 photo
--------------------------------------------------------------------------------------------------------------------------