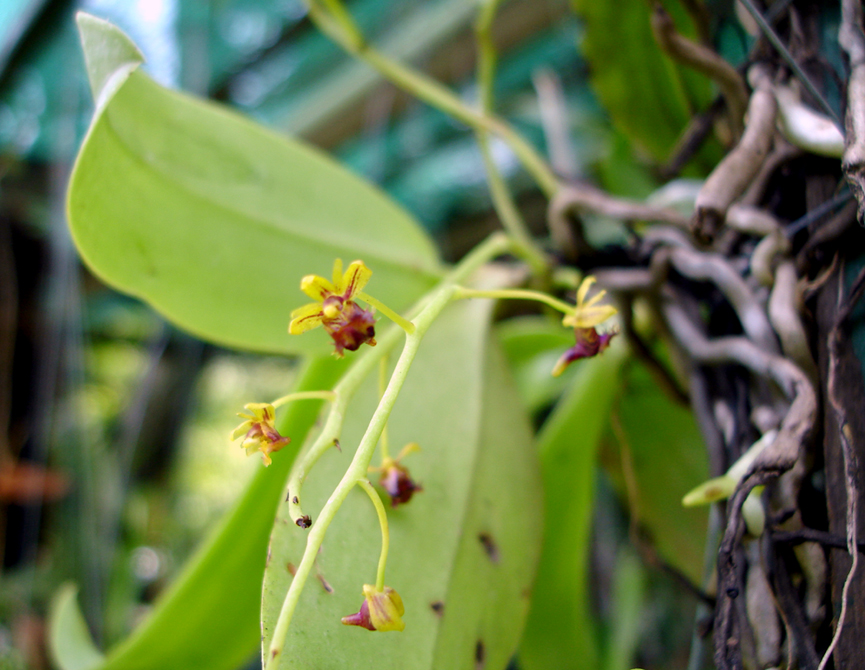 Phalaenopsis difformis (Wall. ex Lindl.) Kocyan & Schuit. 2014 SUBGENUS Ornithochilus (Lindl.) Kocyan & Schuiteman 2014
Photo by Beau Tun.
Photos by Dale and Deni Borders.
Flower and plant in situ Thailand
Photo by David Kuehn.
Photo by Lourens Grobler


to


and EARLY

Common Name The Dark Brown Phalaenopsis - In China Yu Chun Lan
Flower Size .32 to .6" [8 to 1.5 mm]
Found in the Assam India, eastern Himalayas, Nepal, western Himalayas, Myanmar, Thailand, Malayasia, Laos, central and southern China, Vietnam, Borneo and Sumatra in montane forests and humid, mossy, mixed and coniferous forests on mossy branches of old gnarled trees from 300 to 2100 meters in elevation as a small sized, hot to cool growing epiphytic monopodial orchid with a short stem carrying 5, obliquely lanceolate to oblong, acuminate, fleshy leaves that blooms in the spring and early summer and again in the winter on an axillary, terete, arching to pendulous, basally 1 to 2 branching, to 1 1/2' [to 45 cm] long, successively many flowered inflorescence that is as long or longer than the leaves.
Synonyms Aerides difforme Wall ex Lindley 1833; Aerides hystrix Lindley 1833; Ornithochilus delavayi Finet 1896; Ornithochilus difformis [Wall ex Lindley]Schlechter 1919; Ornithochilus eublepharum Hanc 1884; Ornithochilus fuscus Wallis ex Lindl. 1833; Phalaenopsis difformis var. kinabaluensis (J.J.Wood, A.L.Lamb & Shim) Kocyan & Schuit. 2014; Sarcochilus difformis [Lindley] Tang & Wang 1951; Trichoglottis diformis [Lindley] Ban & Huyen 1984; Vanda doritoides Guillaumin 1930
References W3 Tropicos, Kew Monocot list , IPNI ; The Orchids of Burma Grant 1895/95; The Orchids of Sikkim-Himalaya Part 1 King & Pantling 1898 drawing fide; The Orchids of North-Western Himalaya Vol IX Part II Duthie 1906; Die Orchideen Schlechter 1915; The Orchids of Thailand Seidenfaden & Smitinand 1963 or Ornithochilus fuscus drawing/photo fide; The Orchids of Thailand Seidenfaden & Smitinand 1965 corrections as Ornithochilus fuscus; Encyclopedia of Cultivated Orchids Hawkes 1965; AOS Bulletin Vol 47 No 6 1978 as Ornithochilus fuscus photo fide; AOS Bulletin Vol 56 No 6 1987 as Ornithochilu difformis photo fide; Opera Botanica # 95 Seidenfaden 1988 as Ornithochilus difformis drawing/photo fide; Opera Botanica # 95 Seidenfaden 1988 as Ornothochilus delavayi drawing fide; Rudolf Schlechter Die Orchideen Band 1B lieferung 22 1329 - 1392 Brieger 1989 as O difformis drawing/photo fide; Rudolf Schlechter Die Orchideen Band 1B lieferung 22 1329 - 1392 Brieger 1989 as O rnithochilus delavayi; Orchids Travel By Air A Pictoral Safari Mulder, Mulder-Roelfsema and Schuiteman 1990 as Ornithochilus difformis photo fide; Orchids of Kumaun Himalayas Pangtey, Samant and Rawat 1991 as O difformis; The Orchids of Penninsular Malaysia and Singapore Wood & Seidenfaden 1992 as O difformis drawing/photo fide; Thai Orchid Species Rakpaibulsombat 1992 photo fide; The Manual Of Cultivated Orchid Species Bechtel, Cribb & Launert 1992; The Plants of Mount Kinabalu Vol 2 Orchids Beaman, Wood, Beaman & Beaman 1993 as O difformis photo fide; Orchids of Borneo Vol 1 Chan, Shim, Lamb & Wood 1994 as O difformis drawing/photo fide; A Checklist of the Orchids of Borneo Wood & Cribb 1994 as O diffornmis; Identification of the Orchids [Orchidaceae Juss.] Vietnam Averyanov 1994 as Ornithochilus difformis; Identification of the Orchids [Orchidaceae Juss.] Vietnam Averyanov 1994 as Ornithochilus delavayi; The Wild Orchids of China Tsi, Chen & Mori 1997; Native Orchids of China in Colour Singchi, Zhanhuo and Yibo 1999 photo fide as O difformis; Lindleyana Vol 15 No 4 2000 as O difformis; Orchids of Sumatra Comber 2001; Rudolf Schlechter Die Orchideen Band 1C lieferung 42 - 43 pg 2626 - 2762 Brieger 2001 as Trichoglottis difformis; ; A field Guide to the Wild Orchids of Thailand Vaddhanaphuti 2001 as O difformisphoto fide; Orchids of Bhutan Pearce & Cribb 2002; A field Guide to the Wild Orchids of Thailand Vaddhanaphuti 2005 as O difformisphoto good; Orchids of India A Glimpse Misra 2007 ok; Orchids of India A Glimpse Misra 2007 as O difformis; Wild Orchids of The Cameron Highlands REACH 2009 photo ok; A Field Guide to the Orchids of China Singchi, Zhongjian, Yibo, Xiaohua and Zhanhuo 2009 as O difformis photo fide; Flora of China Vol 25 Zhengyi, Raven & Deyuan 2009 as O difformis; Flora of China Vol 25 Illustrations Zhengyi, Raven & Deyuan 2010 as O difformis drawing fide; The Wild Orchids in Yunnan Xu Xiang Ye & Liu 2010 as O difformis photos fide; The Orchids of Mount Kinabalu Vol 2 Wood, Beaman, Lamb, Chu Lun and Beaman 2011; Wild Orchids of Penninsular Malaysia Ong, O'Byrne, Yong & Saw 2011 as O difformis photo fide; A to Z of South East Asian Orchid Species Vol 2 O'Byrne 2011 photo fide; Turczaninowia 16(4):26-46 NEW AND RARE ORCHIDS (ORCHIDACEAE) IN THE FLORA OF CAMBODIA AND LAOS Averyanov 2013 as O difformis; LANKESTERIANA 15(1): 7—50. Jeewan Singh Jalal & J. Jayanthi 2015; Orchid Digest Vol 83 #4 2019 Photo fide; Orchid Digest Vol 83 #4 2019 as P difformis var kinabaluensis Photo fide; Atlas of Native Orchids of China Vol 2 Jin Xiaohua, Li Jianwu and Ye Deping 2019 photo fide;
----------------------------------------------------------------------------------------------------------
-------------------------------------------------------------------------------------------------------------------------