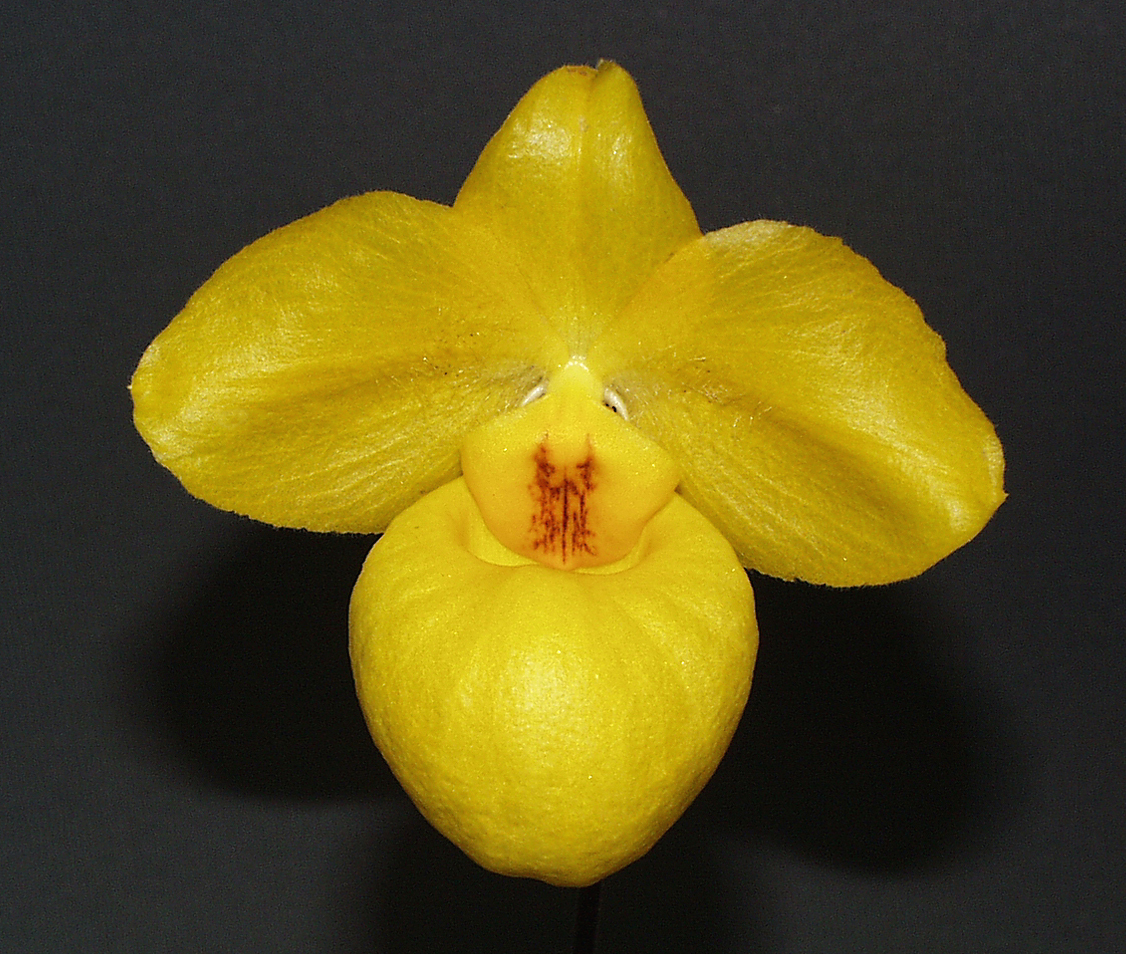 Paphiopedilum armeniacum S.C. Chen & F.Y. Liu 1982 SUBGENUS Parvisepalum Photo by © Elite Orchids Website
P armeniacum fma markii Photo by © Lourens Grobler
Plant and Flower Photo by Yassir Islam and Argus Orchids
Flower Closeup Photo courtesy of Andy's Orchids Copyright © 2002 All rights reserved.
Plant and Flower in situ Yunnan China Photo by Holger Perner


to


and EARLY

Common Name The Apricot Orange Paphiopedilum - In China Xing Huang Dou Lan
Flower Size 3" [7.5 cm]
Text by Yassir Islam
Arguably the most striking of the parvisepalums, Paph.armeniacum has garnered almost 100 AOS awards since its introduction in the US more than a decade ago. Even so, its popularity remains undiminished. With its large golden yellow flowers and amazing pouch, it is easy to see why.
This is a small, warm to cool growing, terrestrial species found on limestone cliffsides in humus with semi shade, they have distichous, 5 to 7 oblong, obtuse to acute, apically serrulate, dark and lighter green mottled leaves and purple spots beneath found in Yunnan provine of China at altitudes up to 2000 meters that has an erect, 10" [25 cm] long, green, pubescent, and spotted purple inflorescence with lanceolate-ovate, acute floral bracts that gives rise to a single, thin textured flower in the winter and early spring that is held above the leaves and was discovered only in 1982. Paph armeniacum blooms on a terminal, erect, single flowered inflorescence with a lanceolate-ovate bract in spring and summer on a compact plant, which is often dwarfed by the size of the flower.
The plant pictured is blooming in a 3" pot! This speecies can be grown in a hanging basket so as to accomodate the well spaced growths.
Synonyms Paphiopedilum armeniacum f. markii (O.Gruss) Braem in G.J.Braem, C.O.Baker & M.L.Baker 1998; Paphiopedilum armeniacum var. markii O.Gruss 1997; Paphiopedilum armeniacum var. mark-fun Fowlie 1987; Paphiopedilum armeniacum var. parviflorum Z.J.Liu & J.Yong Zhang 2001; Paphiopedilum armeniacum var. undulatum Z.J.Liu & J.Yong Zhang 2001
References W3 Tropicos, Kew Monocot list IPNI ; Orchid Digest Vol 48 No 3 1984 drawing/photo fide; AOS Bulletin Vol 55 No 7 1986 photo; Orchid Digest Vol 51 No 2 1987 photo fide; Orchid Digest 51 Vol 4 1987 photo fide; AOS Bulletin Vol 56 No 7 1987 PHOTO; Schlechteriana Vol 2 No 2 1991 photo fide; Orchid DIgest Vol 56 No 1 1992 photo fide; AOS Bulletin Vol 61 No 9 1992 photo; The Manual Of Cultivated Orchid Species Bechtel, Cribb & Launert 1992 photo fide; AOS Bulletin Vol 64 No 7 1995 photo; Orchid Digest Vol 59 No 3 1995 photo fide; AOS Bulletin Vol 64 No 10 1995 photo; Wild Orchids of China Tsi, Chen Mori 1997; Orchid Digest Vol 62 #1 1998 photo fide; AOS Bulletin Vol 67 No 9 1998 photo; AOS Bulletin Vol 68 No 1 1999 photo; AOS Bulletin Vol 68 No 4 1999 photo; Orchid Digest Vol 63 #1 1999 photo fide; Native Orchids of China in Colour Singchi, Zhanhuo and Yibo 1999 photo fide; The Genus Paphiopedilum Vol 1 & 2 Braem 1999; Rudolf Schlechter Die Orchideen Band 1C lieferung 40 pg 2492 - 2564 Brieger 2000 ; AOS Bulletin Vol 69 No 3 2000; Orchids Australia Vol 12 No 6 2000 photo; Australian Orchid Review Vol 65 No 6 2000 photo; AOS Bulletin Vol 70 No 9 2001 photo; AOS Bulletin Vol 75 No 10 2006 photo; AOS Bulletin Vol 10 2008 photo; Native Orchids From Gaoligongshan Mountains, China Xiaohua, Xiaodong and Xiaochun 2009 photo fide; A Field Guide to the Orchids of China Singchi, Zhongjian, Yibo, Xiaohua and Zhanhuo 2009 photo fide; Flora of China Vol 25 Zhengyi, Raven & Deyuan 2009; Flora of China Vol 25 Illustrations Zhengyi, Raven & Deyuan 2010 drawing fide; The Wild Orchids in Yunnan Xu Xiang Ye & Liu 2010 photos fide; Orchid Digest Vol 76 #4 2012 photo fide; Orchid Digest Vol 77 #1 2013 photo fide; Orchid Digest Vol 82 #1 2018 photo fide; AOS Bulletin Vol 88 #7 2019 photo fide;
--------------------------------------------------------------------------------------------------------------------------
---------------------------------------------------------------------------------------------------