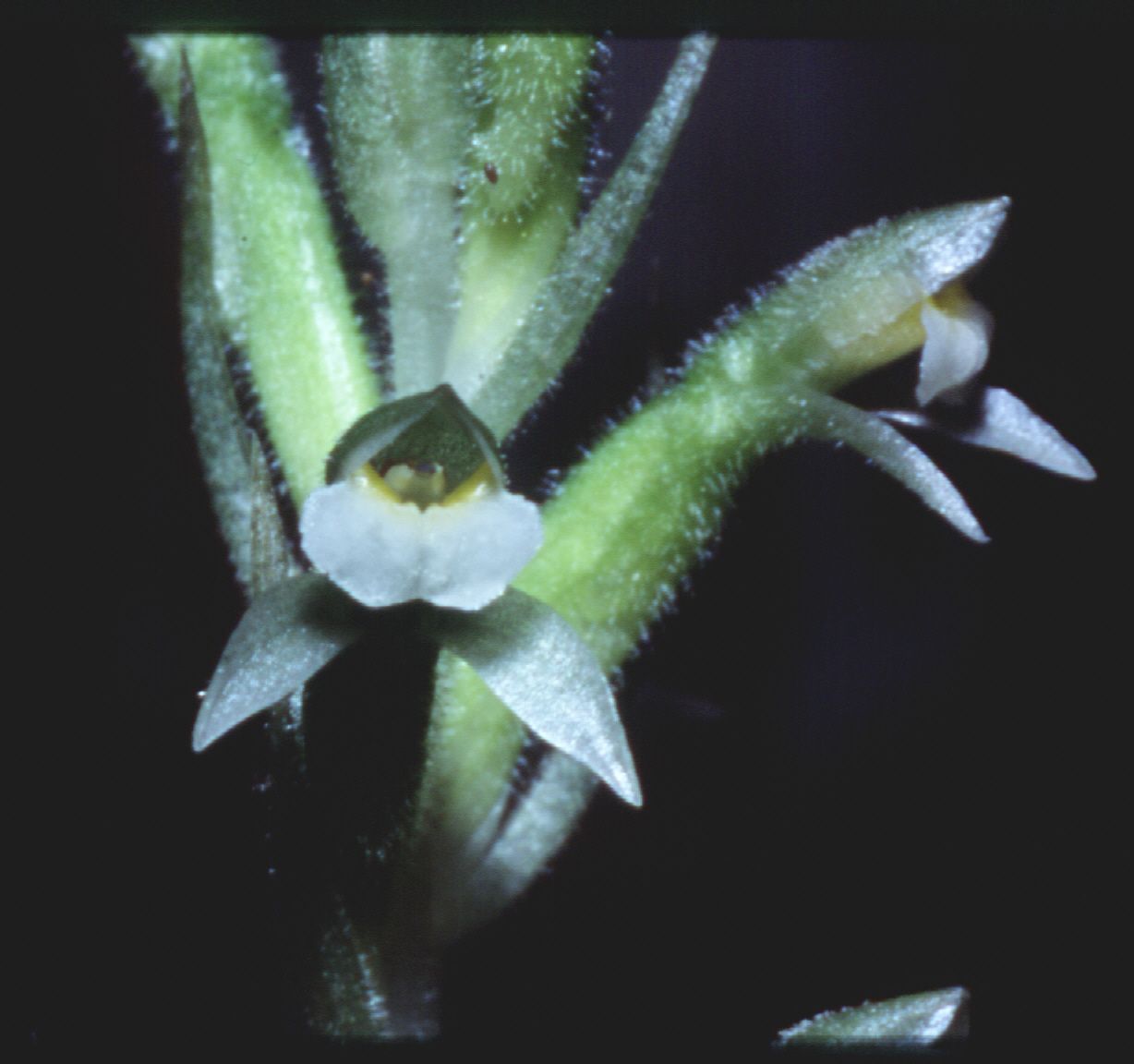 !Pelexia adnata (Sw.) Poit. ex Rich 1818
Photos by © Mark Larocque
Photos by © Julio Larramendi




Common Name The Grown Upon Pelexia
Flower Size .18" [4 mm]
Found in Florida, Mexico, Guatemala, Belize, Bahamas, Cuba, Dominican Republic, Haiti, Puerto Rico, Windwards, Jamaica, Cayman Islands, Venezuela and Colombia in deep forests in shade at elevation of 400 to 700 meters as a small to large sized, hot to warm growing terrestrial with a few narrowly ovate, to elliptic-oblong, acute, 5 nerved, basally rounded, long petiolate leaves that blooms in the spring on an erect, robust, glabrous, puberulous, 3' + [100 cm] long, many flowered inflorescence.
Synonyms Adnula petiolaris Raf. 1837; Collea adnata (Sw.) Lindl. 1823; Neottia adnaria Raf. 1837; Neottia adnata (Sw.) Sw. 1806; Pelexia spiranthoides Lindl. 1826; Pelexia stenorrhynchoides Griseb. 1866; *Satyrium adnatum Sw. 1788; Spiranthes adnata (Sw.) León 1946; Spiranthes stenorrhynchoides (Griseb.) León 1946
References W3 Tropicos, Kew Monocot list , IPNI ; Symbolae Antillanae Vol VI Orchidaceae Urban 1909; Flora of Jamaica Fawcett & Rendle 1910; Flore Descriptive des Antilles Francaises H. Stehle 1939; Flora de Venezuela Foldats Volumen XV Part 1 1969 as Spiranthes adnata drawing good; Flora of the Lesser Antilles Garay & Sweet 1974 drawing fide; Venezuelan Orchids Illustrated Vol 6 Dunsterville & Garay 1975 as Spiranthes adnata not = Pelexia leucosticta; AOS Bulletin Vol 61 # 10 1992 drawing fide; An Orchid Flora Of Puerto Rico and the Virgin Islands Ackerman 1995 drawing fide; Orquidaceae Antillanae Nir 2000; Rudolf Schlechter Die Orchideen Band 1C lieferung 41 pg 2565 - 2625 Brieger 2001; The Orchids of Cuba Llamacho & Larramendi 2005 photo ok?
---------------------------------------------------------