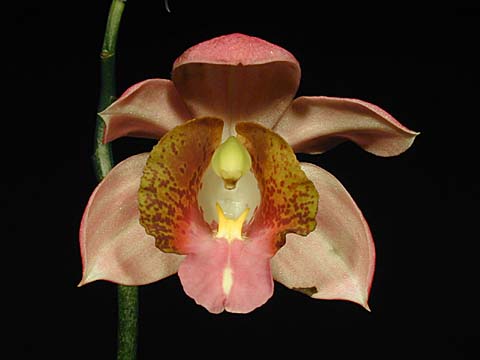 Phaius francoisii (Schltr.) Summerh. 1971 Photo courtesy of Andy's Orchids Copyright © 2002 All rights reserved.


LATE


Common Name Francois' Phaius [Frenchman in Madagascar 20th cen]
Flower Size 1 1/2" [3.75 cm]
A very handsome, medium to large sized, cool growing terrestrial orchid found in Madagascar at elevations of 1200 to 1600 meters in humid forests with absolutely beautiful flowers, dark-green, 12" foliage with very undulated edges, erect 2 ft. spike arising in the late spring and summer with stunning 1 1/2" flowers, sepals and petals are white inside and purple outside, the tri-lobed lip is violet rose and reddish brown on a golden background.
Synonyms *Gastrorchis francoisii Schltr. 1925
References W3 Tropicos, Kew Monocot list , IPNI ; Flora of Madagascar Perrier 1939/81 as *Gastrorchis francoisii drawing fide; Die Orchideen 3 Auflage Bd 1 Sonderabdruck aus Schlechter Lieferung 15 881 - 944 Brieger, Maatsch and Senghas 1984 as Gastrorchis francosii; An Introduction to the Angraecoid Orchids of Madagascar Hillerman & Holst 1986 drawing/photo fide; Orchid Digest Vol 71 No 1 2007 photo as Gastorchis francoisii; Orchids of Madagascar Hermans, Du Puy, Cribb & Bosser 2007 photo fide as Gastrorchis francoisii; Orchid Digest Vol 71 #1 2008 as Gastrorchis francoisii photo fide; Field Guide to the Orchids of Madagascar Cribb & Herman 2009 photo fide as Gastrorchis francoisii
--------------------------------------------------------------------------------------------------------------------------
------------------------------------------------------------------------------------------------------------------------------