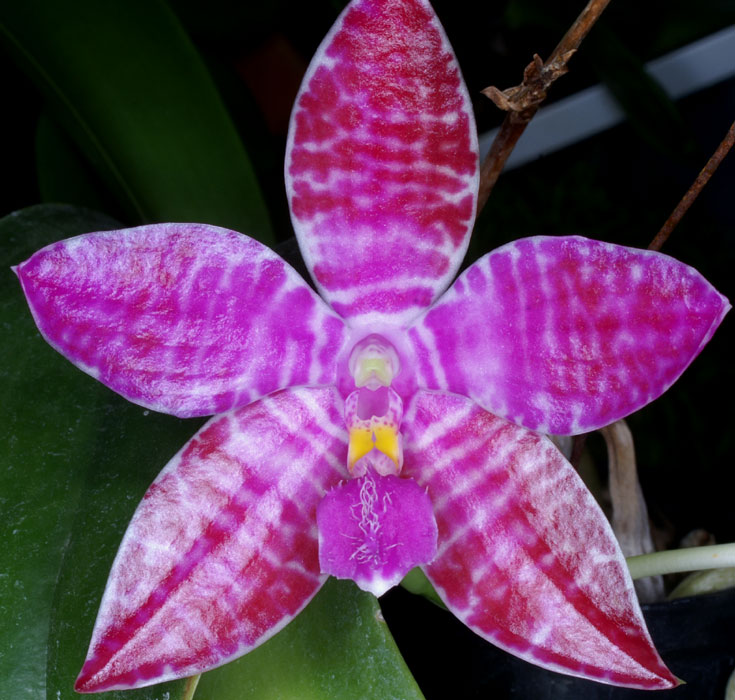 Phalaenopsis lueddemanniana Rchb.f 1865 SUBGENUS Polychilos SECTION Amboinenses Sweet 1968 Photo by © The Orchidees Du Nord Website
Another Flower Photo by David Janvrin.
Another Color Form Photo by Eric Hunt



to


to

Common Name Lueddemann's Phalaenopsis [French Orchid Grower 1800's]
Flower Size mostly less than 2" [5 to 6 cm]
This small to medium sized, hot growing, epiphytic species is found in the Philippines at elevations below 100 meters with an erect or ascending stem enveloped by imbricating leaf sheaths and carrying elliptic, obovate to oblong-elliptic, fleshy, acute or obtuse leaves and likes a hot environment with plenty of water year round and low levels of light. This species has 3 to 5, fragrant, longlasting, fleshy, waxy flowers and blooms in the spring through summer on a suberect, arcuate to pendant, to 12" [30 cm] long, thick, succulent, racemose or paniculate, many flowered inflorescence that is much longer than the leaves covered with small distichous, ovate-triangular bracts.
This orchid does well in a pot and has a habit of making keikis so it is best to leave green, viable inflorescence alone so they may bloom again.
Synonyms Phalaenopsis lueddemannii Náves 1880; Phalaenopsis lueddemanniana f. delicata (Rchb.f.) O.Gruss & M.Wolff 2007; Phalaenopsis lueddemanniana f. ochracea (Rchb.f.) O.Gruss & M.Wolff 2007; Phalaenopsis lueddemanniana subvar. delicata (Rchb.f.) A.H.Kent 1891; Phalaenopsis lueddemanniana subvar. ochracea (Rchb.f.) A.H.Kent 1891; Phalaenopsis lueddemanniana var. delicata Rchb.f. 1865; Phalaenopsis lueddemanniana var. ochrata Rchb.f. 1865; Phalaenopsis lueddemanniana var. ochracea Rchb.f. 1865; Phalaenopsis lueddemanniana var. palawensis Quisumb. 1953; Phalaenopsis ochracea [Rchb.f] Carriere ex Stein 1892; Polychilos lueddemanniana (Rchb. f.) Shim 1982
References W3 Tropicos, Kew Monocot list , IPNI ; Die Orchideen Schlechter 1915; AOS Bulletin Vol 29 No 7 1960; Encyclopedia of Cultivated Orchids Hawkes 1965; AOS Bulletin Vol 38 No 1 1969 drawing; AOS Bulletin Vol 38 No 1 1969 drawing as P lueddemannia var delicata; AOS Bulletin Vol 38 No1 1969 drawing as P lueddemanniana var ochracea; Orchid Digest Vol 37 No 1 1973 photo fide; Orchid Digest Vol 37 No 1 1973 as P lueddemannia var ochracea photo fide; Orchid Digest Vol 38 no 3 1974 photo fide; The Genus Phalaenopsis Sweet 1980 photo fide; The Genus Phalaenopsis Sweet 1980 as P leuddemania var delicata photo fide; The Genus Phalaenopsis Sweet 1980 as P lueddemania var ochracea photo fide; AOS Bulletin Vol 52 No 1 1983 photo; AOS Bulletin VOl 33 No 3 1964 photo; AOS Bulletin Vol 35 No 1 1966 photo/drawing; Orchid Digest Vol 45 No 3 1981 photo fide; AOS Bulletin Vol 50 No 9 1981 photo; The Complete Writings on Philippine Orchids Vol 1 Quisumbing 1981; The Complete Writings on Philippine Orchids Vol 2 Quisumbing 1981 photo fide; AOS Bulletin Vol 52 No 1 1983 photo; AOS Bulletin Vol 52 No 10 1983 photo; Orchid Digest Vol 47 No 5 1983 photo fide; AOS Bulletin Vol 53 No 3 1984 photo; Orchidiana Philipiniana Vol 1 Valmayor 1984; AOS Bulletin Vol 54 No 4 1985 photo; AOS Bulletin Vol 54 No 7 1985 photo; Rudolf Schlechter Die Orchideen Band 1B lieferung 19/20 1129 - 1264 Brieger 1988 photo fide; The Manual Of Cultivated Orchid Species Bechtel, Cribb & Launert 1992 drawing/photo fide; Phalaenopsis, A Monograph EA Christenson 2001 drawing/photo fide; Phalaenopsis, A Monograph EA Christenson 2001 as P lueddemanniana var. delicata photo ok; Phalaenopsis, A Monograph EA Christenson 2001 as P lueddemanniana var. ochracea photo fide; Orchids of the Philippines Cootes 2001 photo fide; AOS Bulletin Vol 70 No 12 2001 photo; Flora Malesiana Orchids of the Philippines Vol I Agoo, Shuiteman and de Vogel 2003; AOS Bulletin Vol 73 No 2 2004 photo; AOS Bulletin Vol 73 No 8 2004 photo; AOS Bulletin Vol 75 No 1 2006 photo; AOS Bulletin Vol 75 No 9 2006 photo; AOS Bulletin Vol 77 No 8 2008 photo; Mille et Une Mini Orchideees Roguenant 2009 photo maybe fasciata; A to Z of South East Asian Orchid Species Vol 2 O'Byrne 2011 photo fide; Philippine Native Orchid Species Cootes 2011 photo fide; Philippine Native Orchid Species Cootes 2011 as P lueddemanniana var ochraceaphoto fide;
Phalaenopsis lueddemanniana var. delicata Rchb.f. 1865 Photo by © The Phalaenopsis Naturformen Website
Synonyms Phalaenopsis lueddemanniana f. delicata (Rchb.f.) O.Gruss & M.Wolff 2007; Phalaenopsis lueddemanniana subvar. delicata (Rchb.f.) A.H.Kent 1891; Phalaenopsis lueddemanniana var. delicata Rchb.f. 1865;
References W3 Tropicos, Kew Monocot list , IPNI ; The Genus Phalaenopsis Sweet 1980 photo fide; Rudolf Schlechter Die Orchideen Band 1B lieferung 19/20 1129 - 1264 Brieger 1988
Phalaenopsis lueddemanniana var. ochracea Rchb.f. 1865 Photo by © Volcowitch and The Phalaenopsis Wiki Website
Synonyms Phalaenopsis lueddemanniana f. ochracea (Rchb.f.) O.Gruss & M.Wolff 2007; Phalaenopsis lueddemanniana subvar. ochracea (Rchb.f.) A.H.Kent 1891; Phalaenopsis lueddemanniana var. ochrata Rchb.f. 1865; Phalaenopsis lueddemanniana var. ochracea Rchb.f. 1865; Phalaenopsis ochracea [Rchb.f] Carriere ex Stein 1892;
References W3 Tropicos, Kew Monocot list , IPNI ; The Genus Phalaenopsis Sweet 1980 photo fide; Rudolf Schlechter Die Orchideen Band 1B lieferung 19/20 1129 - 1264 Brieger 1988; Philippine Native Orchid Species Cootes 2011 photo fide;
--------------------------------------------------------------------------------------------------------------------------