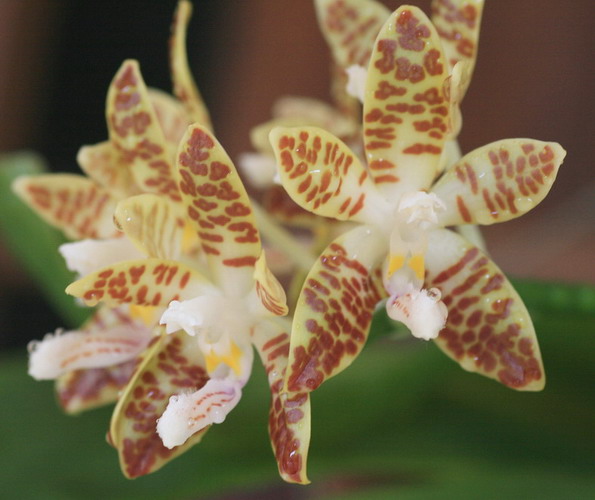 Phalaenopsis sumatrana Korth. & Rchb. f. 1860 SUBGENUS Polychilos SECTION Zebrinae Pfitz 1889 Photo by © Parkside Orchids Website.
Flower Closeup Photo by © Lourens Grobler.




to

Common Name The Sumatran Phalaenopsis
Flower Size 2 to 3" [6-7.6 cm]
Found in Sumatra, Borneo and the Malay pennisula as well as the Philippines as a medium sized, warm growing epiphyte in lowland to mixed montane forests on trees and shady nooks near streams at elevations around 600 to 700 meters with a short stem completely enveloped by persistent, imbricating leaf bases carrying fleshy, obovate or oblong-elliptic, arched or pendant, acute or rounded leaves that blooms in the spring through fall on a to 12" [30 cm] long, ascending, several [5] to many flowered, racemose or few branched, fractiflex inflorescence with triangular floral bracts and carrying mildly fragrant, fleshy, color variable flowers.
Synonyms Phalaenopsis acutifolia Linden 1886; Phalaenospsis corningiana var flava Hort. ex Fowlie 1982; Phalaenopsis paucivittata [Rchb.f] Fowlie 1985; Phalaenopsis sumatrana var paucivittatas Rchb.f 1882; Phalaenopsis sumatrana subvar. paucivittata [Rchb.f] Veitch 1891; Polychilos sumatrana [Korth & Rchb.f] Shim 1982
References W3 Tropicos, Kew Monocot list , IPNI ; Xenia Orchidaceae Rchb.f 1862; Die Orchideen Schlechter 1915; Atlas des Orchidees Cultivees Constantin 1920 drawing good; AOS Bulletin Vol 27 No 1 1958 drawing; Flora of Malaya Vol 1 Holttum 1957 drawing fide; Encyclopedia of Cultivated Orchids Hawkes 1965; AOS Bulletin Vol 35 No 1 1966 drawing; AOS Bulletin Vol 38 No 1 1969 drawing as P fimbriata var sumatrana; AOS Bulletin Vol 39 No 4 1970 photo; Botanisk Tidsskrift Bind 66 Hefte 4 Contributions to the Orchid Flora of Thailand III Seidenfaden 1971 drawing fide; Orchid Digest No 36 No 1 1972 photo fide; Orchid Digest Vol 36 No 3 1972 photo fide; The Genus Phalaenopsis Sweet 1980 drawing/photo fide; The Genus Phalaenopsis Sweet 1980 as P sumatrana var paucivittata; Orchid Digest Vol 45 No 6 1981 photo fide; Orchid Digest Vol 46 No 4 1982 photo fide; Orchid Digest Vol 47 No 1 1983 photo fide; Orchid Digest Vol 49 No 2 1985 as P paucivittata photo fide; AOS Bulletin Vol 54 No 4 1985 photo; Orchid Digest Vol 49 No 6 1985 photo fide; Rudolf Schlechter Die Orchideen Band 1B lieferung 19/20 1129 - 1264 Brieger 1988 drawing fide; Rudolf Schlechter Die Orchideen Band 1B lieferung 19/20 1129 - 1264 Brieger 1988 as P sumatrana var paucivittata; Opera Botanica #95 Seidenfaden 1988 drawing good; Orchid Species Culture "P" Bakers 1991; Orchid Digest Vol 56 No 1 1992 photo; The Manual Of Cultivated Orchid Species Bechtel, Cribb & Launert 1992 drawing/photo fide; The Orchids of Penninsular Malaysia and Singapore Seidenfaden & Wood 1992 drawing fide; Orchids of Borneo Vol 1 Chan, Lamb, Shim & Wood 1994 drawing/photo fide; A Checklist of the Orchids of Borneo Wood & Cribb 1994 drawing fide; Phalaenopsis, A Monograph EA Christenson 2001 drawing/photo fide; Orchids of the Philippines Cootes 2001 photo fide; A to Z of South East Asian Orchid Species Vol 1 O'Byrne 2001 photo fide; Orchids of Sumatra J.B.Comber 2001 photo fide; Orchids of Sarawak Wood & Beeman etal 2001 photo fide; Flora Malesiana Orchids of the Philippines Vol I Agoo, Shuiteman and de Vogel 2003; AOS Bulletin Vol 73 No 2 2004 photo; A field Guide to the Wild Orchids of Thailand Vaddhanaphuti 2005 photo fide; Mille et Une Mini Orchideees Roguenant 2009 photo fide; The Orchids of Mount Kinabalu Vol 2 Wood, Beaman, Lamb, Chu Lun and Beaman 2011 drawing/photo fide; Orchids of Penninsular Malaysia Ong, O'Byrne, Yong & Saw 2011 photo fide; Philippine Native Orchid Species Cootes 2011 photo fide;
--------------------------------------------------------------------------------------------------------------------------