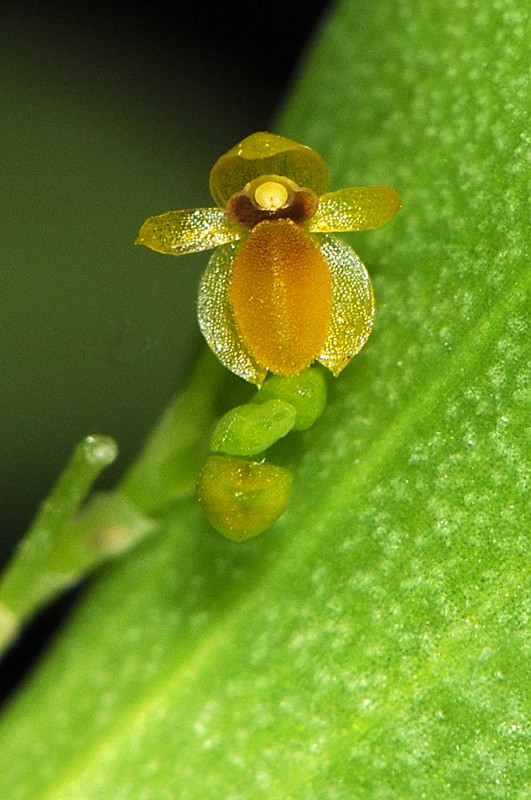 Platystele stenostachya (Rchb. f.) Garay 1962 SUBGENUS Platystele Photo by © Richard Ashby and his Flickr Orchid Photo Website
Another form Photo by Bruno Larsen and his Flickr Orchid Photo Website
Another Flower Photo by AMO and their Mexicoan Orchid Website
Plant and Flowers Photo by Weyman Bussey


to

MOSTLY

and

Common Name The Thin Inflorescence Platystele
Flower Size 1/16" [3 to 4 mm]
Found as a hot to cool growing, mini-miniature epiphyte from Mexico, Guatemala, Belize, Costa Rica, Panama, French Guiana, Surinam, Guyana, Venezuela, Colombia, Ecuador, Peru and Bolivia occuring at sea level to 1700 meters, with a slender, erect stems partially enveloped by 2 to 3 thin, ribbed, imbricating sheaths with a single, apical, erect, coriaceous, narrowly elliptic-obovate, subacute leaf with the base narrowly cuneate to the petiole and blooms on an erect, slender, to 1.32" [3.3 cm] long including the .12 to .6" [3 to 15 mm] long peduncle, fasciculate, successive opening several flowered, imbricating inflorescence with hyaline bract sheathing at the base and holding the 1 to 4 simultaneous flowers among and just above the leaves occuring mostly in the summer and fall.
Synonyms Humboldtia dubia (A.Rich. & Galeotti) Kuntze 1891; Humboldtia stenostachya (Rchb.f.) Kuntze 1891; Humboltia dubia (A. Rich. & Galeotti) Kuntze 1891; Humboltia stenostachya (Rchb. f.) Kuntze 1891; Pleurothallis dubia A. Rich. & Galeotti 1845; Pleurothallis dubia var. myriantha Schltr. 1922; Pleurothallis lankesteri Rolfe 1914; Pleurothallis minutiflora S. Watson 1888; Pleurothallis myriantha F. Lehm. & Kraenzl. 1899; *Pleurothallis stenostachya Rchb. f. 1844; Pleurothallis stenostachya var. lankesteri (Rolfe) Ames 1924
References W3 Tropicos Kew Monocot list , IPNI ; Bonplandia Rchb.f 1856 as Pleurothallis stenostachya; Repert. Sp. Nov. Regni. Veg. Beih. 17:20. Panama Schlechter 1922 as Pleurothallis dubia; Repert. Sp. Nov. Regni. Veg. Beih. 19: 106. Costa Rica Schlechter 1923; The Orchids of Panama L.O. Williams & P Allen 1946 as Pleurothallis stenostachya; Orchids of Guatemala and Belize Ames & Correll 1952 as Pleurothallis stenostachya drawing fide; Venezuelan Orchids Illustrated Vol 3 Dunsterville & Garay 1965 drawing fide; Encyclopedia of Cultivated Orchids Hawkes 1965 as Pleurothallis stenostachya; Flora de Venezuela Foldats Volumen XV Part 2 1970 as Pleurothallis stenostachya drawing fide; Orchids of Venezuela, An Illustrated Field Guide Vol 3 Dunsterville & Garay 1979 drawing fide; AOS Bulletin Vol 52 No 6 1983 photo; Icones Planetarum Tropicarum plate 1079 Dodson 1984 drawing fide; The Orchids of Surinam Werkhoven 1986; An Introdution to the Orchids of Mexico Wiard 1987 photo fide AOS Bulletin Vol 57 No 2 1988 photo; Icones Planetarum Tropicarum Series II plate 0274 Dodson & Vasquez 1989 drawing fide; Icones Pleurothallidinarum Systematics of Platystele Vol 7 1990 drawing fide; Orchid Digest Vol 58 No 4 1994 photo fide; Orchids of Venezuela [An illustrated field guide] Vol. 3 Ramiro and Carnevali 2000 drawing fide; Rudolf Schlechter Die Orchideen Band 1C lieferung 42 - 43 pg 2626 - 2762 Brieger 2001 photo good; Native Ecuadorian Orchids Vol 4 Dodson 2003 photo fide; Manual de Plantas de Costa Rica Vol 3 Hammel, Grayum, Herrera and Zamora 2003; Orquideas de la Serrania del Baudo Misas Urreta 2006 drawing/photo fide; Orchid Species of Peru Zelenko & Bermudez 2009 photo fide; A Compendium Of Miniature Orchid Species Vol 2 Parsons & Gerritsen 2013 photo hmm = P reflexa?; Guia de Orquideas de Chiapas Carlos Rommel Beutelspacher Baigts 2013 photo good
Platystele stenostachya (Rchb. f.) Garay 1962 var lankesteri
Plant Photos by © Walter Schug and His MesoAmerican Orchid Page
A color and size form of the previous species.
--------------------------------------------------------------------------------------------------------------------------
------------------------------------------------------------------------------------------------------------------