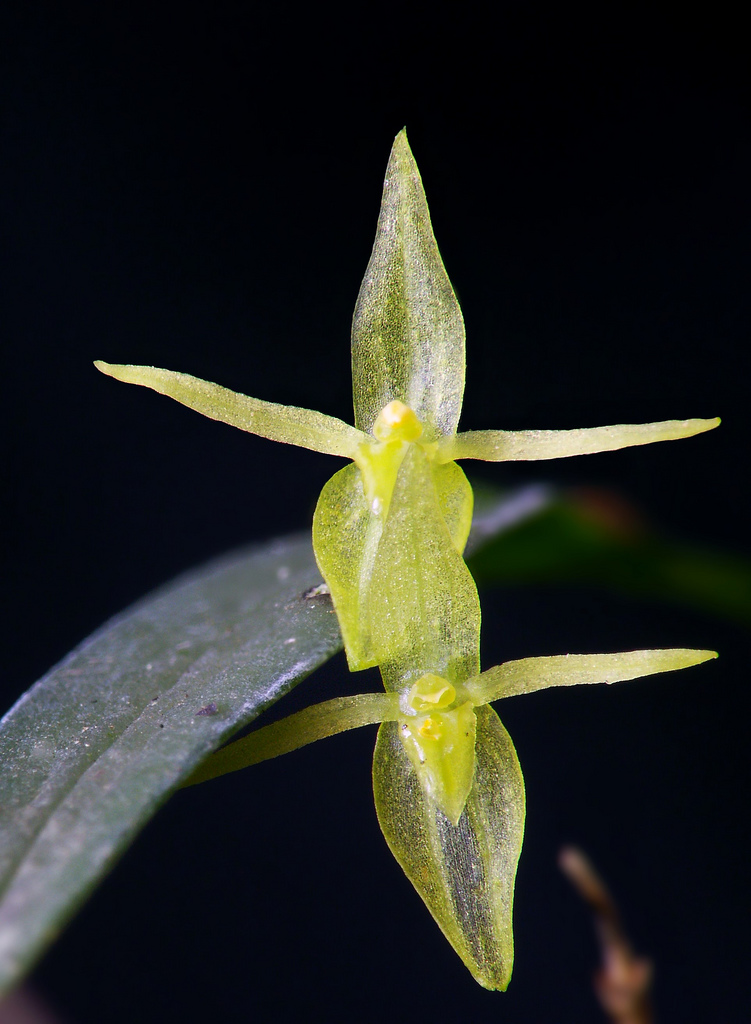 Pleurothallis pruinosa Lindl. 1842 SUBGENUS Pleurothallis SECTION Pleurothallis SUBSECTION Longiracemosae [Luer] Luer 1998 Photo by © Daniel Jimenez.
Inflorescence Photo by © Jay Pfahl
Specimen Plant Photo by Eric Hunt, plant grown by OrchidMania



to




Common Name The Frosted Pleurothallis
Flower Size 1/4" [6 mm]
Found as a miniature, hot to cold growing, caespitose, unifoliate epiphyte in Honduras, Nicaragua, Costa Rica, Panama, Cuba, Dominican Republic, Jamaica, Leewards, Puerto Rico, Trinidad, Windwards, Venezuela, Fr Guiana, Guyana, Surinam, Colombia, Ecuador, Peru and Brazil in coffee plantations and wet montane forests at elevations of 150 to 2700 meters with erect, thin ramicauls enveloped basally by 2 tight, scarious sheaths and carrying a single, apical, coriaceous, elliptic-oblong or lanceolate, minutely tridentate apically, gradually narrowing below into the conduplicate base leaf that blooms in the spring, summer and fall on a 1 or 2, terminal, short, lax, simultaneously few [1 to 3] flowered racemose inflorescence that is held out and away at midleaf carrying a few insignificant, pleasingly fragrant flowers.
Epiphyte low on shaded tree trunk above Lake Arenal at approximately 1200 meters in elevation.
Synonyms Humboldtia pruinosa (Lindl.) Kuntze; Humboltia pruinosa (Lindl.) Kuntze 1891; Pleurothallis brachyglottis Rchb.f. 1865; Pleurothallis flavida (H. Focke) Lindl. 1859; Pleurothallis pauciflora Schltr. 1923; Stelis flavida H. Focke 1849
References W3 Tropicos, Kew Monocot list , IPNI ; Symbolae Antillanae Vol VI Orchidaceae Urban 1909;Flora of Jamaica Fawcett & Rendle 1910; Repert. Sp. Nov. Regni. Veg. Beih. 19: 192. Costa Rica Schlechter 1923 as P pauciflora; Flore Descriptive des Antilles Francaises H. Stehle 1939 drawing ok; The Orchids of Panama L.O. Williams & P Allen 1946; Native Orchids of Trinidad Schultes 1960; Venezuelan Orchids Illustrated Vol 2 Dunsterville & Garay 1961 drawing fide; AOS Bulletin Vol 36 #9 1967; AOS Bulletin Vol 338 No 6 1969; Flora de Venezuela Volumen 15 Parte 2 Foldats 1970 drawing fide; Flora of the Lesser Antilles Garay & Sweet 1974 drawing fide; Orchidaceae Brasilensis Band 1 Pabst & Dungs 1975 drawing good; Orchids of Venezuela, An Illustrated Field Guide Vol 3 Dunsterville & Garay 1979 drawing fide; Icones Planetarum Tropicarum plate 252 Dodson 1980 drawing fide; Icones Planetarum Tropicarum plate 1121 Dodson 1984 drawing fide; Systematics of Pleurothallis Vol 3 Luer 1986; The Orchids of Surinam Werkhoven 1986; Catologo Descriptivo de Las Orquideas Cubanas Acuna 1987 as P brachyglottis; Native Orchids of the Eastern Carribean Kenny 1988 photo good; Orchids Travel By Air A Pictoral Safari Mulder, Mulder-Roelfsema and Schuiteman 1990 photo fide; An Orchid Flora Of Puerto Rico and the Virgin Islands Ackerman 1995 drawing fide; Icones Pleurothallidinarum Vol XVIII Systematics of Pleurothallis subsection Antenniferae, Longiracemosae, Macrophyllae-racemosae and Subgenera Pseudsostelis and Acuminata Luer 1999 drawing fide; Orchidaceae Antillanae Nir 2000 as P brachyglottis; Orchidaceae Antillanae Nir 2000; Orchids of Venezuela [An illustrated field guide] Vol. 3 Ramiro and Carnevali 2000 drawing fide; Orquideas Nativas del Tachira Cesar Fernandez 2003 photo ok; Manual de Plantas de Costa Rica Vol 3 Hammel, Grayum, Herrera and Zamora 2003; Flora of the Venezuelan Guayana Vol 7 Steyermark, Berry, Yatskievych and Holst 2003; Systematics and evolution of the genus Pleurothallis R. Br. (Orchidaceae) in the Greater Antilles Hagen Stenzel 2004 drawing fide; Orquideas de la Serrania del Baudo Misas Urreta 2006 drawing/photo fide; Orchids of Costa Rica Vol 5 Morales 2009 photo fide; Orchid Flora of the Greater Antilles Ackerman 2014
--------------------------------------------------------------------------------------------------------------------------