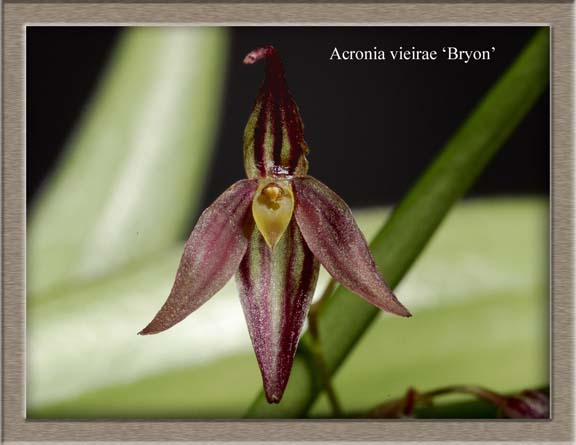 Pleurothallis vieirae Luer & R.Escobar 1981 SUBGENUS Pleurothallis SECTION Pleurothallis SUBSECTION Acroniae SERIES Acronia Luer 1998 Photo by Byron Rinke.



Common Name Viera's Pleurothallis [Colombian Orchid Enthusiast late 1900's early 2000's]
Flower Size .4" [1 cm]
Found in Colombia at elevations of 200 to 300 meters as a miniature sized, hot growing epiphyte with erect, terete, very slender ramicauls with a close, tubular sheath below the middle and another at the base and carrying a single, apical, erect, coriaceous, linear-ovate, acute, cunneate below into the sessile base leaf that blooms in the early fall on a weak, suberect, flexuous, loosely 2 to 3 flowered, 1 5/8" to 2" [4 to 5 cm] long, racemose inflorescence arising from a spathe at the base of the leaf.
Similar to P rowleei and P luctosa but differs in the prominently striped petals with entire margins as well as the very narow leaf and the inflroescence bearing only 2 to 3 flowers in a loose, flexuous raceme.
Synonyms Acronia vieirae (Luer & R.Escobar) Luer 2005
References W3 Tropicos, Kew Monocot list , IPNI ; *Orquideologia Vol 14 #2 Luer & Escobar 1981 drawing fide; Systematics of Pleurothallis Vol 3 Luer 1986; Icones Pleurothallidinarum Vol XVII Systematics of Pleurothallis Section Abortivae, Truncatae, Subsection Acroniae, Subgenera Dracontia and Uncifera Luer 1998 drawing fide; Icones Pleurothallidinarum Vol XXVII Luer 2005 as Acronia vierae; Orquideas de la Serrania del Baudo Misas Urreta 2006 drawing/photo fide;
--------------------------------------------------------------------------------------------------------------------------