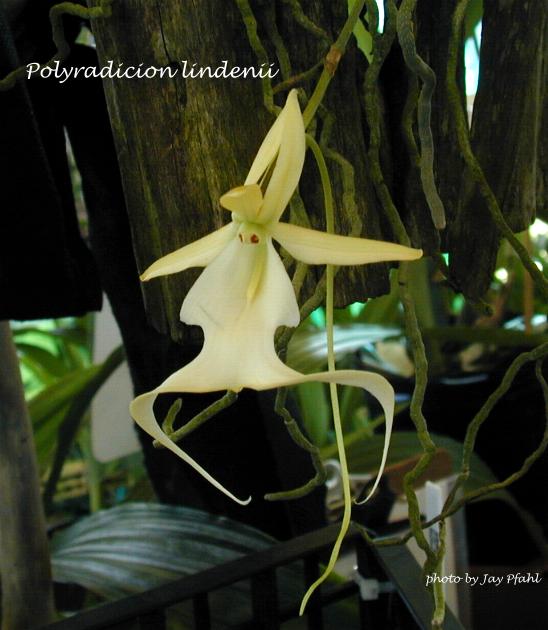 Dendrophylax lindenii [Lindl.]Bth. ex Rolfe 1888
Flower in situ Fakahatchee strand 6/10
Plant in bud in situ with lichen at Fakahatchee Strand 6/10
Same Plant in bud in situ with lichen at Fakahatchee Strand 6/10
Plant in flower in situ with lichen at Fakahatchee Strand 6/10
Photos by © Jay Pfahl
Flower in situ Faxcahatchee Strand Florida
Photo by © Stephen Jones.
Photo by © Claude Hamilton



to

EARLY

to

Common Name Palm Polly, White Frog Orchid, White Butterfly Orchid or The Ghost Orchid - Linden's Dendrophylax [Belgian Plant Collector 1800's]
Flower Size to almost 5" [3 to 4cm across by 7 to 9cm long]
This small sized, south Florida, Bahamas, and Cuba, hot to cool growing species is found in deep swamp forest, thickets and coasta; brushlands. The orchid pictured is in the Fakahatchee strand in the northern Everglades. Good hunting Stephen! They are small leafless epiphytes and their roots have chloroplasts to create the chlorophyl that the plant needs to survive, this function is normally taken care of by the leaves which in this genus are missing and it blooms on a spreading arcuate, 2 1/2 to 9" [6 to 22cm] long inflorescence with scarious bracts and fragrant, 1 to 10 successively opening flowers all arising from the center of the stem that occurs in the early summer in the US and the fall in Cuba. This is a rare and rarely seen plant that is not offered often for the cultivator of orchids.
Synonyms Aeranthes lindenii (Lindl.) Rchb. f. 1864; Aeranthus lindenii [Lindley]Rchb.f. ?; *Angraecum lindenii Lindley 1846; Polyradicion lindenii [Lindley]Garay 1969; Polyrrhiza lindenii [Lindley]Cogn. 1910
References W3 Tropicos, Kew Monocot list , IPNI ; Studies in the Family Orchidaceae Vol 1 Ames 1905 drawing fide; Symbolae Antillanae Vol VI Orchidaceae Urban 1909 as Polyrrhiza lindenii; AOS Bulletin Vol 31 No 10 1962 as Polyrrhiza lindeni; Encyclopedia of Cultivated Orchids Hawkes 1965 as Polyradicion lindenii drawing fide; The Native Orchids Of Florida Luer 1972 as Polyrrhiza lindenii Drawing/photo fide; AOS Bulletin Vol 44 #8 1975 as Polyrhiza lindenii; AOS Bulletin Vol 50 No 5 1981 as Polyradicion lindenii photo fide; Orquideologia Vol 15 #2-3 1982 as P{olyrhiza lindenii photo fide; Orchid Digest Vol 47 No 5 1983 as Polyradicion lindenii photo fide; Orchid Digest Vol 47 No 6 1983 as Polyradicion lindenii photo fide; AOS Bulletin Vol 53 #3 1984 as Polyradicion lindeniiphoto fide; AOS Bulletin Vol 55 No 11 1986 as Polyradicion lindenii photo fide; Catalogo Descriptivo de las Orquideas de Cuba Acuna 1987 as Polyrrhiza liondenii; Rudolph Schlechter Die Orchideen Band 1B lieferung 16/17/18 945-1128 Brieger 1985 as Polyradicion lindenii drawing/photo fide; AOS Bulletin Vol 61 No 10 1992 as Polyradicion lindenii photo fide; The Manual Of Cultivated Orchid Species Bechtel, Cribb & Launert 1992 as Polyradicion lindenii drawing fide; AOS Bulletin Vol 65 No 3 1996 as Polyrhiza lindeni photo fide; AOS Bulletin Vol 68 No 5 1999 Polyrhiza lindenii drawing fide; AOS Bulletin Vol 69 No 3 2000 as Polyradicion lindenii photo fide; Orchidaceae Antillanae Nir 2000; AOS Bulletin Vol 70 No 1 2001 photo fide; AOS Bulletin Vol 71 No 4 2002 as Polyradicion lindenii photo fide; AOS Bulletin Vol 72 No 3 2003 as Polyradicion lindenii photo fide; AOS Bulletin Vol 72 No 6 2003 photo fide; AOS Bulletin Vol 72 No 12 2003 drawing fide; Boletim CAOB Vol 55 2004; The Orchids of Cuba Llamacho & Larramendi 2005 photo fide; AOS Bulletin Vol 75 No 8 2006 photo fide; AOS Bulletin Vol 75 No 9 2006 photo fide; AOS Bulletin Vol 76 No 3 2007 drawing fide; AOS Bulletin Vol 76 #10 2007 drawing fide; AOS Bulletin Vol 76 #11 2007 photo fide; AOS Bulletin Vol 77 No 6 2008 photo fide; AOS Bulletin Vol 77 No 8 2008 photo/drawing fide; AOS Bulletin Vol 77 No 11 2008 photo fide; AOS Bulletin vol 78 No 7 2009 photo fide; AOS Bulletin vol 78 No 8 2009 photo fide; AOS Bulletin Vol 79 #1 2010 photo fide; AOS Bulletin Vol 79 #4 2010 photo fide; AOS Bulletin Vol 82 #1 2013 photo fide; AOS Bulletin Vol 82 #10 2013 photo fide; Orchid Digest Vol 78 #4 2014 photo fide; Orchid Flora of the Greater Antilles Ackerman 2014; Orchid Digest Vol 79 #1 2015 photo fide; Orchid Digest Vol 80 #1 2016 photo fide; Orchid Digest Vol 80 #3 2016 photo fide; AOS Bulletin Vol 85 #1 2016 drawing fide; AOS Bulletin Vol 85 #10 2016 photo fide; AOS Bulletin Vol 85 #7 2016 photo fide; Orchid Digest Vol 81 #1 2017 photo fide; AOS Bulletin Vol 88 #5 2019 model photo fide; The Orchid Review Vol 127 No 1328 December 2019 photo fide; Orchid Digest Vol 84 #1 2020 photo fide; AOS Bulletin Vol 89 #1 2020 photo fide
--------------------------------------------------------------------------------------------------------------------------