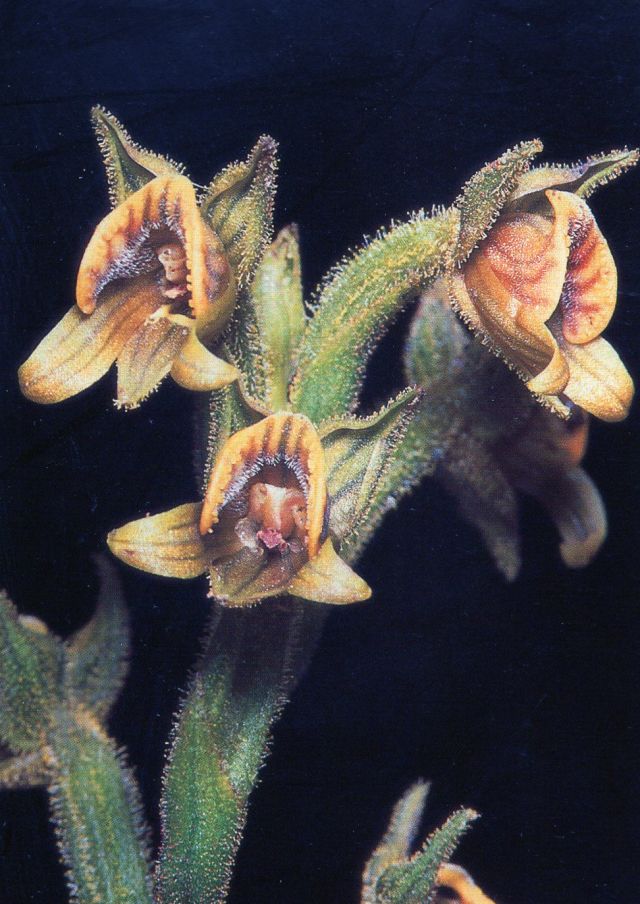 #1!Pterichis galeata Lindl. 1840 Photo by © Alexander Hirtz in Ecuador
#2 Another Flower? on Vulcan de Purace Colombia
Habitat? Photos by Jay Pfahl ©
#3 Another Flower near Medellin
Photo by © Rodrigo Escobar
#4 Another Flower near Jardin Colombia
Another Angle in situ near Jardin Colombia
Another Angle in situ near Jardin Colombia
Profile in situ near Jardin Colombia
Photos by © Jay Pfahl
Drawing by © Dunsterville and Garay



Common Name The Helmut-Like Pterichis
Flower Size 3/4" [1.9 cm] top to bottom
Found in Costa Rica, Panama, Colombia, Venezuela, Ecuador, Peru and Bolivia at elevations of 2600 to 3500 meters as a miniature to medium sized, cold growing terrestrial with a single, basal, erect, oblong-elliptic to oblong-lanceolate, obtuse, glandular below becoming glandular-pilose abovegradually narrowing below into the canaliculate, petiolate base leaf that blooms in the spring on an erect, peduncle 3.6 to 21.6" [9 to 54cm] long, rachis 3.2 to 4.8" [8 to 12 cm] long, sublaxly 5 to 15 flowered inflorescence with distant, tubular, acuminate bracts with the lower 2 to 5 glabrous and the upper 2 to 4 pilose and carrying non-resupinate flowers.
CAUTION There are 4 distinct flower types above, the first in Ecuador with reflexed apex to the lip, raised dots all along the fringe of the inrolled margins and a large visible column structure, the second a plant on a vertical bank on Vulcan de Purace Colombia with a less acute straight lip apex and only the 3 raised dots on the apex, the third from near Medellin Colombia with a straight lip apex that seems to be more level and has less evident raised dots all around the margin, the fourth from near Jardin Colombia with a straight, concave, pilose lip apex with raised dots all along the margin and a swirlly column structure, and the 5th a drawing by Dunsterville from Venezuela of a straight, evenly concave lip apex with raised dots all around the margin.
Seems that this could be up to 5 different species or a very variable single species. Needs more research!
Synonyms Prescottia barbifrons Kraenzl. 1916; Pterichis barbifrons (Kraenzl.) Schltr. 1921; Pterichis diuris Rchb.f. 1854; Pterichis galeata var. quilinsayacoana G.Morales 1986; Pterichis leo L.D.Gómez & Gómez-Laur. 1982;
References W3 Tropicos, Kew Monocot list , IPNI ; Bonplandia Rchb.f 1853 as P diuris drawing good; Flora de Venezuela Volumen 15 Parte 1 Foldats 1969 drawing good; Venezuelan Orchids Illustrated Vol 4 Dunsterville & Garay 1972 as P multiflora drawing hmm; Orchids of Venezuela, An Illustrated Field Guide Vol 3 Dunsterville & Garay 1979 as P diuris drawing hmm; Orchids of Venezuela, An Illustrated Field Guide Vol 3 Dunsterville & Garay 1979 as P acuminata drawing good; AOS Bulletin Vol 53 No 9 1984 photo as P leo; Orquideologia Vol XVI No 3 Morales 1986 drawing fide; Orquideologia Vol 16 #3 1986 as P galeatea var quilinsayacoana drawing fide; Native Colombian Orchids Vol 6 COS 1998 photo fide; Orchids of Venezuela [An illustrated field guide] Vol. 3 Ramiro and Carnevali 2000 as P diuris drawing hmm; Orchids of Venezuela [An illustrated field guide] Vol. 3 Ramiro and Carnevali 2000 drawing good; Native Ecuadorian Orchids Vol 4 Dodson 2003 photo fide; Flora of the Venezuelan Guayana Vol 7 Steyermark, Berry, Yatskievych and Holst 2003 drawing fide; Manual de Plantas de Costa Rica Vol 3 Hammel, Grayum, Herrera and Zamora 2003; Orchid Species Of Peru Zelenko & Bermudez 2009 photo not = P sylvestris; Mille et Une Mini Orchideees Roguenant 2009 photo not = P habenarioides;
--------------------------------------------------------------------------------------------------------------------------
--------------------------------------------------------------------------------------------------------------------------