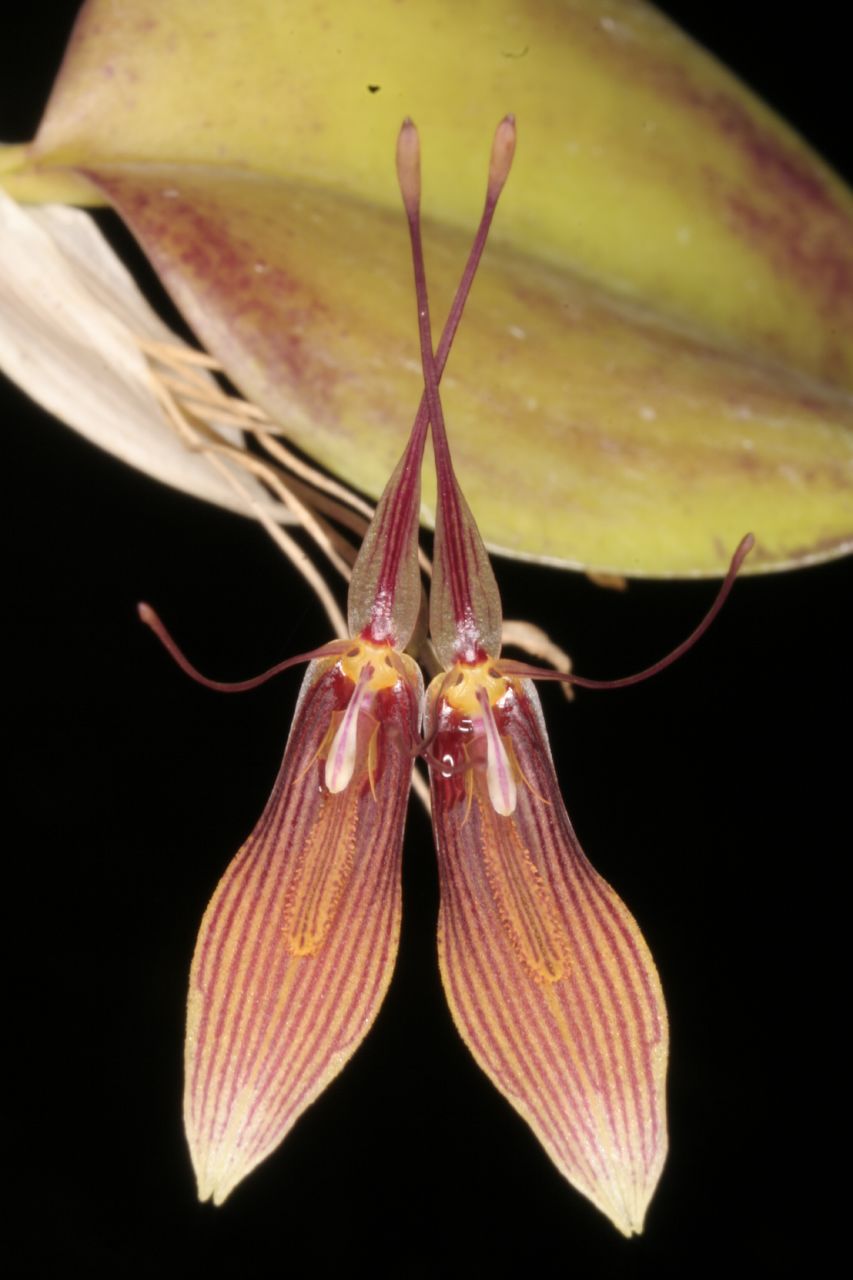 Restrepia trichoglossa F. Lehm. ex Sander 1901 Restrepia SUBGENUS Restrepia SECTION Restrepia Photo by © Lourens Grobler.
Lip Detail Photo courtesy of Lourens Grobler ©
Spotted Flower Photo courtesy of Ruth Guillard
Plant and Flowers in situ Costa Rica Photo by © Wilfried Löderbusch


to


and EARLY

Common Name The Hairy Tongued Restrepia
Flower Size 1 1/4" [3 cm]
Found in Panama, Colombia, Peru and Ecuador as a small sized, warm to cold growing, caespitose epiphyte from wet cool cloud forests at altitudes of 300 to 3200 meters with the ramicaul concealed by 4 to 8, large, compressed scarious, tubular, imbricate sheaths and carrying a single, apical, erect, elliptic-ovate, minutely bidentate, broadly cuneate to rounded base contacted into the twisted petiolate base leaf that blooms on a terminal, 2" [5 cm] long, successively single flowered, fasciculate inflorescence held in a fascile, with a obovate, obtuse, inflated floral bract holding the flowers above and behind the leaf and has sheathed bracts occuring in the summer and early fall.
Synonyms Pleurothallis amesiana L.O.Williams 1940; Pleurothallis filamentosa (Ames & C. Schweinf.) L.O. Williams 1940; Pleurothallis subserrata (Schltr.) L.O. Williams 1940; Restrepia angustilabia Schltr. 1923; Restrepia angustilabia subsp. subserrata (Schltr.) H. Mohr 1996; Restrepia antennifera subsp. leontoglossa (Schltr.) H. Mohr 1996; Restrepia brachypus subsp. serrilabia (Schltr.) H. Mohr 1996; Restrepia filamentosa Ames & C. Schweinf. 1925; Restrepia lankesteri Ames & C.Schweinf. 1930; Restrepia leontoglossa Schltr. 1920; Restrepia serrilabia Schltr. 1920; Restrepia subserrata Schltr. 1923; Restrepia trichoglottis hort. ex Gentil 1906[1907]
References W3 Tropicos, Kew Monocot list , IPNI ; Lankester's Epidendra Website CR ; *Sander's Orch. Guide. 215. 1901; Die Orchideen der Sudamerikanischen Kordillerenstaaten II Colombia Schlechter 1920 as R leontoglossa; Die Orchideen der Sudamerikanischen Kordillerenstaaten II Colombia Schlechter 1920 as R serrilabia; Repert. Sp. Nov. Regni. Veg. Beih. 19: 290. Costa Rica Schlechter 1923; Repert. Sp. Nov. Regni. Veg. Beih. 19: 291. Costa Rica Schlechter 1923 as R subserrata; Repert. Sp. Nov. Regni. Veg. Beih. 19: 291. Costa Rica Schlechter 1923 as R angustilabia; The Orchids of Panama L.O. Williams & P Allen 1946 as Pleurothallis filamentosa drawing fide; The Orchids of Panama L.O. Williams & P Allen 1946 as Pleurothallis subserrata; Orchids of Guatemala and Belize Ames & Correll 1952 as Pleurothallis amesiana; Encyclopedia of Cultivated Orchids Hawkes 1965 as P amesiana; Venezuelan Orchids Illustrated Vol 4 Dunsterville & Garay 1966 as R wageneri drawing fide; Orquideologia Vol 12 No 2/3 1977/8 photo/drawing as R filamentosa; A field Guide Dunsterville & Garay 1979 as R wageneri drawing fide; Icones Orchidacearum I Plate 95 Hagsater & Salazar 1990 as Restrepia lankesteri drawing fide; Schlechteriana Vol 2 No 2 1991 drawing as R serrilabia; Schlechteriana Vol 2 No 2 1991 as R angustilabia; Schlechteriana Vol 2 No 2 1991 as R filamentosa; Icones Planetarum Tropicarum Plate 1577 Atwood 1993 as Restrepia subserrata drawing ok; Icones Orchidacearum Peruviarum Plate 369 Bennett & Christenson 1995 drawing fide; Icones Pleurothallidinarum Vol XIII Systematics of Restrepia Luer 1996 drawing/photo fide; Native Colombian Orchids Vol 6 COS 1998 photo fide; Australian Orchid Review Vol 66 No 5 2001 photo; AOS Bulletin Vol 75 No 3 2006 drawing; Libro Rojo de Plantas De Colombia Vol 6 Primera Parte Saenz 2007; Orchid Species Of Peru Zelenko & Bermudez 2009 photo fide; Mille et Une Mini Orchideees Roguenant 2009 photo fide;
----------------------------------------------------------------------------------------------------------
---------------------------------------------------------------------------------------------------------------------