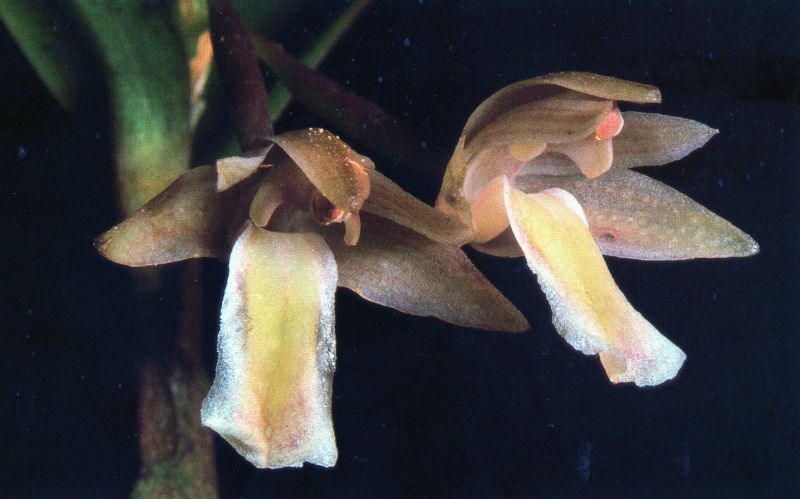 Scaphyglottis punctulata (Rchb. f.) C. Schweinf. 1955
Photo by © Alexander Hirtz
Flower in situ Tatama Colombia?
Plant and Flower in situ Parque Tatama Choco Colombia 8/17 2200 meters ?
Photos by © Jay Pfahl in situ




Common Name The Speckled Scaphyglottis
Flower Size 2/5" [1 cm]
Found in Panama, Colombia, Venezuela, Ecuador, Peru and Bolivian wet montane cloud forests as a miniature sized, warm to cold growing epiphyte on tree trunks or terrestrial on steep embankments at elevations of 450 to 2500 meters with superposed chains of pseudobulbs that are terete, striate and grooved and carry a linear, bilobed, leaves that are scattered along the stem and blooms in the spring in cultivation and fall in situ on a short, subsessile, single flowered inflorescence with a campanulate flower.
Synonyms Epidendrum dussii Cogn. 1910; Helleriella punctulata (Rchb. f.) Garay & H.R. Sweet 1974; *Ponera punctulata Rchb. f. 1855; Pseudoponera dussii (Cogn.) Brieger 1976; Pseudoponera punctulata (Rchb.f.) Brieger 1976; Scaphyglottis arundinacea Regel 1856; Scaphyglottis isochiloides (Regel) Foldats, 1959; Tetragamestus isochiloides Regel 1856
References W3 Tropicos, Kew Monocot list , IPNI ; Lankester's Epidendra Website CR ; Bonplandia 3(15-16): 220. Rchb.f 1855 as Ponera punctulata; Symbolae Antillanae Vol VI Orchidaceae Urban 1909 as Epidendrum dussii; Flore Descriptive des Antilles Francaises H. Stehle 1939 as Epidendrum dussii; *Bot. Mus. Leafl. 17(2): 47. 1955; Venezuelan Orchids Illustrated Vol 1 Dunsterville & Garay 1959 drawing good; Flora de Venezuela Foldats Volumen XV Part 3 1970 as S isochiloides; Flora de Venezuela Foldats Volumen XV Part 3 1970 drawing good; Flora of the Lesser Antilles Garay & Sweet 1974 as Helleriella punctulata drawing fide; Die Orchideen 3 Auflage Bd 1 Sonderabdruck aus Schlechter Lieferung 8 449 - 512 Brieger, Maatsch and Senghas 1976 as Pseudoponera punctulata; Die Orchideen 3 Auflage Bd 1 Sonderabdruck aus Schlechter Lieferung 8 449 - 512 Brieger, Maatsch and Senghas 1976 as Pseudoponera dussii; Orchids of Venezuela ; An Illustrated Field Guide Vol 2 Dunsterville & Garay 1979 as Helleriella punctulata drawing fide; Icones Planetarum Tropicarum Plate 287 Dodson 1980 drawing fide; Icones Planetarum Tropicarum Series II Orchids of Bolivia plate 0371 Dodson & Vasquez 1989 drawing fide; Native Colombian Orchids Vol 4 COS 1992 photo fide; An Orchid Flora Of Puerto Rico and the Virgin Islands Ackerman 1995 as Helleriella puntulata; Icones Orchidacearum Peruviarum Plate 566 Bennett & Christenson 1998 drawing fide; Orchids of Venezuela [An illustrated field guide] Vol. 1 Ramiro and Carnevali 2000 drawing fide; Native Ecuadorian Orchids Vol 5 Dodson 2004 photo good; Orchids of Bolivia Vol 2 Laelinae Vasquez and Ibisch 2004 drawing fide; Orquideas de la Serrania del Baudo Misas Urreta 2005 drawing/photo not; Orquideología Vol 26 #2 2009 as S punctata photo ok; Orchid Species Of Peru Zelenko & Bermudez 2009 photo; AOS Bulletin Vol 85 #7 2016 photo fide; AOS Bulletin Vol 86 #8 2017 photo fide;
--------------------------------------------------------------------------------------------------------------------------