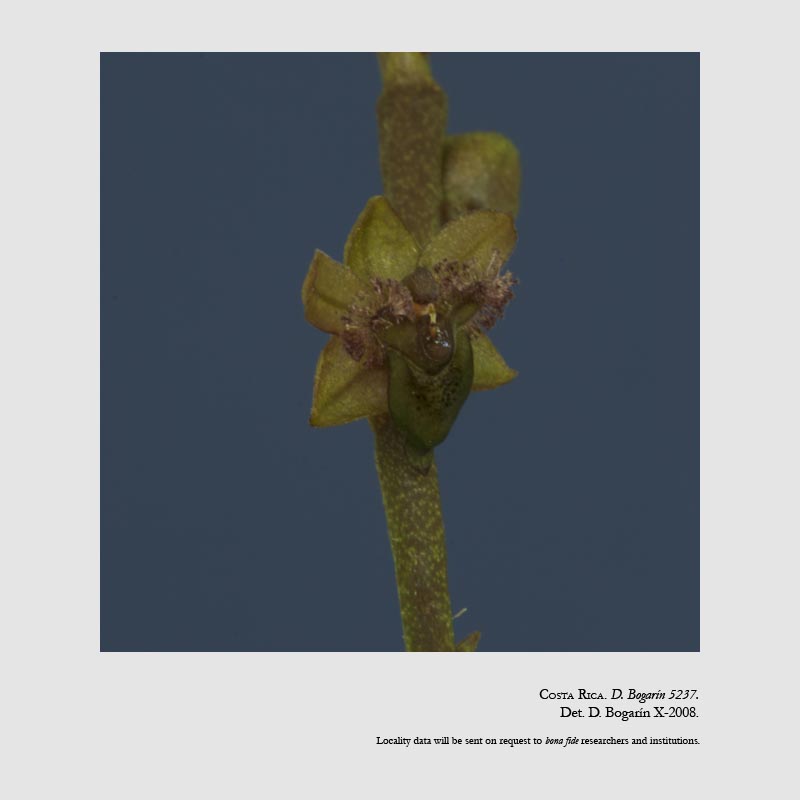 Telipogon smaragdinus (Pupulin & M.A. Blanco) N.H. Williams & Dressler . 2005 SECTION T a e n i o r h a c h i s
Another Flower Photos by © Nauray and Farfan, Used under permission of Epidendra Website CR



Common Name The Emerald Green Telipogon
Flower Size .2" [5mm]
Found in Costa Rica on shady lower thin branches on mossy trees in wet montane oak forests at elevations around 2400 meters as a cold growing epiphyte with an abbreviated stem carrying 3 to 4, distichous, narrowly elliptic to lanceolate, acute, minutely apiculate leaves that may or may not be present at blooming occuring in the winter on a mostly simple racemose, with successive secondary branches, terete, 2 to 4.6" [5 to 9 cm] long, flattened, successively 1 to 3, many flowered inflorescence with triangular, acute floral bracts.
Synonyms *Stellilabium smaragdinum Pupulin & M.A. Blanco 2002
References W3 Tropicos, Kew Monocot list , Lankester's Epidendra Website CR ; Lankesteriana 5: 28. 2002 as Stellilabium smaragdinum *Lankesteriana 5(3): 171. 2005. . .