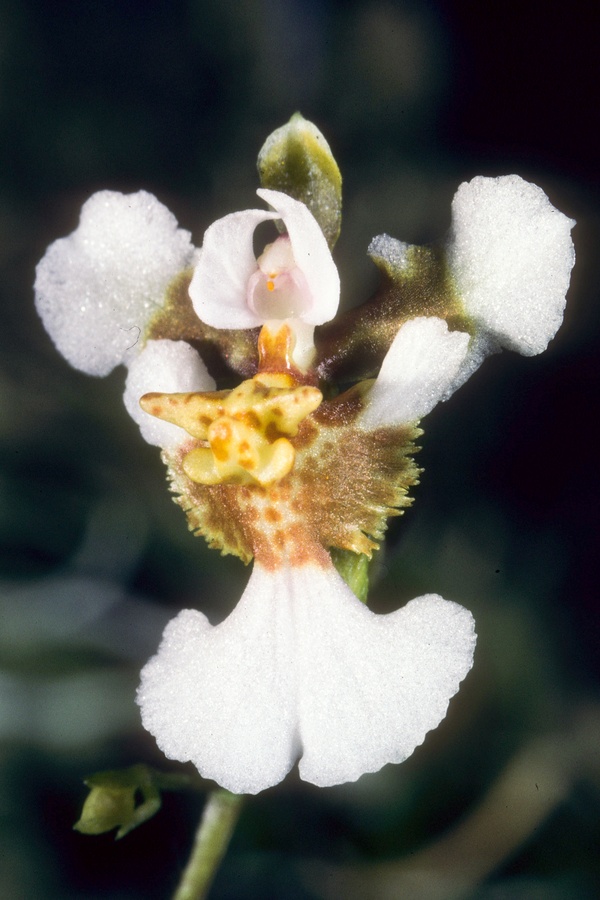 Tolumnia leiboldii [Rchb. f.] Braem 1986
Photo by © Rudolf Jenny and The Swiss Orchid Foundation at the Jany Renz Herbaria Website
Photo by Marc Phillipe and his Orchid Homepage




Common Name Leibold's Tolumnia [German Collector 1800's]
Flower Size about 1/2"
Found in Cuba and the Cayman Islands in bushes at elevations around 800 meters as a small sized, equitant, hot to warm growing epiphyte that is found with flattened pseudobulbs and linear to lanceolate, triquetrous, coriaceous leaves and has an erect lateral, wiry, short to 12" [to 30 cm] long, raceme or panicle of several to many flowers occuring in the spring.
This orchid is now considered to be a synonym of T variegata but I have left them separate pending more investigation. The First photo shows the lip with serrate margins and is quite different from T variegata, the second photo shows a more typical T leiboldii.
Synonyms Oncidium caymanense Moir 1969; *Oncidium leiboldii Rchb. f. 1863; Oncidium leiboldii var. album Moir & A.D.Hawkes 1967; Oncidium leiboldii var. majus Moir & A.D.Hawkes 1967; Oncidium variegatum f. album (Moir & A.D.Hawkes) Withner 1980; Oncidium variegatum f. majus (Moir & A.D.Hawkes) Withner 1980; Oncidium variegatum subsp. leiboldii (Rchb.f.) Withner 1980; Tolumnia caymanensis (Moir) Braem, Orchidee (Hamburg) 37: 58 (1986
References W3 Tropicos, Kew Monocot list , IPNI ; Symbolae Antillanae Vol VI Orchidaceae Urban 1909 as Oncidium leiboldi; Das Pflanzanreich Regni Vegetabilis Conspectus Odontoglossum/Oncidium Kranzlin 1922 as Oncidium leiboldii drawing good; Encyclopedia of Cultivated Orchids Hawkes 1965 as Oncidium lieboldii photo good; Flora of the Lesser Antilles Garay & Sweet 1974 as Oncidium leiboldii Orchid Digest Vol 44 No 3 1980 as Oncidium lieboldii photo ok; Orchid Digest Vol 44 No 3 1980 as Oncidium caymanesnse photo fide; AOS Bulletin Vol 64 No 2 1995 photo fide; Orchid Digest Vol 60 #4 1996 photo fide; Rudolf Schlechter Die Orchideen Band 1C lieferung 33 - 36 2057 - 2308 Brieger 1997 The Orchids of Cuba Llamacho & Larramendi 2005 photo seems to not have serrated midlobe margin hmm; Orchidaceae Antillanae nir 2000; Orchid Species Culture, Oncidium Bakers 2006
--------------------------------------------------------------------------------------------------------------------------