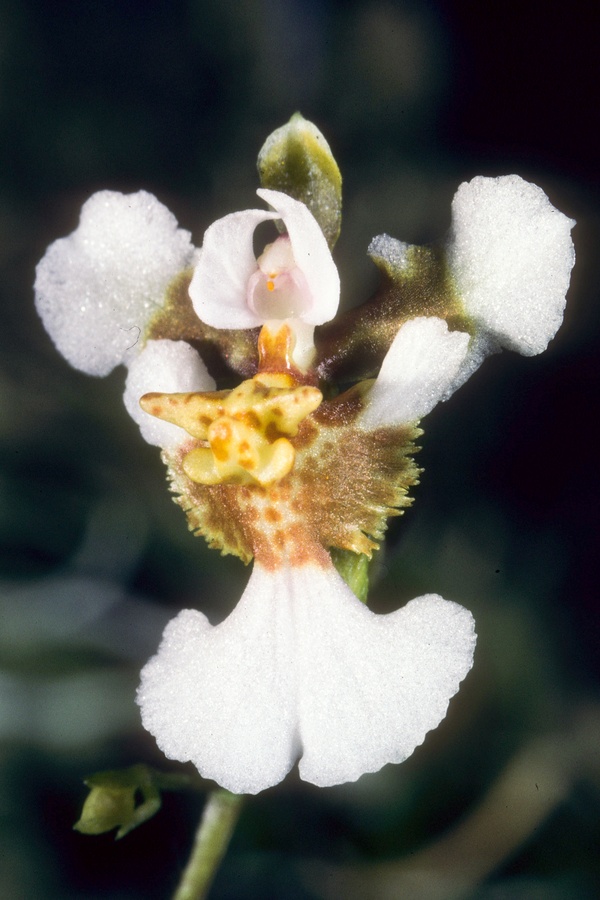 Tolumnia leiboldii [Rchb. f.] Braem 1986 Photo by © Rudolf Jenny and The Swiss Orchid Foundation at the Jany Renz Herbaria Website
Another Flower? Photo courtesy of Marc Phillipe and his Orchid Homepage




Common Name Leibold's Tolumnia [German Collector 1800's]
Flower Size about 1/2"
A small sized, equitant hot to warm growing epiphyte that is found in bushes in Cuba and the Cayman Islands at elevations around 800 meters with flattened pseudobulbs and linear to lanceolate, triquetrous, coriaceous leaves and has an erect lateral, wiry, short to 12" [to 30 cm] long, raceme or panicle of several to many flowers occuring in the spring.
This orchid is now considered to be a synonym of T variegata but I have left them separate pending more investigation. The First photo shows the lip with serrate margins and is quite different from T variegata, the second photo shows a typical T variegata.
Synonyms Oncidium caymanense Moir 1969; *Oncidium leiboldii Rchb. f. 1863; Oncidium leiboldii var. album Moir & A.D.Hawkes 1967; Oncidium leiboldii var. majus Moir & A.D.Hawkes 1967; Oncidium variegatum f. album (Moir & A.D.Hawkes) Withner 1980; Oncidium variegatum f. majus (Moir & A.D.Hawkes) Withner 1980; Oncidium variegatum subsp. leiboldii (Rchb.f.) Withner 1980; Tolumnia caymanensis (Moir) Braem, Orchidee (Hamburg) 37: 58 (1986
References W3 Tropicos Kew Monocot list , IPNI ; Symbolae Antillanae Vol VI Orchidaceae Urban 1909 as Oncidium leiboldi; Das Pflanzanreich Regni Vegetabilis Conspectus Odontoglossum/Oncidium Kranzlin 1922 as Oncidium leiboldii drawing good; Encyclopedia of Cultivated Orchids Hawkes 1965 as Oncidium lieboldii photo good; Flora of the Lesser Antilles Garay & Sweet 1974 as Oncidium leiboldii Orchid Digest Vol 44 No 3 1980 as Oncidium lieboldii photo ok; Orchid Digest Vol 44 No 3 1980 as Oncidium caymanesnse photo fide; AOS Bulletin Vol 64 No 2 1995 photo; Rudolf Schlechter Die Orchideen Band 1C lieferung 33 - 36 2057 - 2308 Brieger 1997 The Orchids of Cuba Llamacho & Larramendi 2005; Orchidaceae Antillanae nir 2000; Orchid Species Culture, Oncidium Bakers 2006
--------------------------------------------------------------------------------------------------------------------------