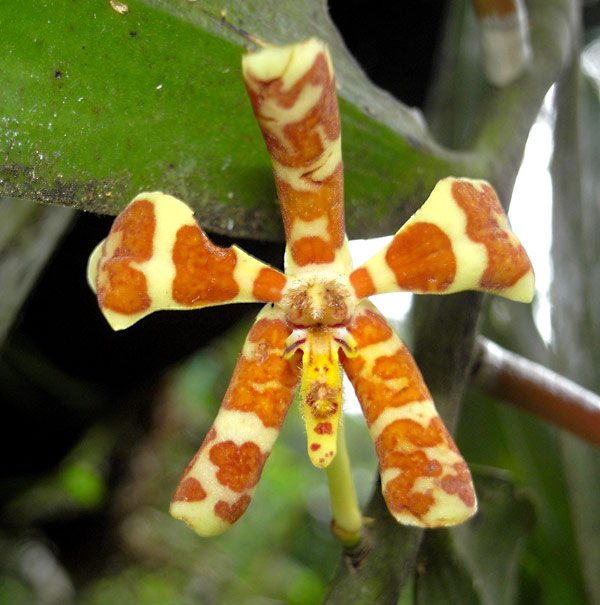 Trichoglottis magnicallosa Ames & C.Schweinf. 1920
Side View of Flower Photo by © Peter O'Byrne and The Swiss Orchid Foundation at the Jany Renz Herbarium Website
Flower Closeup Front? Photo by Eric Hunt.



Common Name The Large Callose Trichoglottis [refers to the large prominent swelling on the mid-lobe of the lip]
Flower Size 1.6 to 1.8" [4 to 4.5 cm]
Found in Sabah, Borneo in mixed, ridge-top or hill forests at elevations of 500 to 900 meters as a medium to large sized, warm growing epiphyte with pendant to suberect, slightly fractiflex stems enveloped completely by leaf-bearing sheaths and each carrying distichous, horizontally spreading, oblong-elliptic to oblong, obliquely and obtusely bilobed apically, mucronate, many nerved, mid vein carinate below leaves that blooms in the spring on a sessile, 1 to rarely 3 flowered inflorescence arising through the middle or lower half of the leaf sheaths and carrying showy, rigid and fleshy flowers.
Synonyms
References W3 Tropicos, Kew Monocot list , IPNI ; The Plants of Mount Kinabalu Vol 2 Orchids Beaman, Wood, Beaman & Beaman 1993; A Checklist of the Orchids of Borneo Wood & Cribb 1994; Orchids of Borneo Vol 4 Woods 2003 drawing photo fide; Malesian Orchid Journal Vol 1 2008 photos fide; Malesian Orchid Journal Vol 4 2009; The Orchids of Mount Kinabalu Vol 2 Wood, Beaman, Lamb, Chu Lun and Beaman 2011; A to Z of South East Asian Orchid Species Vol 2 O'Byrne 2011 photo fide
----------------------------------------------------------------------------------------------------------