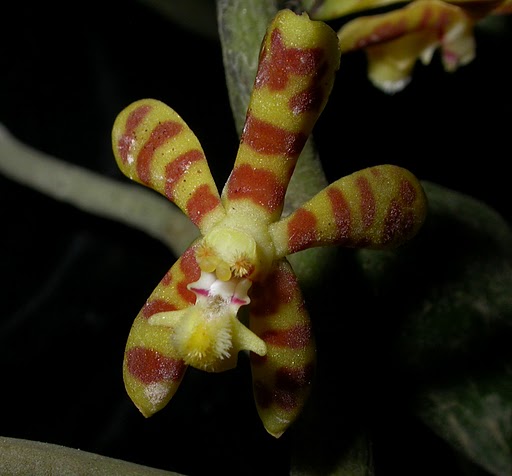 Trichoglottis scaphigera Ridl.1896
Plant and Flower Photo by Art Vogel ©



EARLY

Common Name or Meaning The Scape Trichoglottis [refers to the long pedicel and ovary]
Flower Size 1" [2.5 cm]
Found in Thailand, Malaysia and Borneo in the crowns of trees at elevations around 400 meters as a medium to large sized, hot growing epiphyte with a long-climbing and trailing stem carrying many, alternating, narrowly elliptic, acute, narrowing below into the clasping base leaves that blooms in the spring and early summer on short, single flowered inflorescence placed all along the stem in between the leaves.
The species in the photo does not match the drawing by Shim Phyau in Orchids of Borneo, only in the tufts of hairs on either side of the anther, but that drawing has been found to be T zollingeri. In the Penninsular Orchids of Malaysia and Singapore the drawing is exactly right on to the photo and is T scaphigera.
In most modern references this species is listed as T scapigera but Kew has looked at Ridleys original description and T scaphigera is correct.
Synonyms
References W3 Tropicos, Kew Monocot list , IPNI ; Flora of Malaya Vol 1 Holttum 1957 as T scaphigera; The Orchids of Thailand Seidenfaden & Smitinand 1963 drawing fide; Opera Botanica #95 Seidenfaden 1988 drawing fide; Orchids of Penninsular Malaysia and Singapore Seidenfaden 1992 drawing fide as T scapigera; Orchids of Borneo Chan, Lamb, Shin and Wood 1994 drawing/photo actually T zollingerii; A Checklist of the Orchids of Borneo Wood & Cribb 1994; Malesian Orchid Review Vol 1 2008 photo good as T scapigera; Wild Orchids of Penninsular Malaysia Ong, O'Byrne, Yong & Saw 2011 as T scapigera photo fide; A to Z of South East Asian Orchid Species Vol 2 O'Byrne 2011 as T scapigera photo fide
----------------------------------------------------------------------------------------------------------