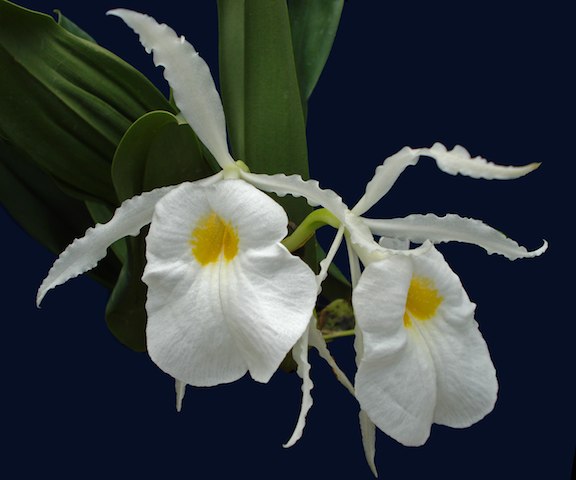 Trichopilia fragrans (Lindl.) Rchb. f. 1858
Photo By © Ecuagenera Orchid Website.
Photo By © Lourens Grobler .



to

LATE

EARLY

Common Name The Fragrant Trichopilia
Flower Size to 4 1/2" [11 cm]
Found in Cuba, Dominican Republic, Haiti, Guyana, Surinam, Venezuela, Colombia, Ecuador, Peru and northern Brazil in wet montane forests at elevations of 1200 to 2800 meters as a small sized, cool to cold growing epiphyte or terrestrial in leaf mold on the forest floor with clustered, almost ligulate, slightly compressed pseudobulbs carrying a single apical, oblong-ligulate, subacute, coriaceous, erect or suberect leaf that blooms in the late summer and early fall on a basal, pendulous, 12" [30 cm] long, few to several [2 to 5] flowered inflorescence with pale green, spotted dark brown bracts and large, fragrant Narcissus scented, waxy, long-lasting flowers.
Trichopilia backhousiana is similar to T fragrans but T backhousiana differs in the paler green plant, thinner texture leaves, less thick, more ancipitous, curving with age pseudobulbs and fleshier flowers, with a narrower lip and lobed near the apex instead of in the middle.
Trichopilia steinii is similar to T fragrans but it differs in the heavier substance flower, the campanulate, 4 lobed lip and the raised 3 lamellae callus at the mid point to the lip.
Synonyms *Pilumna fragrans Lindl. 1844; Pilumna nobilis Rchb.f. 1850; Trichopilia albida H.Wendl.1851; Trichopilia candida Linden ex Lindl. 1846; Trichopilia fragrans var. nobilis (Rchb.f.) Linden & André 1872; Trichopilia lehmannii Regel 1887; Trichopilia nobilis (Rchb.f.) Rchb.f 1855
References W3 Tropicos, Kew Monocot list , IPNI ; Bonplandia Rchb.f 1853 as Trichopilia albida; Xenia Orchidaceae vol 2 Rchb.f 1865 as T nobilis; Xenia Orchidaceae vol 2 Rchb.f 1865; Xenia Orchidaceae vol 2 Rchb.f 1865 as T albida; Refugium Botanicum Reichenbach 1872 drawing ok; Symbolae Antillanae Vol VI Orchidaceae Urban 1909; Die Orchideen Schlechter 1915; Atlas des Orchidees Cultivees Constantin 1920 as T fragrans var nobilor drawing fide; AOS Bulletin Vol 32 No 10 1963; Venezuelan Orchids Vol 3 Dunsterville & Garay 1965 not - T aenigma; Encyclopedia of Cultivated Orchids Hawkes 1965 photo ok; AOS Bulletin Vol 36 No 9 1967; AOS Bulletin Vol 39 No 3 1970 photo; Flora de Venezuela Volumen XV Part 5 Foldats 1970 drawing good; Orchids of Venezuela, An Illustrated Field Guide Vol 3 Dunsterville & Garay 1979 as T albida not = T aenigma; Orchids from The Coast Of Ecuador Arosemana, Jurado, Estrada and Konanz 1988 photo not; Icones Planetarum Tropicarum Series II Orchids of Peru Plate 0197 Dodson & Bennett 1989 as T albida drawing ok; Icones Planetarum Tropicarum Series II Orchids of Peru Plate 0198 Dodson & Bennett 1989 drawing not = T mesoperuviensis; Icones Planetarum Tropicarum Series II Orchids of Bolivia plate 0388 Dodson & Vasquez 1989 drawing not = T boliviensis; Native Colombian Orchids Vol 4 COS 1992 photo fide; The Manual Of Cultivated Orchid Species Bechtel, Cribb & Launert 1992 photo fide; Rudolf Schlechter Die Orchideen Band 1C lieferung 32 1977 - 2056 Brieger 1996 photo fide; Rudolf Schlechter Die Orchideen Band 1C lieferung 32 1977 - 2056 Brieger 1996 as T albida; Rudolf Schlechter Die Orchideen Band 1C lieferung 32 1977 - 2056 Brieger 1996 as T nobilis; Venezuela; Paraiso de Orquideas Romero 1997 as T albida photo hmm; Rudolf Schlechter Die Orchideen Band 1C lieferung 44-45 pg 2763 - 2898 Brieger 2001; Rudolf Schlechter Die Orchideen Band 1C lieferung 44-45 pg 2763 - 2898 Brieger 2001 as T nobilis; The Pictoral Encyclopedia of Oncidium Zelenko 2002; Australian Orchid Review Vol 68 No 1 2003 photo; Native Ecuadorian Orchids Vol 5 Dodson 2004 photo fide; Native Ecuadorian Orchids Vol 5 Dodson 2004 as T nobilis photo fide; Orchid Species Culture: Oncidium, Bakers 2006; The Orchids of Cuba Llamacho & Larramendi 2005 photo fide; AOS Bulletin Vol 75 No 10 2006 photo fide; Orchid Species Of Peru Zelenko & Bermudez 2009 photo fide; Orquideas del Peru Freuler 2010 photo fide; Orquideas del Peru Freuler 2010 photo fide; Orchids of Brazil Vol 1 Oncidinae Baptista, Harding & Neto 2011 as T albida photo hmm; Las Orquideas del Peru Izerskyy & Bezverhov 2011 photo not = T wageneri; Orquideas de Roirama Luz & Franco 2012 photo fide; Orchid Digest Vol 80 #2 2016 photo fide; AOS Bulletin Vol 85 #5 2016 drawing fide; AOS Bulletin Vol 85 #11 2016 photo fide;
--------------------------------------------------------------------------------------------------------------------------