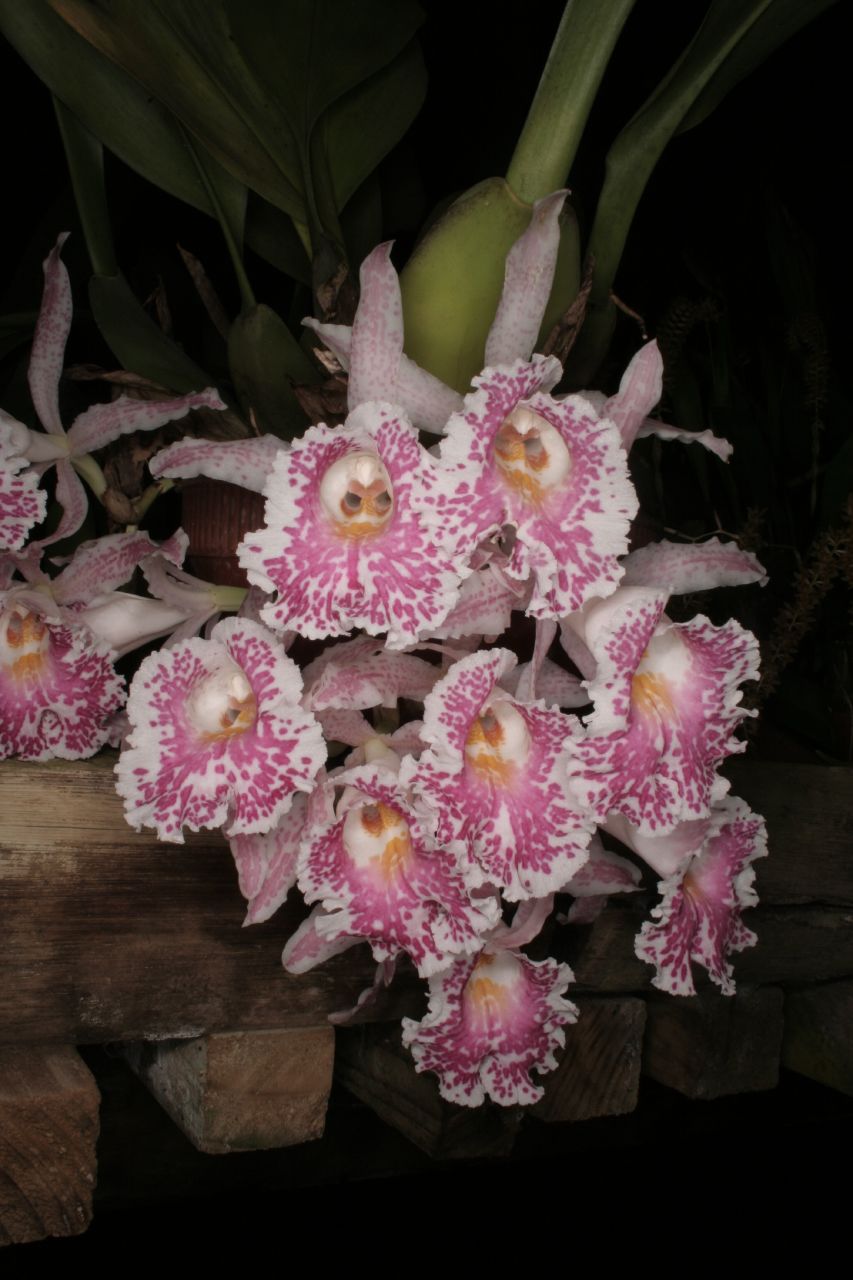 Trichopilia suavis Lindley & Paxton 1850-1 Photo by © Lourens Grobler.
Another Clone Photo by Patricia Harding.
Flower CloseUp Photos by David Jimenez



to

LATE

EARLY

Common Name The Soft Trichopilia
Flower Size 4" [10 cm]
This medium sized, warm to cool growing epiphytic species occurs from Costa Rica to Colombia in low, mossy woods on large branches and tree trunks between 1000 and 1700 meters in elevation, and is an erect plant that has fairly round, fleshy, compressed psuedobulbs enveloped basally by several, papery, imbricating sheaths and carrying a single apical, broadly elliptic-lanceolate, pointed, coriaceous yet flexible, erect or curved, abruptly narrows below into an elongate conduplicate petiolate base leaf and up to 8" long. They have a basal inflorescence arising on a newly formed pseudobulb that is pendulous or curved, short, with 2-5 longlasting, large, fragrant floral scented flowers that occur in the late winter to early spring.
Yearly repotting, regular water while in growth and a month long cooler, well ventilated rest insure a healthy blooming plant.
Synonyms Trichopilia kienastiana Rchb.f 1883
References W3 Tropicos, Kew Monocot list , Lankester's Epidendra Website CR ; *Paxt. Fl. Gard. 1: 44. 1850; Xenia Orchidaceae vol 2 Rchb.f 1865; Xenia Orchidaceae Vol 3 Reichenbach as T kienastiana 1893 drawing fide; Die Orchideen Schlechter 1915; Atlas des Orchidees Cultivees Constantin 1920 as T suavis var alba drawing fide; Repert. Sp. Nov. Regni. Veg. Beih. 17: 77. Panama Schlechter 1922; The Orchids of Panama L.O. Williams & P Allen 1946; Encyclopedia of Cultivated Orchids Hawkes 1965; AOS Bulletin Vol 38 #7 1969 postage stamp fide; AOS Bulletin Vol 39 No 3 1970 photo; AOS Bulletin Vol 39 No 9 1970 photo fide; AOS Bulletin Vol 54 No 8 1985 photo fide; Orchids Travel By Air A Pictoral Safari Mulder, Mulder-Roelfsema and Schuiteman 1990 photo fide; Icones Planetarum Tropicarum Plate 1498 Atwood 1992 drawing fide; The Manual Of Cultivated Orchid Species Bechtel, Cribb & Launert 1992 photo fide; Rudolf Schlechter Die Orchideen Band 1C lieferung 32 1977 - 2056 Brieger 1996 photo fide; Fieldiana Biology, Flora Costa Ricensis Family # 39 Orchidaceae, subtribes Maxillariinae and Oncidiinae Atwood & Mora 1999 drawing fide; AOS Bulletin Vol 70 No 8 2001 photo fide; The Pictoral Encyclopedia of Oncidium Zelenko 2002; Australian Orchid Review Vol 68 No 1 2003 photo; Manual de Plantas de Costa Rica Vol 3 Hammel, Grayum, Herrera and Zamora 2003; Orquideologia Vol. 23 No 1 2004 photo fide; AOS Bulletin Vol 74 No 7 2005 photo fide; Orchid Species Culture: Oncidium, Bakers 2006; AOS Bulletin Vol 76 No 5 2007 photo fide; Orchid Digest Vol 73 #2 2009 photo fide; Orchids of Costa Rica Vol 1 Morales 2009 photo fide; Orchid Digest Vol 80 #2 2016; AOS Bulletin Vol 85 #5 2016 drawingfide; AOS Bulletin Vol 85 #11 2016 photo fide; AOS Bulletin Vol 86 #2 2017 photo fide; Orchid Digest Vol 88 #4 2019 photo fide;
--------------------------------------------------------------------------------------------------------------------------