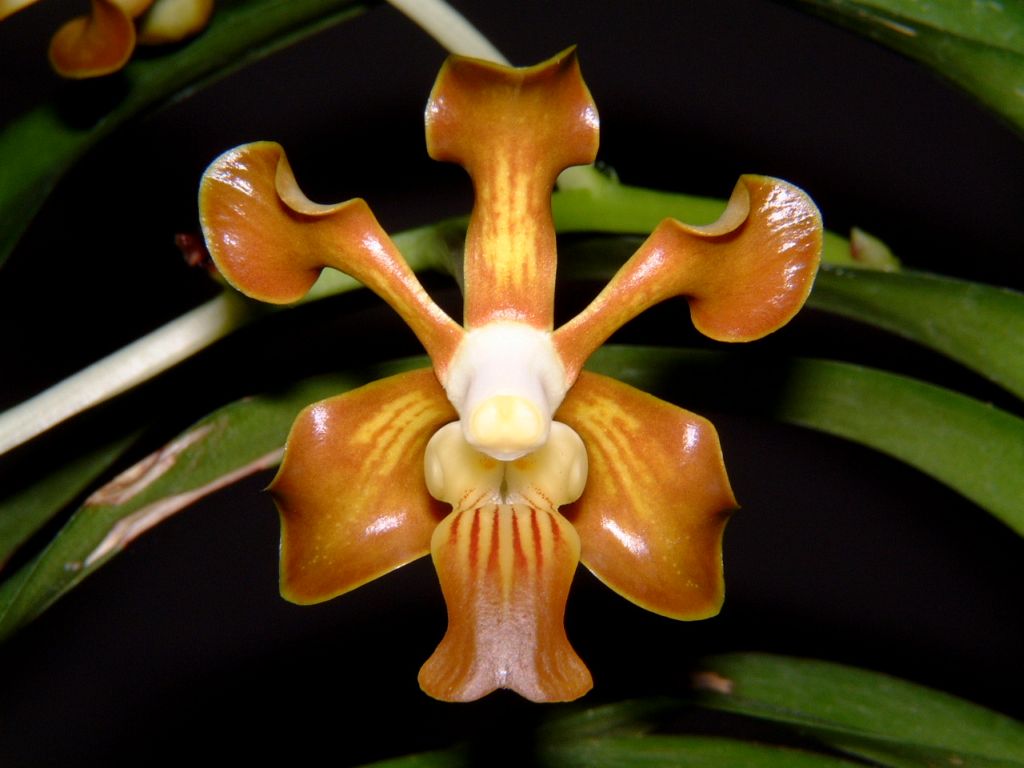 Vanda concolor Blume 1849 SECTION Longicalcarata Christenson Photo by © Kazuteru Tamura.
Another Flower Photo by © Holger Perner.





Common Name The One Colored Vanda - in China Qin chun wan dai lan
Flower Size 1.2 to 1.6" [3 to 4 cm]
Found in Guangxi, Guizhou and Yunnan provinces of China and North Vietnam on tree trunks and rocks at forest margins at elevations of 700 to 1600 meters as a small sized, warm to cool growing epiphyte with a short stem carrying several, leathery, linear, unequally bilobed apically leaves that blooms in the spring on 1 to 2, axillary, 4.4 to 6.8" [11 to 17 cm] long, 4 to 8 flowered inflorescence with ovate, acute floral bracts carrying thick textured, fragrant flowers
CAUTION I cannot be sure of the veracity of this determination so please use caution.
Synonyms Vanda cruenta Lodd. ex Sweet 1826; Vanda esquirolei Schltr. 1921; Vanda guangxiensis Fowlie 1993; Vanda roxburghii var. unicolor Hook 1835;
References W3 Tropicos, Kew Monocot list , IPNI ; Die Orchideen Schlechter 1915; Atlas des Orchidees Cultivees Constantin 1920 drawing fide; Encyclopedia of Cultivated Orchids Hawkes 1965; Rudolf Schlechter Die Orchideen Band 1B lieferung 19/20 1129 - 1264 Brieger 1988; Die Orchideen lieferung 19/20 Schlechter/Brieger 1988 as V esquirolei; Orchid Digest Vol 57 Vol 4 1993 as V guangxiensis photo fide; Identification of the Orchids [Orchidaceae Juss.] Vietnam Averyanov 1994; Rudolf Schlechter Die Orchideen Band 1C lieferung 42 - 43 pg 2626 - 2762 Brieger 2001 as V guangxiensis Flora of China Vol 25 Zhengyi, Raven & Deyuan 2009; Flora of China Vol 25 Illusttrations Zhengyi, Raven & Deyuan 2010 drawing ok; The Wild Orchids in Yunnan Xu Xiang Ye & Liu 2010 photos ok
--------------------------------------------------------------------------------------------------------------------------