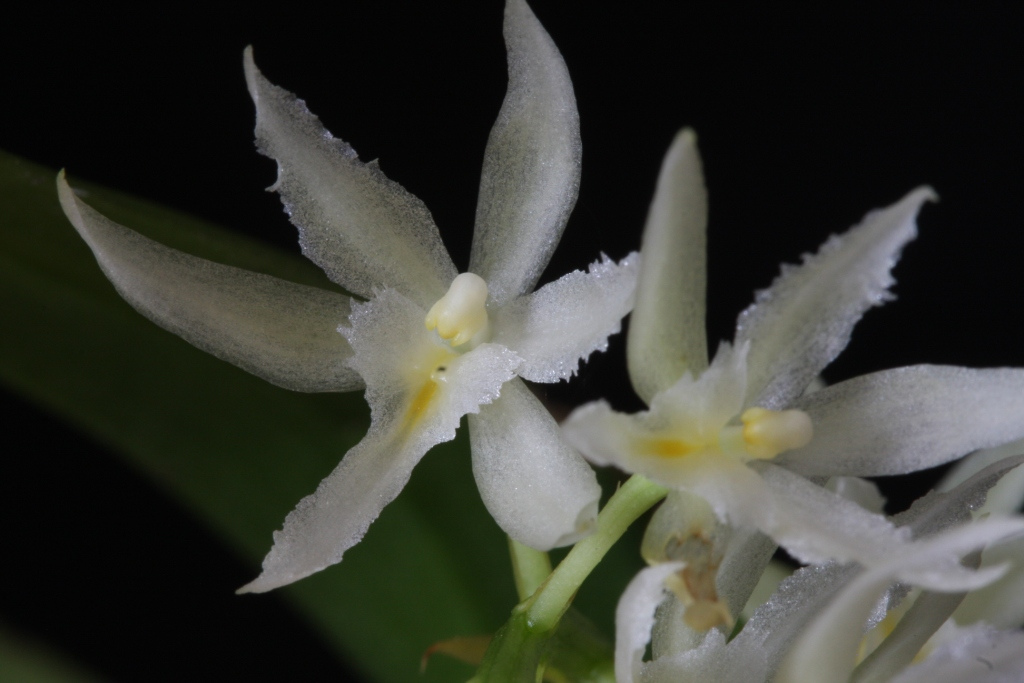 !Warmingia eugenii Rchb.f. 1881
Inflorescence Photo by © Luis Filipe Varella.
Another Clone Photo by Dave Alford.



to

Common Name Eugenius' Warmingia [Danish Orchid Collector 1800's]
Flower Size 1" [2.5 cm]
This species is from the forests of eastern Brazil. It is a miniature epiphytic herb with small, tufted, conical or cylindrical pseudobulbs carrying a single apical, slightly coriaceous, narrowly oblong-elliptic, obtuse, shortly petiolate leaf that requires even year round watering and needs to be on a hanging mount to accommodate the pendant, to 4 3/4" [12 cm] long, racemose, many [30] flowered inflorescence with lanceolate, brown bracts and carrying flowers smelling like hot metal.
Synonyms Macradenia eugenii (Rchb.f.) Schltr 1914; Macradenia loefgrenii (Cogn.) Schltr. 1914; Warmingia bolopetala Kraenzl. 1920; Warmingia loefgrenii Cogn. 1904
References W3 Tropicos, Kew Monocot list , IPNI ; *Otia Botanica Hamburgensia Rchb.f 1881; Xenia Orchidaceae Vol 3 Reichenbach 1883 drawing fide; Die Orchideen Schlechter 1915 as Macradenia eugenii; Die Orchideen Schlechter 1915 as Macradenia loefgrenii; Iconografia de Orchidaceae Do Brasil Hoehne 1949 drawing fide; AOS Bulletinn Vol 27 No 9 1958 drawing good; Encyclopedia of Cultivated Orchids Hawkes 1965 drawing fide; Orchidaceae Brasilenses Band 2 Pabst & Dungs 1977 drawing fide; Icones Planetarum Tropicarum Series II Orchids of Bolivia plate 0396 Dodson & Vasquez 1989 drawing fide; The Manual Of Cultivated Orchid Species Bechtel, Cribb & Launert 1992 drawingphoto fide; AOS Bulletin Vol 65 No 5 1996 photo fide; Rudolf Schlechter Die Orchideen Band 1C lieferung 32 1977 - 2056 Brieger 1996 drawing/photo fide; AOS Bulletin Vol 70 No 8 2001 drawing fide; Orchids of The Brazilian Central Plateau Menezes 2004 photo fide; AOS Bulletin Vol 74 No 4 2005 photo fide; 100 Orquideas Argentinas Freuler 2005 photo ok; Orchid Species Culture: Oncidium, Bakers 2006;
--------------------------------------------------------------------------------------------------------------------------