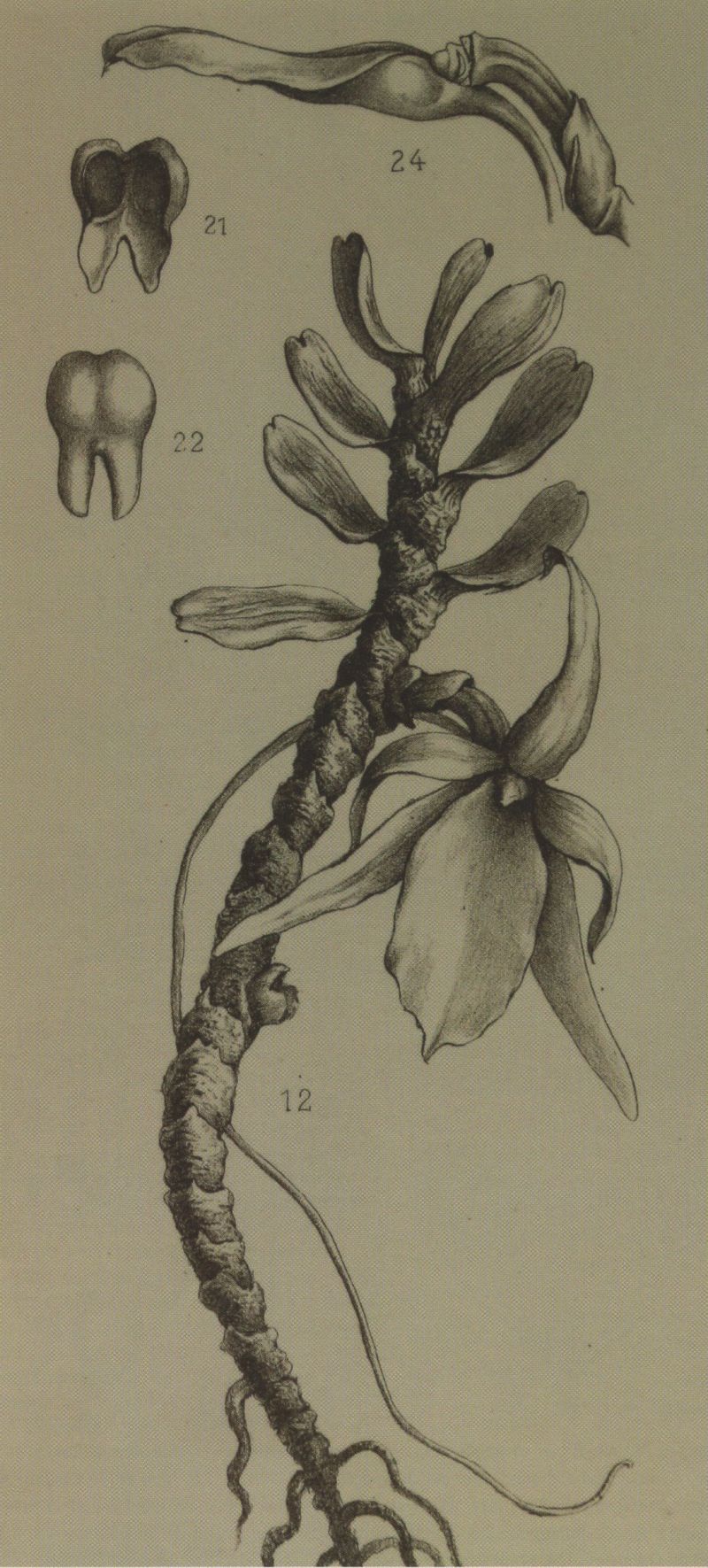 Angraecum didieri Baill. 1902 SECTION Perrierangraecum Schlechter Photo by Eric Hunt.
Another Angle Photo by Dick McRill



TO


Common Name or Meaning Didier's Angraecum [French Botanist early 1900's]
Flower Size 2 to 2 1/2" [5 to 6.25 cm] Spur 5 2/3" [14 cm]
A miniature to small sized, angraecoid, hot to cool growing epiphyte with a short stem carrying 5 to 7, ligulate, coriaceous, unequally and obtusely bilobed apically leaves that is best wood mounted and likes warm to cool temperatures and a humid environment. It flowers between April and June in the northern hemisphere on a short inflorescence with 2 to 3 bracts and carries a solitary flower and is from Madagascar in humid evergreen forests at an altitude of 600 to 1500 meters.
Synonyms Macroplectrum didieri Finet 1907; Perrierangraecum didieri (Baill. ex Finet) Szlach., Mytnik & Grochocka 2013
References W3 Tropicos, Kew Monocot list , IPNI ; Flora Of Madagascar Perrier 1939/1981; AOS Bulletin Vol 51 No 3 1982 photo; Rudolph Schlechter Die Orchideen Band 1B lieferung 16/17/18 945-1128 Brieger, Senghas 1985 drawing pollina only; Cultivated Angraecoid Orchids Of Madagascar Hillerman & Holst 1986 drawing/photo fide; Manual of Orchids Stewart 1995; AOS Bulletin Vol 69 No 12 2000 drawing; Boletim CAOB #52 2003; Botanica Orchids Laurel Glen 2004; AOS Bulletin Vol 73 no 9 2004 photo; AOS Bulletin Vol 74 No 3 2005 photo; Flora's Orchids Nash & La Croix 2005; Angraecoid Orchids Stewart, Hermans, Campbell 2006;Orchids of Madagascar Hermans, DU Puy, Cribb & Bosser 2007 photo fide; AOS Bulletin Vol 10 2008 photo; Field Guide to the Orchids of Madagascar Cribb & Hermans 2009 photo fide; Mille et Une Mini Orchideees Roguenant 2009 photo fide;
--------------------------------------------------------------------------------------------------------------------------