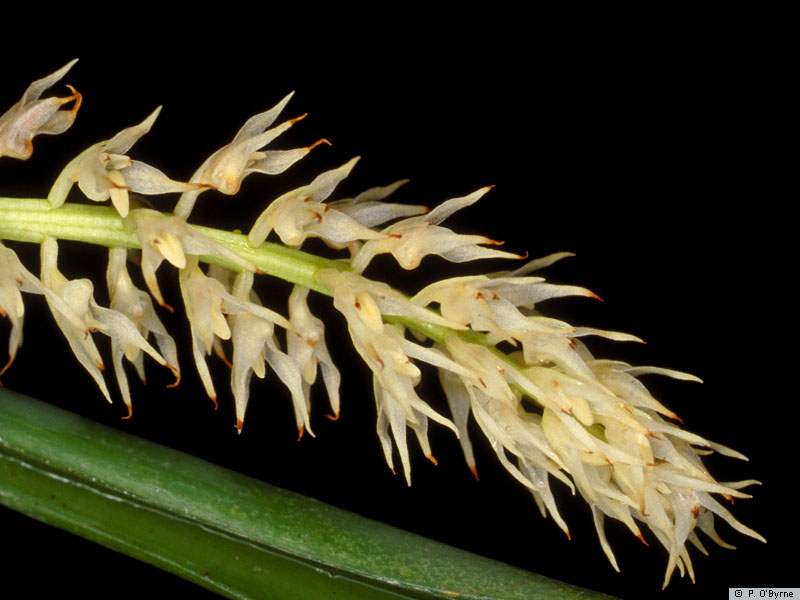 Bulbophyllum apodum Hook.f. 1890 SECTION Stachysanthes (Bl.) J.J. Verm. & P. O'Byrne 2008
Photos by Peter O'Byrne, courtesy of Jaap Vermeulen, André Schuiteman and Dr. E.F. de Vogel and Their Netherlands National Herbarium Website







Common Name or Meaning The No Foot Bulbophyllum [refers to the almost absent pseudobulbs] - In China Bing Ye Shi Dou Lan
Flower Size 1/8" [3mm]
Found in Yunnan Province of China, the eastern Himalayas, Thailand, Malaysia, Vietnam, Java, Sumatra, Borneo, Sulawesi and the Philippines in primary lowland forests and coastal shrub vegetation at elevations of sea level to 2000 meters as a small sized, hot to cool growing epiphyte with 3/4 to 1.2" [2 to 3 cm] between each, medium green, discoid pseudobulbs carrying a single, apical, erect, rather thick, elliptic, acute, abruptly narrowing below into the elongate, conduplicate petiolate base leaf that blooms in the fall, winter and spring on a basal, erect, laxly many [40] flowered, 5.6" [14 cm] long inflorescence enveloped below by 6 loose, tubular bracts and linear-lanceolate, acute, whitish floral bracts carrying sometimes fragrant flowers.
This species, B unguiculatum and B coriaceum are all very similar and all could be the same variable species.
This species and B ebulbum are said to be conspecific by Goaverts of Kew, I leave them separate until better reference material becomes available. If this is so then B apodum will take precedence as it was published earlier.
Synonyms Bulbophyllum anguipes Schltr. 1911; Bulbophyllum apodum var. lanceolatum Ridl. 1917; Bulbophyllum balapiuense J.J.Sm. 1917; Bulbophyllum ebulbum King & Pantl. 1895; Bulbophyllum humiligibbum J.J.Sm. 1927; Bulbophyllum oligoblepharon Schltr. 1911; Bulbophyllum saccatum Kraenzl. 1904; Bulbophyllum spathaceum Rolfe 1893; Bulbophyllum subebulbum Gagnep 1950; Bulbophyllum umbonatum Kraenzl. 1916; Bulbophyllum vaginulosum Carr 1930; Bulbophyllum vidalii Tixier 1966; Phyllorchis apoda (Hook.f.) Kuntze 1891
References W3 Tropicos, Kew Monocot list , IPNI ; Icones Plantarum 21 Hkr 1890 drawing fide; The Orchids of Sikkim-Himalaya Part 1 King & Pantling 1898; The Orchids of Thailand Seidenfaden & Smitinand 1961 drawing fide; Adansonia n.s., 6: 451 Tixier 1966 as B vidalii drawing fide; Dansk Botanisk Arkiv Bind 33 #3 Orchid Genera in Thailand VIII Bulbophyllum Thou Seidenfaden 1979 drawing fide; Orchids of Borneo Vol 2 Vermuellen 1991 drawing/photo fide; The Orchids of Penninsular Malaysia and Singapore Wood & Seidenfaden 1992 drawing fide; Orchids of Malaya Segerback 1992 as B vaginulosum photo good; The Plants of Mount Kinabalu Vol 2 Orchids Wood Beaman & Beaman 1993; A Checklist of the Orchids of Borneo Wood & Cribb 1994; Identification of the Orchids [Orchidaceae Juss.] Vietnam Averyanov 1994; Identification of the Orchids [Orchidaceae Juss.] Vietnam Averyanov 1994 as B subebulbum; Living with Orchids In Sumatra Landau 1996 photo fide; Bulbophyllum and Their Allies Siegerist 2001; Orchids of Sarawak Beeman & Wood Beaman etal 2001; Orchids of Sumatra Comber 2001; Orchids of Bhutan Pearce & Cribb 2002; Flora Malesiana Orchids of the Philippines Vol I Agoo, Shuiteman and de Vogel 2003; A field Guide to the Wild Orchids of Thailand Vaddhanaphuti 2005 photo hmm; Orchids of India A Glimpse Misra 2007; A Field Guide to the Orchids of China Singchi, Zhongjian, Yibo, Xiaohua and Zhanhuo 2009 as B spathaceum description yes/photo not - B spathulatum; Flora of China Vol 25 Zhengyi, Raven & Deyuan 2009; Mille et Une Mini Orchideees Roguenant 2009 photo ok; Flora of China Vol 25 Illustrations Zhengyi, Raven & Deyuan 2010 drawing ok; The Wild Orchids in Yunnan Xu Xiang Ye & Liu 2010 as B spathaceum photos ok; The Orchids of Mount Kinabalu Vol 2 Wood, Beaman, Lamb, Chu Lun and Beaman 2011 drawing fide/photo ok; Wild Orchids of Penninsular Malaysia Ong, O'Byrne, Yong & Saw 2011 photo good; Turczaninowia 16(4):26-46 NEW AND RARE ORCHIDS (ORCHIDACEAE) IN THE FLORA OF CAMBODIA AND LAOS Averyanov 2013 photo fide; Bulbophyllum of Borneo J J Verm, P O'Byrne and Lamb 2015 photos/drawing fide; Turczaninowia 19 (3): 5–58 L. V. Averyanov, Khang Sinh Nguyen etal 2016 ; Atlas of Native Orchids of China Vol 2 Jin Xiaohua, Li Jianwu and Ye Deping 2019 photo fide;
----------------------------------------------------------------------------------------------------------