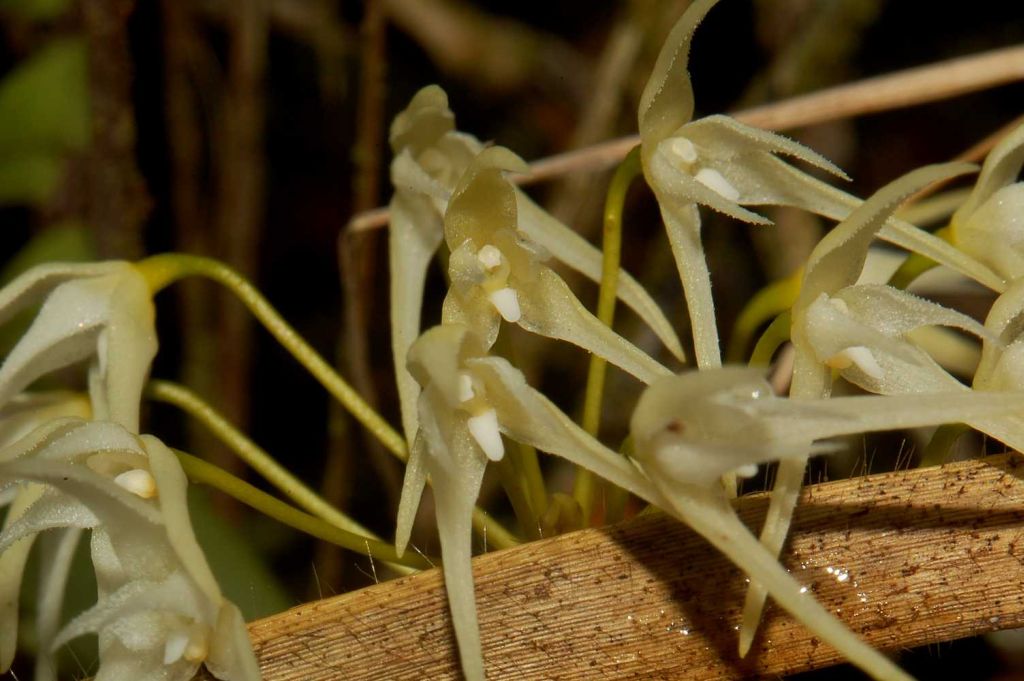 Bulbophyllum laxiflorum [Bl.] Lindl. 1830 SECTION Desmosanthes [Bl.] J.J. Sm. 1933
Plant in situ Thailand Photos by © David Kuehn
Inflorescence Photo by Bill Bergstrom and Berstrom Orchids



To




and

Common Name The laxly Flowered Bulbophyllum [refering to the loosely flowered inflorescence]
Flower Size 5/8" [1.5 cm]
Found in Thailand, Myanmar, Laos, Cambodia, Vietnam, Malaysia, Indonesia, Borneo, Sulawesi, Sumatra, Java and the Philippines in riverine, lowland hill and lower montane forests at elevations of 100 to 1800 meters as a miniature sized, hot to cool growing, unifoliate epiphyte with .2 to .8" [.5 to 2 cm] between each cylindrical pseudobulbs and a single apical, leathery, elliptic, acute at the apex, petiolate base leaf that blooms on an erect, basal, 2 7/8" or more [7 cm or more] long, several to many [20] flowered inflorescence with fragrant flowers held in an umbel, at, or near leaf height that can occur at most any time of the year.
Synonyms Bulbophyllum laxiflorum var celibicum Schlechter 1911; Bulbophyllum luzonense Ames 1912; Bulbophyllum pedicellatum Ridl. 1896; Bulbophyllum radiatum Lindl. 1830; Bulbophyllum syllectum Kraenzl. 1921; *Diphyes laxiflora Blume 1825; Phyllorchis laxiflora (Lindl.) Kuntze 1891; Phyllorkis radiata (Lindl.) Kuntze 1891
References W3 Tropicos, Kew Monocot list , IPNI ; The Orchids of Burma Grant 1895/95 as Bulb radiatum; Die Orchideen Von Java J.J.Sm. 1905; Die Orchideen Von Java Figuren Atlas J.J.Smith 1908 drawing fide; Orchidaceae of German New Guinea Schlechter 1914/1985; Flora of Malaya Vol 1 Holtum 1953; The Orchids of Thailand Seidenfaden & Smitinand 1959 as B pedicilattum; Notes on Cirrhopetalum Seidenfadden 1973 as B luzonense; Orchid Genera in Thailand VIII Bulbophyllum Thou. Seidenfaden 1979 drawing fide; Orchidiana Philipiniana Vol 1 Valmayor 1984 as B luzonense; Orchids of Java Comber 1990; Orchids Of Borneo Vol 2 Vermuellen 1991; Orchids of Penninsular Malaysia and Singapore Seidenfadden and Wood 1992 drawing/photo fide; The Plants of Mount Kinabalu Vol 2 Orchids Wood Beaman & Beaman 1993; A Checklist of the Orchids of Borneo Wood & Cribb 1994; A Field Guide to the Wild Orchids of Thailand Vaddhanaphuti 2001 photo fide; The Orchids of the Philippines Cootes 2001 photo fide; Bulbophyllums and Their Allies Seigerist 2001; Bulbophyllum and Their Allies Siegerist 2001 as B radiatum; Orchids of Sumatra Comber 2001 photo fide; Orchids of Bhutan Pearce & Cribb 2002; Lindleyana Vol 17 No 1 2002; Flora Malesiana Orchids of the Philippines Vol I Agoo, Shuiteman and de Vogel 2003; A field Guide to the Wild Orchids of Thailand Vaddhanaphuti 2005 photo fide; The Orchids of Mount Kinabalu Vol 2 Wood, Beaman, Lamb, Chu Lun and Beaman 2011 photo ok; Wild Orchids of Penninsular Malaysia Ong, O'Byrne, Yong & Saw 2011 photo fide; Bulbophyllum of Sulawesi Vermeullen & O'Byrne 2011 photo drawing/fide; Philippine Native Orchid Species Cootes 2011 photo fide; Bulbophyllum of Borneo J J Verm, P O'Byrne and Lamb 2015 photos/drawing fide;
----------------------------------------------------------------------------------------------

Bulbophyllum laxiflorum [Bl.] Lindl. 1830 var majus

Photos courtesy of David Jubineau and His Bulbophyllum & Co. WebsiteCopyright ©
A larger, yellow color form of the previous species.
Flower Size 1" [2.5 cm]
Found in Java at 1200 meters as a warm growing epiphyte.