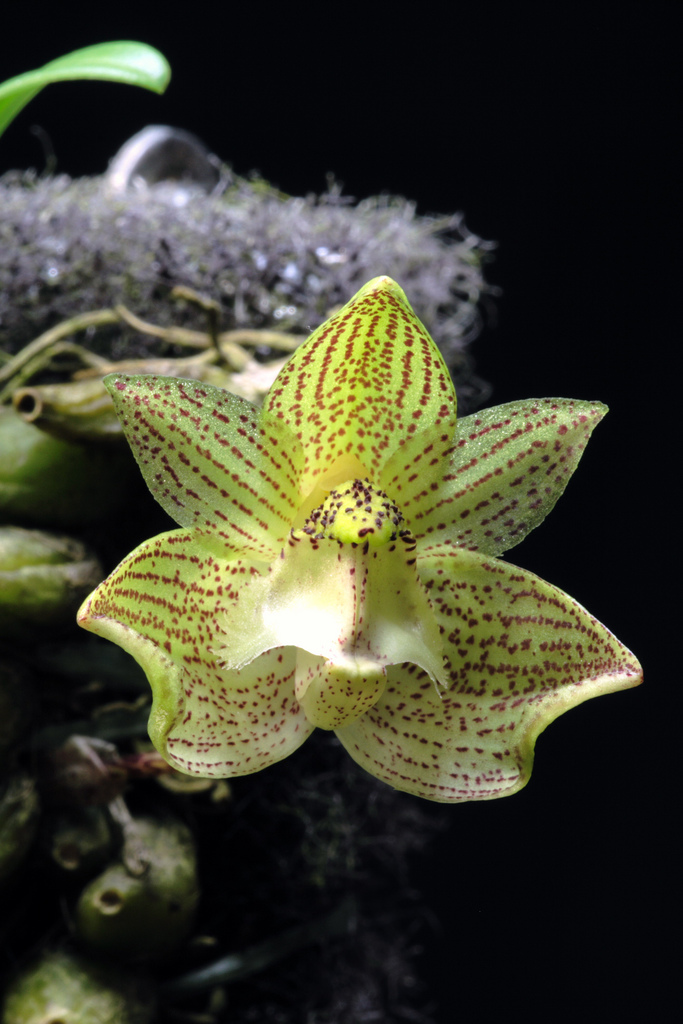 Bulbophyllum pectinatum Finet 1897 SECTION Leopardinae Bentham 1883
Photos by © Linda & Mikael Karlbom, Sweden



LATER


Common Name The Comb-Like Bulbophyllum [Refers to the Comb-Like Rim Of the Lip] - In China Chang Zu Shi Dou Lan
Flower Size 2" [5 cm]
Found in southern China, Myanmar, Thailand, Vietnam, Cambodia, Laos, India and Taiwan on wooded slopes at elevations of 1000 to 2500 meters as a mini-miniature sized, hot to cool growing, unifoliate epiphyte with ovoid pseudobulbs carrying a single, apical, elliptic, petiolate below leaf that blooms in the later spring and summer on a stout, 2 3/8" [6 cm] long, single flowered inflorescence that arises at the base of a newly developed pseudobulb and holds the flower at leaf height.
This species grows in hot to cool temperatures, partial shade and ample moisture and can be in a pot, basket or mounted on a slab of tree fern.
Very similar to B transarisanensis and may be conspecific with, but I have left them separate. There are differences in the angle of the lateral lobes of the comb-like lip and in the amount and length of the hairs.
Synonyms
References W3 Tropicos, Kew Monocot list , IPNI ; The Orchids of Thailand Seidenfaden & Smitinand 1961; Dansk Botanisk Arkiv Bind 33 #3 Orchid Genera in Thailand VIII Bulbophyllum Thou Seidenfaden 1979 drawing fide; Thai Orchid Species Rakpaibulsombat 1992 photo fide; Identification of the Orchids [Orchidaceae Juss.] Vietnam Averyanov 1994; Orchids Of India II Biodiversity & Status of Bulbophyllum Thou Augustine & Kumar 2001; Wild Orchids of China Tsi, Chen Mori 1997 photo fide; Native Orchids of China in Colour Singchi, Zhanhuo and Yibo 1999 photo fide; A Field Guide to the Wild Orchids Of Thailand Vaddhanphuti 2001 photo fide; Bulbophyllums and Their Allies Seigerist 2001; A field Guide to the Wild Orchids of Thailand Vaddhanaphuti 2005 photo fide; Orchids of India A Glimpse Misra 2007; Native Orchids From Gaoligongshan Mountains, China Xiaohua, Xiaodong and Xiaochun 2008 photo fide; A Field Guide to the Orchids of China Singchi, Zhongjian, Yibo, Xiaohua and Zhanhuo 2009 photo fide; Flora of China Vol 25 Zhengyi, Raven & Deyuan 2009; Flora of China Vol 25 Illustrations Zhengyi, Raven & Deyuan 2010 drawing fide; The Wild Orchids in Yunnan Xu Xiang Ye & Liu 2010 photos fide; Wild Orchids of Myanmar Nyan Tun Taunggyi 2014 photo fide; The Wild Orchids of Taiwan Lin & Wang 2014 photo fide; Atlas of Native Orchids of China Vol 2 Jin Xiaohua, Li Jianwu and Ye Deping 2019 photo fide;
--------------------------------------------------------------------------------------------------------------------------