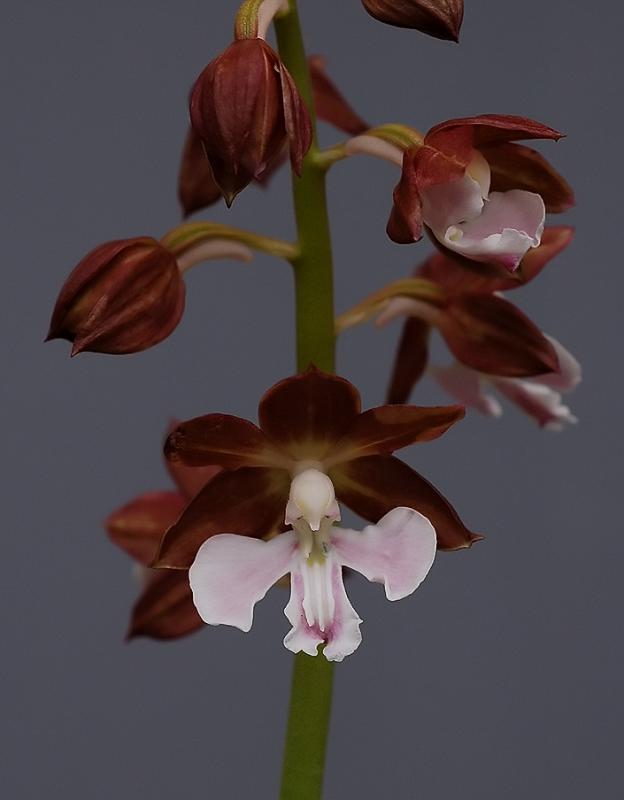 Calanthe discolor Lindl. 1838 SUBGENUS Calanthe SECTION Vernae
Photo by © Pieter C. Brouwer and his Nature Photo Website
Photos by Rogier van Vugt © and his Orchid webpage.
by Patricia Harding.
Plant and flowers in situ in Japan
Photo by Natsui.



to


Common Name The Different Colored Calanthe - In Japan - Amani-ebine - Okinawa-ebine - Katsudake-ebine - In China Xia Ji Lan
Flower Size .8" across [2 cm]
Found in China, Korea, Japan and the Ryukyus in shady and moist places in dense evergreen broad-leaved forests at elevations of 170 to 1500 meters as a small sized, cool to cold growing, semi-evergreen terrestrial with small pseudobulbs sheathed basally by leaf bases and carrying 2 to 4, elliptic-lanceolate to obovate-oblong, minutely pubescent above leaves and narrowing below into a sulcate petiole which blooms in the spring on terminal, lax, 2' [60 cm] long inflorescence with a loosely several [10 to 15] flowered racemose inflorescence with the rachis minutely pubescent and carrying mushroom scented flowers.
Synonyms Alismorkis discolor (Lindl.) Kuntze 1891; Calanthe amamiana Fukuy. 1952; Calanthe aristulifera var. amamiana (Fukuy.) Hatus.1971; Calanthe amamiana var. latilabellata Ida 1968; Calanthe cheniana Hand.-Mazz.1936; Calanthe discolor f. kanashiroi (Fukuy.) K.Nakaj. 1972; Calanthe discolor f. quinquelamellata M.Hiroe 1971; Calanthe discolor var. amamiana (Fukuy.) Masam. 1964; Calanthe discolor var. divaricatipetala Ida 1969; Calanthe discolor var. kanashiroi Fukuy.1942; Calanthe discolor var. tokunoshimensis (Hatus. & Ida) Hatus. 1998; Calanthe discolor var. viridialba Maxim. 1872; Calanthe esquirolei Schltr. 1913; Calanthe lurida Decne. 1855; Calanthe striata var. discolor (Lindl.) Maxim. 1873; Calanthe tokunoshimensis Hatus. & Ida 1969; Calanthe tokunoshimensis f. latilabella (Ida) Hatus. 1971; Calanthe tyoh-harae Makino 1926; Calanthe variegata Scheidw. 1838
References W3 Tropicos, Kew Monocot list , IPNI ; Die Orchideen Schlechter 1915; Encyclopedia of Cultivated Orchids Hawkes 1965; Orchids of Southern Ryukyu Islands Garay & Sweet 1974 drawing fide; AOS Bulletin Vol 44 #9 1975; AOS Bulletin Vol 55 No 6 1986 photo fide; Schlechteriana Vol 2 No 3 1991 photo fide; Manual of Cultivated Orchids Bechtel; Cribb & Laurent 1992 drawing/photo fide; Manual of Orchids Stewart 1995; AOS Bulletin Vol 66 No 5 1997 photo fide; Wild Orchids of China Tsi, Chen Mori 1997; Native Orchids of China in Colour Chen, Tsi and Luo 1999 photo fide; Flora's Orchids Nash & La Croix 2005; A Field Guide to the Orchids of China Singchi, Zhongjian, Yibo, Xiaohua and Zhanhuo 2009 photo fide; Flora of China Vol 25 Zhengyi, Raven & Deyuan 2009; The Genus Calanthe Clayton & Cribb 2013 drawing good/photo fide; The Genus Calanthe Clayton & Cribb 2013 drawing as C discolor var amaniana good/photo fide; AOS Bulletin Vol 88 #2 2019 photo fide; Atlas of Native Orchids of China Vol 2 Jin Xiaohua, Li Jianwu and Ye Deping 2019 photo fide;
Calanthe discolor var. amamiana (Fukuy.) Masam. 1964




--------------------------------------------------------------------------------------------------------------------------