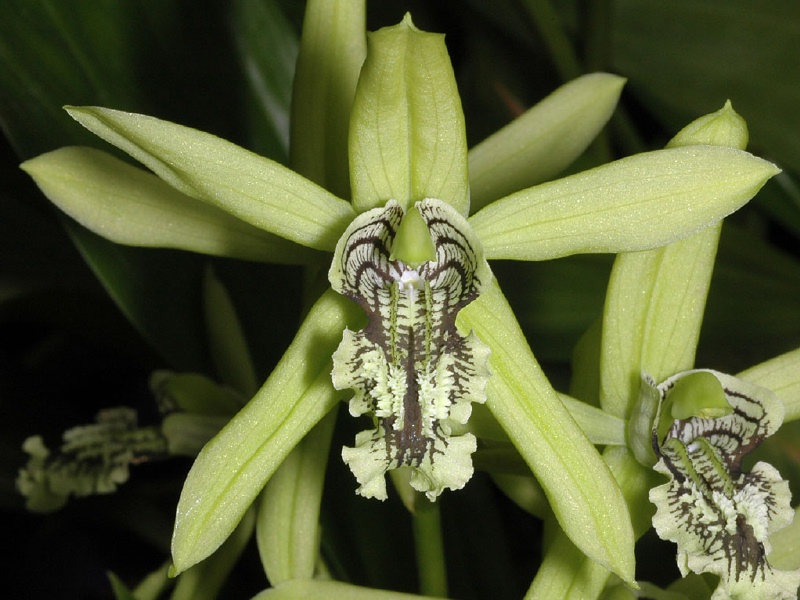 Coelogyne mayeriana Rchb. f. 1877 SECTION Verrucosae Pfitzer & Kraenzlin.
Lip Detail Photo courtesy of Eric Hunt





Common Name Mayer's Coelogyne [German Botanical Garden Director, Stutgart 1800's]
Flower Size 2.8" [7 cm]
Similar to C. pandurata yet with smaller flowers and a different, non-pandurate, deeply ruffled lip with hard, white warts, this species occurs in Malaysia, Sumatra, Java and Borneo as a medium to large sized, hot growing epiphyte on tree trunks or occasional terrestrial in humus at elevations of sealevel to 100 meters often near mangroves with 3.2 to 9.6" [8 to 24 cm] between each pyriform, circular in cross-section pseudobulb enveloped basally by a few imbricate sheaths and carrying 2, apical, plicate, 7 nerved, acute, gradually narrowing below into the grooved petiolate base leaves that blooms in the summer and fall on an arching to pendant, 1 1/2' [45 cm] long, proteranthous inflorescence with many lemon scented, simultaneously opening flowers.
References W3 Tropicos, Kew Monocot list , IPNI ; Die Orchideen Schlechter 1915 as C mayeri; Flora of Malaya Vol 1 Holttum 1957 drawing good; AOS Bulletin Vol 32 No 5 1963; Encyclopedia of Cultivated Orchids Hawkes 1965; Die Orchideen #1 1-4 tafel 1&2 Rudolph Schlechter 1971 photo fide; Dansk Botanisk Arkiv Bind 29 N.R. 4 Orchid Genera in Thailand III Seidenfaden 1975 drawing fide; Die Orchideen 3 Auflage Bd 1 Sonderabdruck aus Schlechter Lieferung 15 881 - 944 Brieger, Maatsch and Senghas 1984 drawing fide; AOS Bulletin Vol 55 No 6 1986 photo fide; Orchids of Java Comber 1990 photo fide; The Orchids of Penninsular Mayasia and Singapore Seidenfaden & Wood 1992 drawing ok; A Checklist of the Orchids of Borneo Wood & Cribb 1994 as C meyeriana; Orchids of Sumatra Comber 2001 photo fide; The Genus Coelogyne A Synopsis, D A Clayton 2002 photo ok; AOS Bulletin Vol 73 No 3 2004; Orchid Digest Vol 72 #2 2008 photo fide; A to Z of South East Asian Orchid Species Vol 2 O'Byrne 2011 photo fide;


--------------------------------------------------------------------------------------------------------------------------