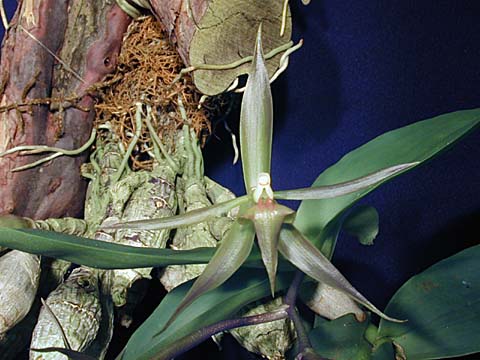 Epidendrum pugioniforme Regel 1890 GROUP Coilostylis
Photo by Andy's Orchids Copyright © 2002 All rights reserved.



to



and

Common Name The Dagger-Shaped Epidendrum
Flower Size 2 1/4" [5.6 cm]
found only in southwestern Mexico in moist pine-oak forests at elevations of 1800 to 2500 meters as a very beautiful, small to medium sized, pendant growing, cool to cold growing epiphyte or occasional lithophyte Epidendrum with a wonderfully odd growth habit, producing a chain of pendant 1" to 6" [2.5 to 15 cm] long, thick, fusiform-shaped pseudobulbs enveloped basally in youth by several, imbricate, scarious sheaths and carrying 3 to 5, dark green, 4" [10 cm] long, acute, basally clasping leaves, emerging from the newest matured growths are 2" to 4" [5 to 10 cm] long, arching, racemose inflorescence bearing 5 to 10, very beautiful, 2.24" [5.6 cm] long, simultaneously opening, nocturnally fragrant [soap] flowers, the starry blooms have green to coppery-brown sepals and petals, and a green pointy lip with a prominent red disc. Blooming occurs from the winter until early summer.
Epidendrum pugioniforme is part of GROUP Coilostylis characterized by the sympodial, caespitose plants, the stems forming a fusiform, pseudobulb, with an apical, racemose, distichous inflorescence, the peduncle covered by large bracts (but not spathaceous bracts), and flowers large, star-shaped, with long, narrow sepals and petals. Many authorities cite this species as a synonym of E parkinsonianum but it is quite different so I leave it as a separate species. I await Eric Hagsater's treament of this species.
Synonyms Coilostylis pugioniformis (Regel) D.P.Banks 2004
References W3 Tropicos, Kew Monocot list , IPNI ; Icones Orchidacearum I Plate 39 Hagsater and Salazar 1990 drawing not = E hagsateri; The Illustrated Encyclopedia of Orchids Pridgeon 1992 photo fide; Miniature Orchids Mcqueen 1992 photo fide; Miniature orchids McQueen 1992 photo fide; Australian Orchid Review Vol 69 No 4 2004 photo; ; The Cattleyas and Their Relatives, the Debateable Epidendrum Withner and Harding 2004 as Coilostylis pugioniformis photo fide
--------------------------------------------------------------------------------------------------------------------------