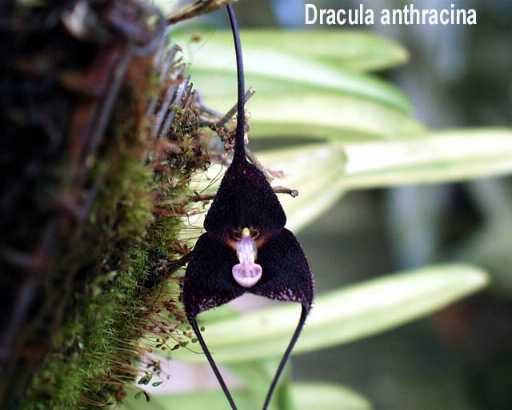 Dracula anthracina Luer and Rodrigo Escobar 1982SUBGENUS Dracula SECTION Dracula SUBSECTION Dracula SERIES Parviflorae
Photo by Dale and Deni Borders.
Photo by © Eric Hunt
Photo by © Luis Baquero and his Flickr Orchid Photo Website


to



Common Name The Coal-Black Dracula
Flower Size 1" x 4" tall [2.5 x 10 cm]
Found in Boyaca department of Colombia in forests at elevations of 1800 to 2500 meters as a small sized, cool to cold growing epiphyte with stout, erect ramicauls enveloped basally by 2 to 3, loose, tubular sheaths and carrying a single, apical, erect, thinly coriaceous, carinate, narrowly linear-obovate, acute, gradually narrowing belowq into the conduplicate, subpetiolate base leaf that blooms in the spring and fall on a congested, horizontal to descending, successively few flowered, 2 to 4" [5 to 10 cm] long, racemose inflorescence arising from low on the ramicaul and carrying, tubular floral bracts.
Similar to D benedictii, but differs in the concave epichile of the lip is much broader than the hypochile, has the epichile almost to as broad as the hypochile.
This species is one of only seven Dracula species that occur on the eastern cordillera of Colombia, the other 6 are, D gerhardii, D vlad-tepes and D orientalis as well as D. vinacea and D. diabola in Boyacá and D. psittaccina in Cundinamarca
References W3 Tropicos, Kew Monocot list , IPNI ; Thesaurus Dracularum Vol 5 Luer, Escobar and Dalstroem 1992 watercolor/drawing fide; Native Colombian Orchids Vol 1 COS 1990 photo fide; Icones Pleurothallidinarum X Systematics of Dracula Luer 1993 drawing fide; Orchid Digest Vol 61 #4 1997 photo fide; Libro Rojo de Plantas De Colombia Vol 6 Primera Parte Saenz 2007; Draculas Del Ecuador Pupulin, Merino and Medina 2009 photo fide; Orchids Masdevallia with its segregates including Dracula Zelenko 2014 photo fide; Orchids, A Colombian Treasure Vol 1 Ortiz & Uribe 2014 drawing/photo fide;
----------------------------------------------------------------------------------------------------------