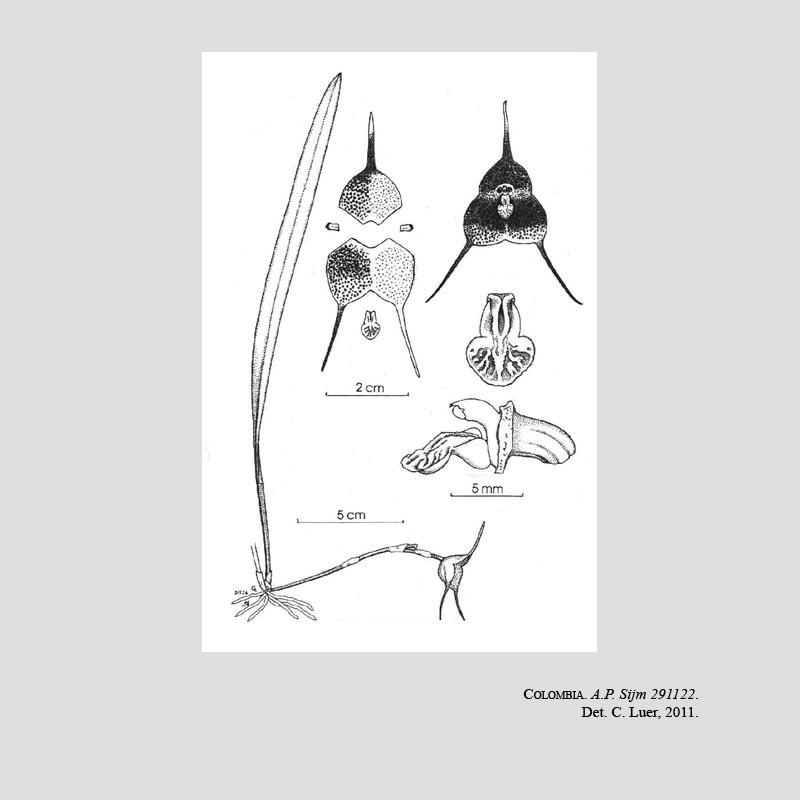 Dracula gerhardii Luer & Sijm 2011 Drawing by © Carl Luer and the The Swiss Orchid Foundation at the Jany Renz Herbaria Website


LATE

Common Name or Meaning Gerhard's Dracula [Gerhard Vierling Dutch Orchid Enthusiast current]
Flower Size .8" [2 cm]
Found in Norte de Santander Colombia at elevations of 2000 to 2500 meters as a small sized, cold growing epiphyte with relatively slender, erect ramicauls enveloped by 2 to 3 tubular sheaths and carrying a single, apical, erect, thinly coriaceous, narrowly linear-oblong, acute, gradually narrowing below into the petiolate base leaf that blooms in the late spring on a horizontal, 4.8 to 6" [12 to 15 cm] long, loose, successively few flowered inflorescence arising from the base of the ramicaul with tubular floral bracts.
"D gerhardii is distinguished by the narrowly linear-oblong leaves and a shorter, horizontal inflorescence. The cupped flowers are densely dotted andf minutely papillose within. The sepals are obtuse with slightly longer, thick tails. The crimson epichile of the lip is shallow, but the clefts between the radiating lamellae are deep and rise slightly above the thin margins of the epichile." Carl Luer & Sijm 2011
This species is one of only seven Dracula species that occur on the eastern cordillera, the other 6 are, D vlad-tepes, D anthracina and D orientalis as well as D. vinacea and D. diabola in Boyacá and D. psittaccina in Cundinamarca.
Synonyms
References W3 Tropicos, Kew Monocot list , IPNI ; *Harvard Pap. Bot. 16(2): 324. Luer & Sijm 2011 drawing fide
--------------------------------------------------------------------------------------------------------------------------