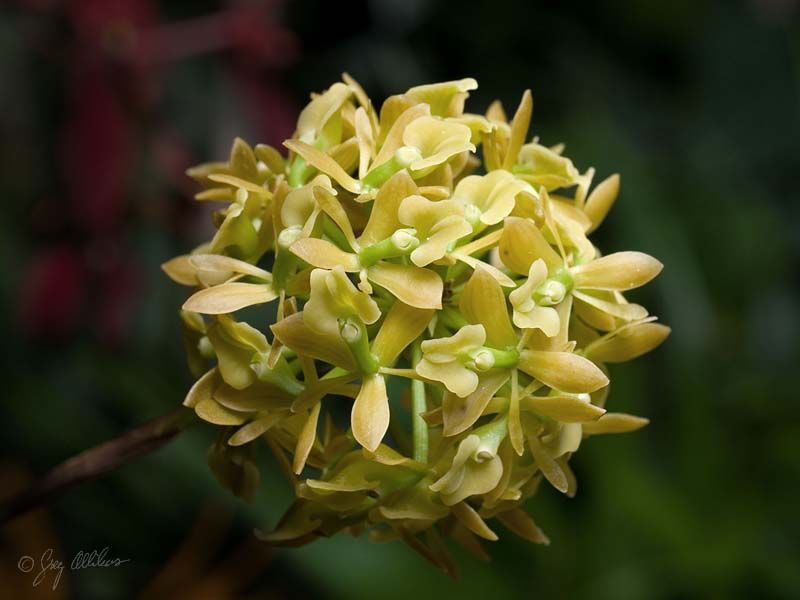 Epidendrum amphistomum A. Rich. 1850 GROUP Anceps SUBGROUP Anceps Photo by © Greg Allikas.
Orange Cultivar Photo by © Stephen Jones.



to


Common Name The Surrounded Mouth Epidendrum - Dingy Flowered Star Orchid - Dingy-Flowered Epidendrum
Flower Size 1/2" [6 cm]
Found in Florida USA, Cuba, Dominican Republic and Haiti as a medium to large sized, caespitose, warm to cold growing epiphyte or occasional lithophyte occuring in cypress swamps at altitudes up to 500 meters, with erect, ancipitous stems enveloped basally by a few scarious sheaths and carrying several to many, lanceolate, basally clasping leaves that graduate in size from the base and blooms in the spring on an apical, 9" [22.5 cm] long, terminal, subumbellate, racemose inflorescence that is covered with several scarious, imbricate, acuminate sheaths and carries many, small, fragrant [old stale straw], flowers clustered at the apex and blooms repeatedly from the old inflorescence over a few years.
This species found in the USA has in the past mostly been refered to as Epidendrum anceps but this one differs in the larger plant, the flower color and the bilobed lip.
Synonyms Epidendrum amphistomum f. rubrifolium P.M.Br. 2000
References W3 Tropicos, Kew Monocot list , IPNI ; AOS Bulletin Vol 44 #8 1975 as E anceps; AOS Bulletin Vol 68 #5 1999 photo fide; AOS Bulletin Vol 70 #12 2001 as E amphistoma fma rubrifolia; Botanica's Orchids Laurel Glen 2002 photo fide; Icones Orchidacearum Vol 11 Plate 1102 Hagsater & Sanchez 2008 see recognition; Orchid Digest Vol 74 #2 2010 photo fide; Orchid Flora of the Greater Antilles Ackerman 2014; AOS Bulletin Vol 85 #11 2016 photo fide;
--------------------------------------------------------------------------------------------------------------------------