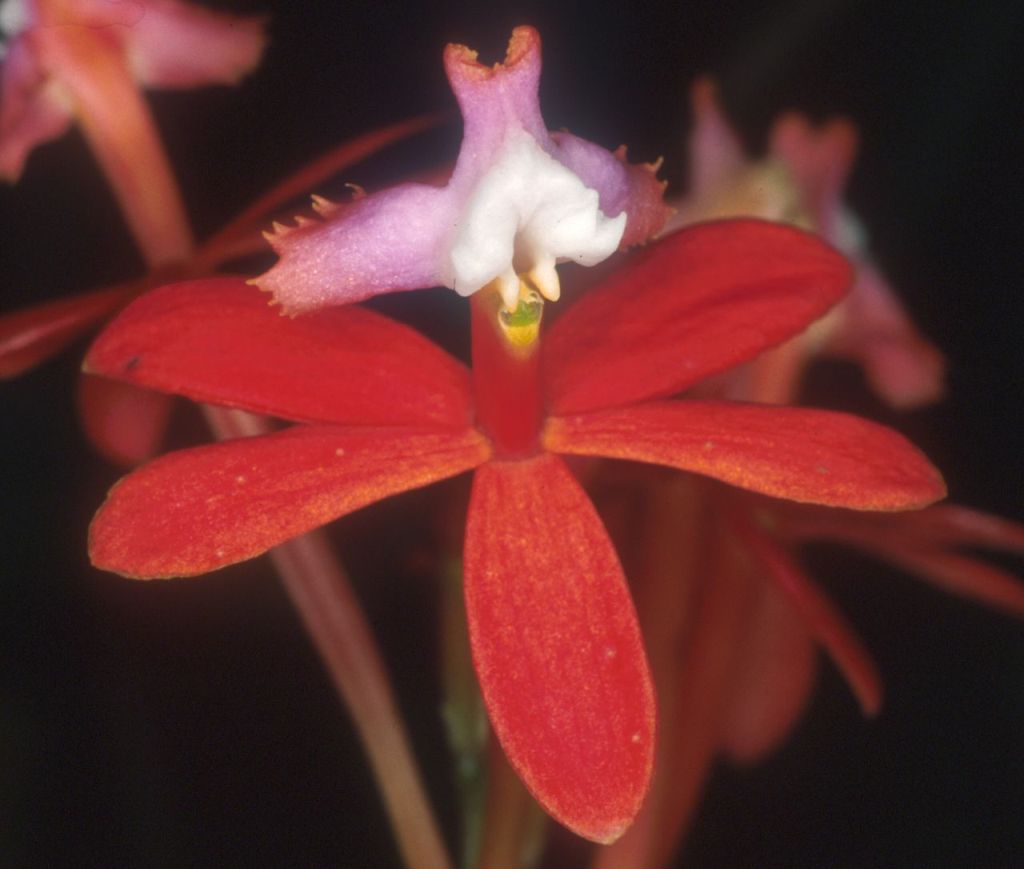 Epidendrum catillus Rchb. f. & Warsz. 1854 GROUP Secundum SUBGROUP Elongatum Photo by © Lourens Grobler
Inflorescence Photo by © Andy's Orchids Copyright © 2002 All rights reserved.







Common Name The Small Basin? Epidendrum
Flower Size 1 1/4" [3.1 cm]
A Colombian reedstem species of the Western Cordillera as well as in Ecuador and Peru in forested savannahs and mountain forests at elevations of 750 to 2500 meters as a small to large sized, warm to cold terrestrial or as an epiphyte with simple canes carrying ovate to oblong-lanceolate, fleshy coriaceous, dorsally carinate leaves that are carried towards the apex and basal leaf sheaths that has an erect, 20" [50 cm] long, raceme or panicle, loosely or densely, few to many flowered, umbelliform inflorescence with successively opening, non-resupinate flowers occuring at any time of the year.
Similar to E imperator which has larger flowers and oblanceolate, acute sepals and a lip that has a massive, tridetate, yellow callus and E igneum but it has smaller flowers with elliptic, acute sepals.
Synonyms
References W3 Tropicos, Kew Monocot list , IPNI ; *Bonplandia Rchb.f 1854; Repert. Spec. Nov. Regni Veg. Beih. 7: 245 Schlechter 1920; Die Orchideen der Sudamerikanischen Kordillerenstaaten IV Peru Schlechter 1921 as E vinosum; Die Orchideen 3 Auflage Bd 1 Sonderabdruck aus Schlechter Lieferung 9 513 - 576 Brieger, Maatsch and Senghas 1977 as E antioquense drawing ok; Die Orchideen 3 Auflage Bd 1 Sonderabdruck aus Schlechter Lieferung 9 513 - 576 Brieger, Maatsch and Senghas 1977 as E sic farmense drawing ok; drawing fide; Native Colombian Orchids Vol 2 COS 1991 photo fide; Native Colombian Orchids Vol 4 COS 1994 photo ok; Manual Of Orchids Stewart 1995; Native Colombian Orchids Vol 6 COS 1998 errata; Icones Orchidacearum 4 Plate 452 Hagsater & Sanchez 2001 see recognition section as E vinosum; Botanica's Orchids Laurel Glen 2002 photo fide; Icones Orchidacearum 7 Plate 747 Hagsater & Sanchez 2004 see recognition section; Icones Orchidacearum 7 Plate 748 Hagsater & Sanchez 2004; Las Orquideas del Peru Izerskyy & Bezverhov 2011 photo fide; Orchids of the Department of Valle De Cauca Colombia Vol 2 Kolanowska, Hagsater etal. 2014 drawing fide; Orquideas, Tesoro de Colombia Vol 2 Ortiz & Uribe 2017 E aff cattilus photo ok; Orquideas, Tesoro de Colombia Vol 2 Ortiz & Uribe 2017 photo fide;
--------------------------------------------------------------------------------------------------------------------------