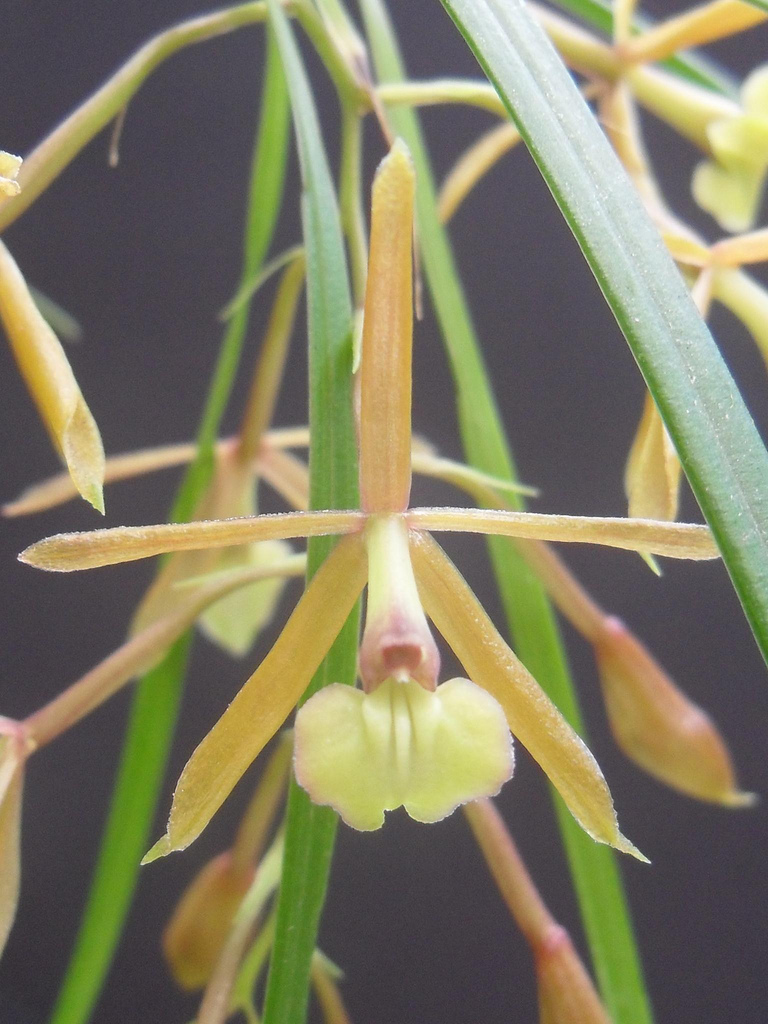 Epidendrum chloe Rchb. f. 1856 GROUP Chloe Photos by © Mario Velasquez and his Flickr Orchid Photo Website
Another flower Photo by © Eric Hunt Plant grown by Dan Newman of Hanging Gardens.


LATE

to

Common Name or Meaning The Green Shoot Epidendrum
Flower Size 3/5" [1.5 cm]
Found in Guatemala, El Salvador, Honduras and Nicaragua in wet montane forests at elevations of 1000 to 1200 meters as a small to medium sized, grass-like, cool growing epiphyte occuring on mossy trees with erect, thin, grass-like stems carrying several, thin, linear, acuminate, basally clasping, bulging leaves held in the apical half that blooms in the late winter and spring on a terminal, laxly few flowered, to 2" [to 5 cm] long, racemose inflorescence arising on a mature cane.
Synonyms
References W3 Tropicos, Kew Monocot list , IPNI ; *Bonplandia Rchb.f 1856; The Genus Epidendrum Ames 1936; Ceiba Vol 5 No 1 L O Williams 1956; Las Orquedias De El Salvador Vol 1 Hamer 1974 drawing/photo fide; Las Orquedias de El Salvador Vol 3 Hamer 1981 drawing fide; Icones Planetarum Tropicarum Plate 710 Dodson 1982 drawing fide; Selbyana Vol 10 Orchids of Central America Hamer 1988 drawing fide; Orquídea (Méx.) 12(2): 131-138. Garcia Cruz 1992 drawing fide; Icones Orchidacearum 3 Plate 399 Hagsater, Sanchez & Garcia-Cruz 1999; Orchids of Mexico Hagsater, Soto, Salazar, Jimenez, Lopez and Dressler 2005; Icones Orchidacearum 13 Plate 1315 Hagsater 2010 drawing ok; Icones Orchidacearum 13 Plate 1324 Hagsater 2010 as E culmiforme see recognition sectoin;
--------------------------------------------------------------------------------------------------------------------------