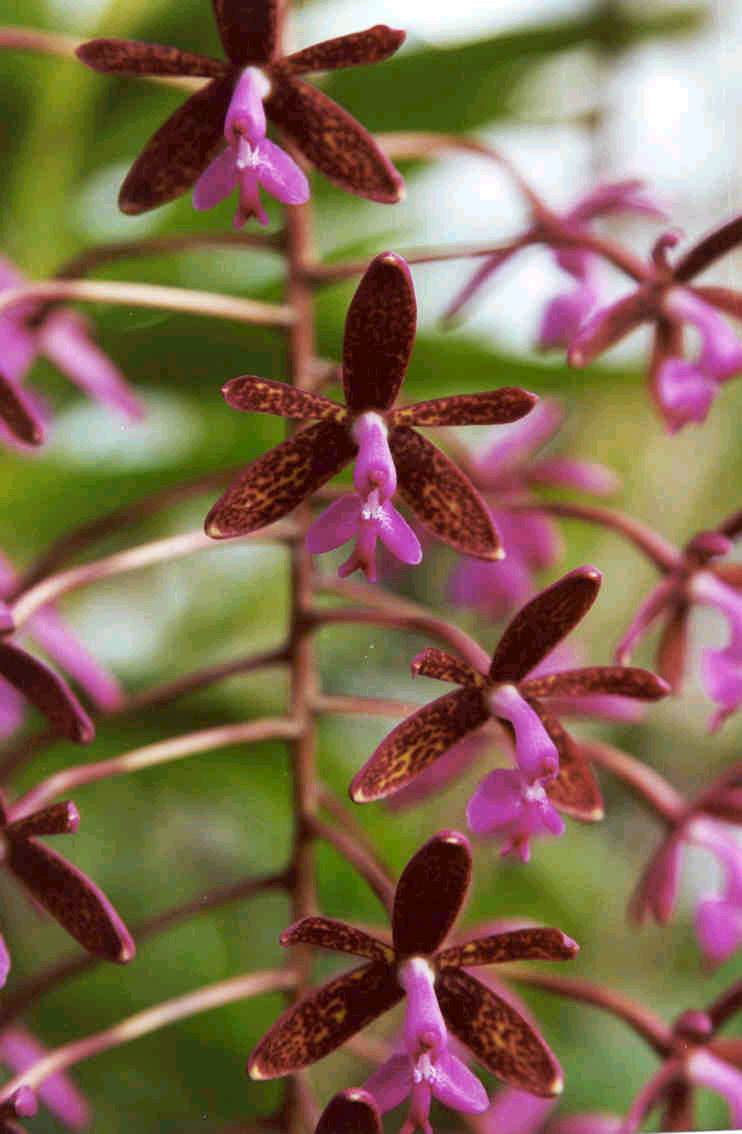 Epidendrum cnemidophorum Lindl. 1853 GROUP Cristatum SUBGROUP Cnemidophorum type for the subgroup
Photo by © Wood Stream Orchids Website
Photos by © Weyman Bussey
Drawing by © Jimenez, Hágsater & E.Santiago and The AMO Herbario Website





Common Name The Leg-Armor Epidendrum [refers to the sheaths that clothe the base of the inflorescence]
Flower Size 2" [5 cm]
Found in Guatemala, El Salvador, Honduras, Nicaragua and Costa Rica in montane cloud forests at elevations around 2000 meters as a medium sized, cool to cold growing epiphyte with robust, glabrous, green, sheathed below and leafed above stem carrying distichous, alternate, acuminate apically leaves that are articulate below to the conduplicate, clasping leaf sheaths and blooms in the winter on a terminal, racemose, few to several [3 to 10] flowered, short inflorescence arising on a mature stem and holding showy, agreeably scented flowers.
Text by Weyman Bussey about the photos that are above.
This is an exciting plant! It is the darkest form anybody has ever seen. Bill Goldner now has it and I hope he can self it. The gentleman pictured holding the flower on the plant is Dr. Ernesto Aguirre, one of the foremost Mexican orchid taxonomists in the country. It was taken at an orchid show in Mexico City in 1996.
"Epidendrum cnemidophorum belongs to the GROUP Cristatum which is characterized by the sympodial, caespitose habit, many-leaved stems, apical racemose inflorescence with several large, imbricating bracts, and producing successive racemes over the years from the peduncle, and the SUBGROUP Cnemidophorum, with pink-purple or yellow to yellowish green flowers, the lip with the margin of the lateral lobes entire. The species is recognized by the rounded bracts of the peduncle of the inflorescence, the dorsal surface of the sepals and petals rose, the inner side greenish yellow with irregular brown to reddish purple spots, the mid-lobe short bilobed, the lobes small, circular. Epidendrum pfavii Rolfe is vegetatively very similar but the bracts of the peduncle are acuminate, and the flowers evenly magenta-rose, with a clearly defined white blotch on the disc of the lip, the mid-lobe forms a pair of rectangular lobes apically truncate. Epidendrum tziscaoënse Hágsater has pale green flowers with reddish brown spots on the sepals and petals, the lip and column white slightly tinged purple on the sides of the anther and around the disc of the lip, the mid-lobe is narrowly elliptic, acute, not bilobed." Hagsater etal 2010
Synonyms Encyclia affinis (Rchb. f.) Schltr. 1918; Epidendrum affine Rchb. f. 1856; Epidendrum macrobotryum Lindl. ex Rchb.f 1856
References W3 Tropicos, Kew Monocot list , IPNI ; Bonplandia Rchb.f 1856 as Epidendrum affine; Bonplandia Rchb.f 1856 as Epidendrum macrobotryum; Die Orchideen Schlechter 1915; Atlas des Orchidees Cultivees Constantin 1920 drawing fide; The Genus Epidendrum Ames 1936; Ceiba Vol 5 No 1 L O Williams 1956; Encyclopedia of Cultivated Orchids Hawkes 1965; Die Orchideen 3 Auflage Bd 1 Sonderabdruck aus Schlechter Lieferung 9 513 - 576 Brieger, Maatsch and Senghas 1977 photo fide; AOS Bulletin Vol 49 No 11 1980 photo fide; Las Orquedias de El Salvador Vol 3 Hamer 1981 drawing/photo fide; Icones Planetarum Tropicarum plate 1216 Dodson 1985 drawing fide; Selbyana Vol 10 Orchids of Central America Hamer 1988 drawing fide; Icones Orchidacearum 3 Plate 391 Hagsater & Sanchez 1999 see recognition section; Icones Orchidacearum 4 Plate 442 Hagsater 2001 see recognition section; Genera Orchidacearum Vol 4 Epidendoideae Part one Pridgeon, Cribb, Chase and Rasmussen 2005 photo fide; Orchids of Mexico Hagsater, Soto, Salazar, Jimenez, Lopez and Dressler 2005 photofide; Icones Orchidacearum 9 Plate 940 Hagsater 2007 see recognition section; Icones Orchidacearum 9 Plate 940 Hagsater 2007 see recognition section; Icones Orchidacearum 11 Plate 1157 Hagsater 2008 see recognition section; AOS Bulletin Vol 78 #6 2009 photo fide; Icones Orchidacearum 13 Plate 1322 Hagsater 2010 drawing fide; Guia de Orquideas de Chiapas Carlos Rommel Beutelspacher Baigts 2013 photo fide; Algunas Orquideas de Mexico Tomo 1 Suarez 2013 photo fide; AOS Bulletin Vol 86 # 3 2017 photo fide; Orchid Genera and Species in Guatemala Archila, Szlachchetko, Chiron, Lipinska, Mystkowska and Bertolini 2018; Orchid Digest Vol 83 #3 2019 photo fide;
--------------------------------------------------------------------------------------------------------------------------