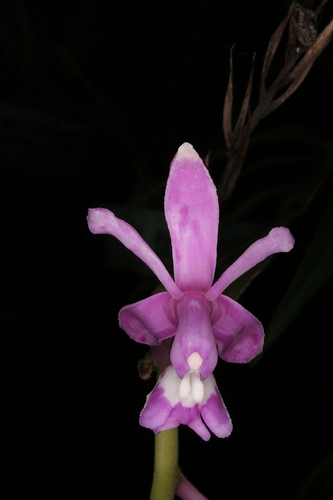 Epidendrum pfavii Rolfe 1894 GROUP Cristatum SUBGROUP Cnemidophorum
Photo by © Lourens Grobler
Photo courtesy of Andy's Orchids Copyright © 2002 All rights reserved.
Drawing by © Jimenez, Hágsater & E.Santiago and The AMO Herbario Website




Common Name Pfavi's Epidendrum [Swiss Orchid Collector - Central America 1800's]
Flower Size 1.5" [3.75 cm]
Found in Costa Rica at elevations of 1700 to 2000 meters as a large sized, cool growing epiphyte with simple, cane-like, terete at the base, laterally compressed near the apex, erect, straight, tall stems carrying numerous, distributed throughout the stem (on old stems, the lower ones often missing), articulate, distichous; sheaths tubular, minutely striated, blade lanceolate, acuminate, minutely apiculate, coriaceous, margin entire, spreading leaves that blooms in the summer on a terminal, peduncle straight, laterally compressed, totally hidden within 4-7 very prominent, oblong-Ianceolate, acuminate, conduplicate, imbricating, green, the basal ones sometimes slightly tinged with purple bracts, racemose, producing new racemes through the years, with up to 2 racemes per year from the same peduncle, rachis straight, arching-nutant, densely, successively (though nearly all may be open at once) 17 to 60 flowered with much shorter than the ovary, triangular-cymbiform, acuminate floral bracts the fleshy and velvety blooms are slightly fragrant of perfume hot pink to purple with a purple four-lobed lip and a white callus.
Often cited as a synonym of E cnemidophorum but it differs in the rounded bracts, the dorsally pale pink, inside green yellow with irregular brown to reddish purple spots and the lip and column are magenta rose and white becoming yellow with age.
"Epidendrum pfavii Rolfe belongs to GROUP Cristatum SUBGROUP Cnemidophorum, which is characterized by the sympodial, caespitose habit, many-leaved stems, apical racemose inflorescence with several large, imbricating bracts, and producing successive racemes over the years from the peduncle but the bracts of the peduncle are acuminate, and the flowers evenly magenta-rose, with a clearly defined white blotch on the disc of the lip, the mid-lobe forms a pair of rectangular lobes apically truncate. Epidendrum cnemidophorum has rounded bracts of the peduncle of the inflorescence, the dorsal surface of the sepals and petals rose, the inner side greenish yellow with irregular brown to reddish purple spots, the mid-lobe short bilobed, the lobes small, circular. Epidendrum tziscaoënse Hágsater has pale green flowers with reddish brown spots on the sepals and petals, the lip and column white slightly tinged purple on the sides of the anther and around the disc of the lip, the mid-lobe is narrowly elliptic, acute, not bilobed." Hagsater etal 2010
References W3 Tropicos, Kew Monocot list , IPNI ; Repert. Sp. Nov. Regni. Veg. Beih. 19: 42. Costa Rica Schlechter 1923; Repert. Sp. Nov. Regni. Veg. Beih. 19: 123. Costa Rica Schlechter 1923; AOS Bulletin Vol 33 No 7 1964 photo fide; AOS Bulletin Vol 49 No 11 1980 photo fide; The Illustrated Encyclopedia of Orchids Pridgeon 1992 photo fide; Icones Orchidacearum 2 Plate 166 Hagsater & Sanchez 1993 see recognition section; Field Guide to the Orchids of Costa Rica and Panama Dressler 1993; Manual Of Orchids Stewart 1995; Icones Orchidacearum 3 Plate 391 Hagsater & Sanchez 1999 See recognition section; Manual de las Plantas de Costa Rica Vol 3 Hammel, Grayum, Herrera and Zamora 2003 PHOTO fide; Vanishing Beauty, Native Costa Rican Orchids Vol 1 Pupulin 2005 photo fide; Icones Orchidacearum Vol 11 Plate 1157 Hagsater & Sanchez 2008 drawing fide; Orchids of Costa Rica Vol 3 Morales 2009 photo fide; Icones Orchidacearum 13 Plate 1322 Hagsater 2010 see recognition section
--------------------------------------------------------------------------------------------------------------------------