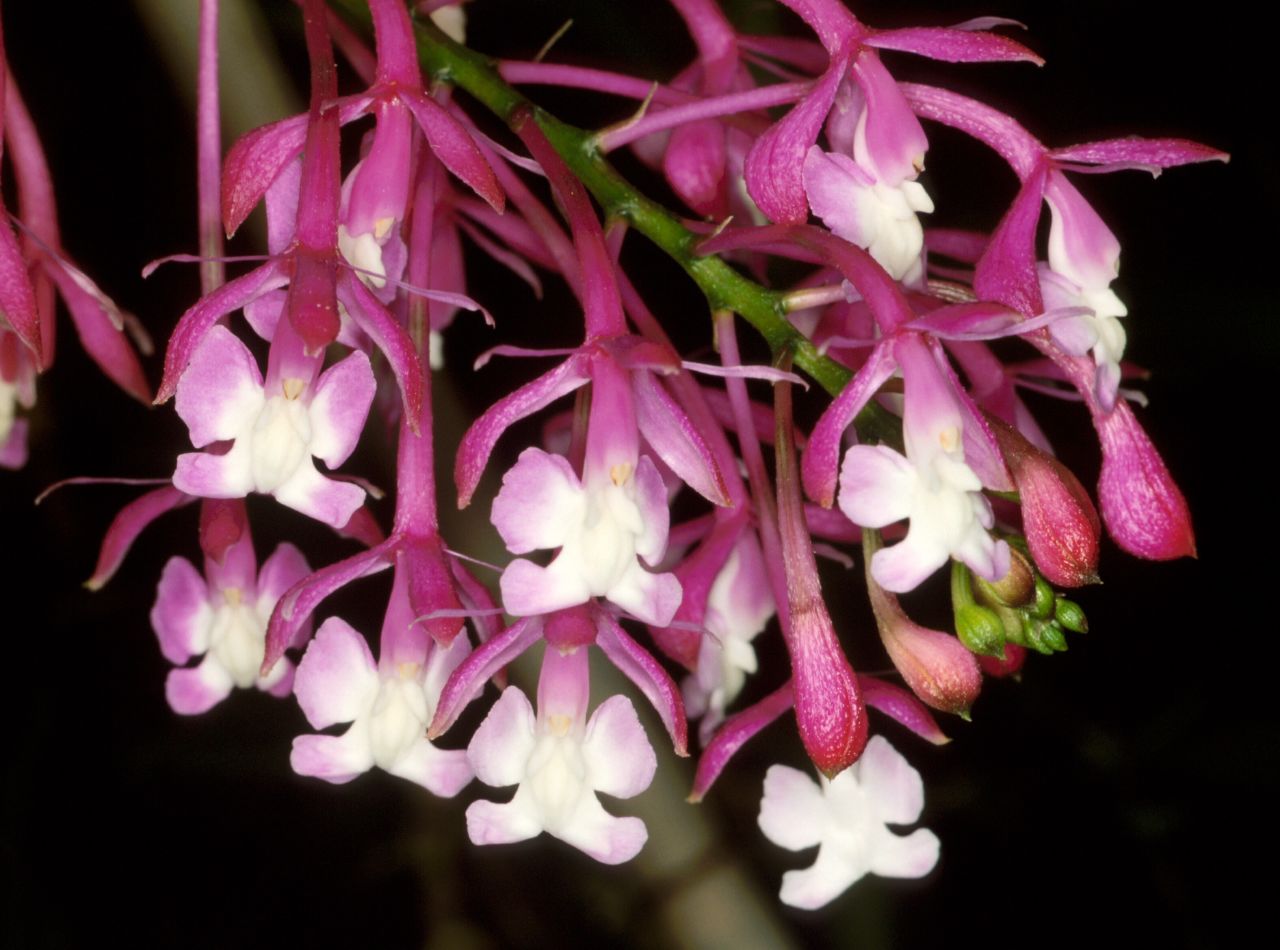 Epidendrum porphyreum Lindl. 1841 GROUP Pseudepidendrum SUBGROUP Porphyreum Photo by © Lourens Grobler.


to


and

Common Name The Purple Epidendrum
Flower Size 2/5" [1 cm]
Found in Colombia and Ecuador in very wet montane forests at elevations of 1800 to 3900 meters as a medium to large sized, cool to cold growing epiphyte or terrestrial on steep embankments with slender cane-like stems enveloped by distichous, foliaceous sheaths carrying coriaceous, thin, linear, acute leaves that are basally clasping blooming in the spring and fall on a terminal, arching, branched, to 5" [12.5 cm], racemose inflorescence with pendulous flowers.
Synonyms
References W3 Tropicos, Kew Monocot list , IPNI ; The Genus Epidendrum Ames 1936; Icones Planetarum Tropicarum plate 426 Dodson 1982 see Observations; Icones Planetarum Tropicarum plate 431 Dodson 1982 drawing fide; Icones Orchidacearum 4 plate 416 Hagsater & Salazar 2001 see recognition section; Icones Orchidacearum 4 plate 463 Hagsater & Salazar 2001 see recognition section; Native Ecuadorian Orchids Vol 2 Dodson 2001 photo fide; Icones Orchidacearum Part 12 Plate 1293 Hagsater 2009 see recognition section; Icones Orchidacearum 13 Plate 1320 Hagsater 2010 see recognition section; Icones Orchidacearum 13 Plate 1328 Hagsater 2010 see recognition section; Icones Orchidacearum Part 13 Plate 1369 Hagsater 2010 see recognition section; Icones Orchidacearum Part 13 Plate 1377 Hagsater 2010 drawing fide; Icones Orchidacearum 13 Plate 1388 see recognition section ;
--------------------------------------------------------------------------------------------------------------------------