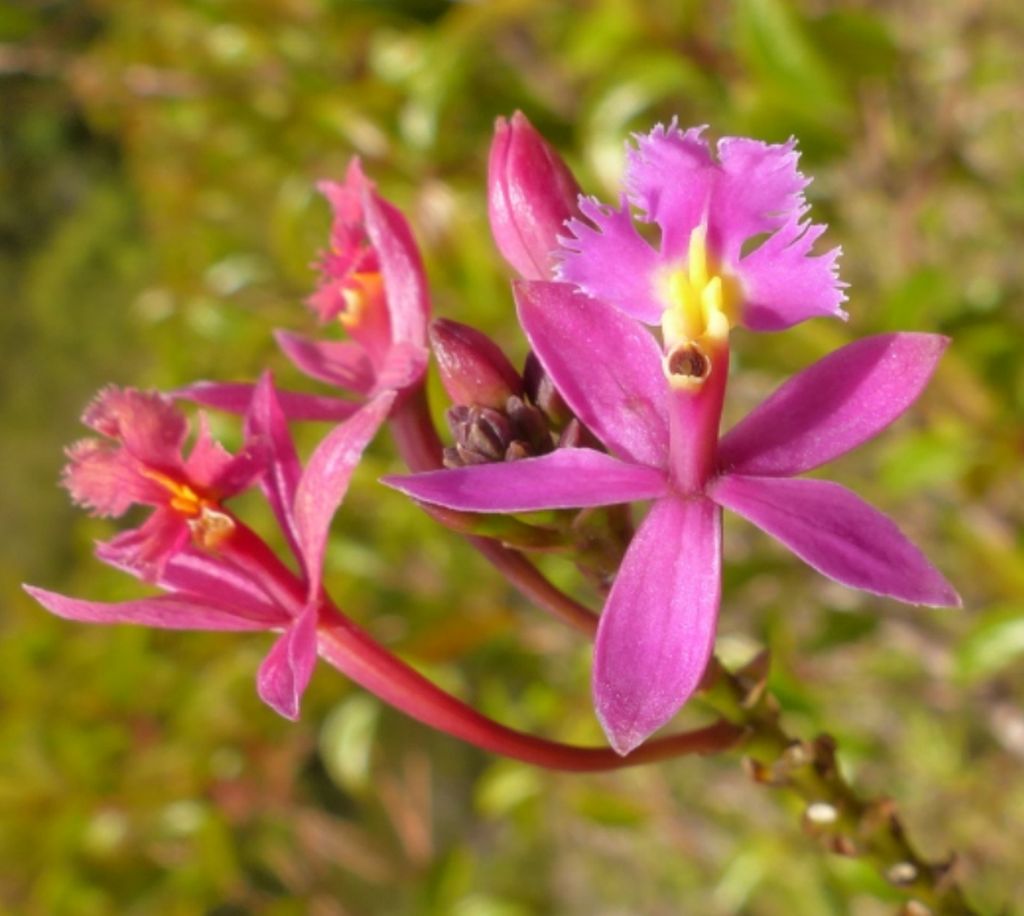 Epidendrum elongatum Jacq. 1789 GROUP Secundum SUBGROUP Elongatum Photo by © Lourens Grobler.




and

Common Name The Elongated Lip Epidendrum - In Australia The Red Crucifix Orchid
Flower Size 3/4" [3.75 cm]
A sturdy, erect, medium sized, caespitose, warm to cool growing epiphyte or terrestrial found in the Lesser Antilles and South America at elevations of 600 to 1750 meters with an elongate stem with alternate, basally clasping, lanceolate leaves that blooms in the spring and summer on a slender, terminal, long stalked, 2' [60 cm] long peduncle covered by remote sheaths bearing a raceme or few branched panicle of a few to many, non-resupinate flowers.
This species is cited as a synonym of Epi secundum by several authors.
Synonyms Epidendrum calanthum var. rubrum Stehlé 1939;
References W3 Tropicos, Kew Monocot list , IPNI ; Xenia Orchidaceae Vol 3 Reichenbach 1878 drawing; Die Orchideen Schlechter 1915; Repert. Spec. Nov. Regni Veg. Beih. 10: 70 Schlechter 1922; Venezuelan Orchids Illustrated Vol 2 Dunsterville & Garay 1961 as E secundum drawing fide; Encyclopedia of Cultivated Orchids Hawkes 1965; Die Orchideen #9 511 - 579 tafel 9 Rudolph Schlechter 1971 drawing/photo fide; Flora of the Lesser Antilles Garay & Sweet 1974 drawing fide; Orchidaceae Brasilense Band 1 Pabst & Dungs 1975 drawing good; Die Orchideen 3 Auflage Bd 1 Sonderabdruck aus Schlechter Lieferung 9 513 - 576 Brieger, Maatsch and Senghas 1977; AOS Bulletin Vol 49 No 5 1979 photo; Orchids of Venezuela, An Illustrated Field Guide Vol 1 Dunsterville & Garay 1979 drawing fide; Venezuelan Orchids Dunsterville 1987 drawing/photo fide; Orchids Travel By Air A Pictoral Safari Mulder, Mulder-Roelfsema and Schuiteman 1990 photo fide; Native Colombian Orchids Vol 4 COS 1994 #858 as E sp photo soso; Native Colombian Orchids Vol 6 COS 1998 errata; Venezuela, Paraiso de Orquideas Romero 1997 photo fide; Orchids of Venezuela [An illustrated field guide] Vol. 1 Ramiro and Carnevali 2000 as E secunda drawing fide; Orquideas Nativas del Tachira Cesar Fernandez 2003 photo ok; Native Australian Orchids Jones 2006 photo fide; Icones Orchidacearum 8 Plate 877 Hagsater 2007 see recognition section; The Organ Mountain Range Its History and its Orchids Miller, Warren, Miller & Seehawer 2008 drawing good; Orquideas, Tesoro de Colombia Vol 2 Ortiz & Uribe 2017 as E cf elongatum Photo good;
--------------------------------------------------------------------------------------------------------------------------