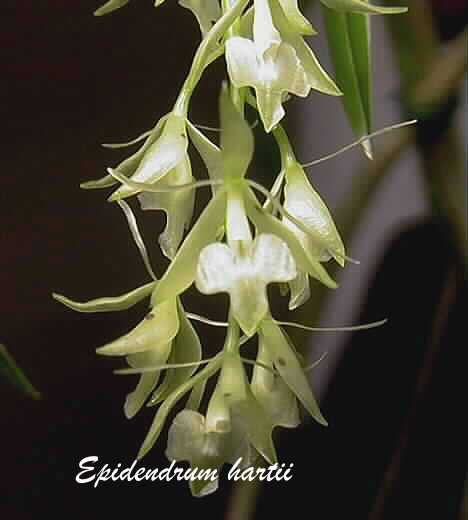 Epidendrum hartii Rolfe 1894 GROUP Amblostomoides
Photo by © Patricia Harding


to

LATE


Common Name Hart's Epidendrum [Orchid collector 1800's]
Flower Size .6" [1.5 cm]
Found as a small to medium sized, hot to warm growing epiphyte in Trinidad and Venezuela at higher elevations with an erect, terete, reed-like stem carrying membraneous, linear, obtuse leaves that blooms in the late winter and spring on a terminal, pendant, irregularily much branched, 8 to 10" [20 to 25 cm] long, many flowered inflorescence that is just longer than the leaves.
"Epidendrum hartii Rolfe belongs to the GROUP Amblostomoides haracterized by the caespitose habit, the thinly fusiform stems carrying narrow, apically bilobed, subcoriaceous leaves distributed towards the apical half of the stem that blooms on an often large, apical, erect, paniculate infloresence carrying greenish yellow to white flowers with a 3 lobed lip and with the ovaries and sepals usually dorsally pubescent. The species has glabrous ovaries and sepals which are .26 to .32" [7 to 8 mm] long, and a straight column. Epidendrum elephantinum has strongly pubescent ovaries and sepals (dorsally), the strongly arched column, with the humped dinandrium hood, the small flowers with sepals .2 to .264" [5.0 to 6.6 mm] and the bell-shaped midlobe with the lateral margins revolute and the whole upturned so as to look like an elephant's trunk. It closely resembles Epidendrum pubiflorum from the Amazonian slope in Peru, which has oblong, apically rounded, bilobed leaves, larger flowers with sepals .36 to .44" [9 to 11 mm], and the petals .08" [2 mm] wide. Epidendrum caurense Carnevali & G. Romero has sepals .28" [7 mm] long, pale yellow-green flowers, a straight column, and an oblong midlobe. Epidendrum lanipes Lindl. has .4 to .48" [10 to 12 mm] long sepals, white, strongly fragrant flowers, a straight column, and large, sturdy stems with leaves .68 to 1" [17 to 25 mm} wide. Epidendrum purum Lindl. has glabrous ovaries and sepals, sepals.24 to .28" [6 to 7 mm] long and an arched column." Hagsater etal adapted from E elephantinum plate 734 2004
CAUTION This species is often cited as a synonym of E subpurum, but I have left it separate for now.
Synonyms
References W3 Tropicos, Kew Monocot list , IPNI ; Bonplandia Rchb.f 1854 as E subpurum; Symbolae Antillanae Vol VI Orchidaceae Urban 1909; Native Orchids of Trinidad Schultes 1960; Icones Orchidacearum 7 Plate 734 Hagsater 2004 see recognition section;
--------------------------------------------------------------------------------------------------------------------------