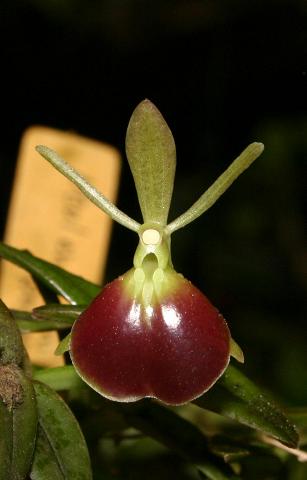 Epidendrum peperomia Rchb. f. 1854 GROUP Porpax
Photo by © Patricia Harding
Close up view of plant and flowers
Photo by © Eric Hunt, plant grown by Hanging Gardens.
Drawing of E gnomus by © Jimenez, Hágsater & E.Santiago and The AMO Herbario Website







Common Name The Peperomia-Like Epidendrum
Flower Size 3/4" to 1" [2.5 cm]
Found in Colombia and Venezuela in pine and oak forests at altitudes of 600 to 2700 meters as a dwarf, epiphytic, warm to cold growing, reedstem herb which forms large mats of clustered leafy stems carrying coriaceous-fleshy, distichous, oblong, obtuse or emarginate leaves that can bloom at any time with large, one to a few flowers on a terminal inflorescence emerging from between the apical leaves and subtended by bracts.
This species has no pseudobulbs, instead it is a stem growing to 3" [8 cm] long with a series of alternating, succulent leaves suffused with purple if given bright light.
Can be mounted on treefern or in a suspended pot with a coarse mix to allow the roots to get air. It can then grow out and over the edge of the pot and makes an impressive display when blooming. Grow warm to cold with bright light to partial full sun, ample water while growing and misting through the winter instead of a watering.
Hagsater has separated E porpax and E peperomia and states that the differences are that E peperomia has an orbicular-cordiform lip that is wider than long, has an obtuse apex and is known only from Colombia and Venezuela while E porpax has a reniform to sub-orbicular-subquadrate, slightly convex, apically rounded, shortly emarginate and erose dentate lip.
"E peperomia Rchb.f. belongs to the GROUP Porpax, which is characterized by the sympodial, somewhat repent habit, usually forming large mats, short, cane-like stems with very fleshy, succulent, articulate, distichous leaves, the apical margin minutely ciliate, single flowered inflorescence, sessile flowers, and the lip generally reddish purple. The species which is vegetatively similar to E porpax but the lip of E peperomia is orbicular-cordiform, spreading, as wide as it is long, with the apex obtuse; and known from Venezuela and Colombia. Epidendrum porpax is ver similar and is recognized by the small plants with somewhat reclining stems, the green flowers with a lustrous, convex, reddish purple lip proportionately wider than long, the apex rounded, the .34 to .52" [8.5-14 mm] long lateral sepals obliquely adnate to the column, and the linear petals, with the margin crenate-denticulate. Epidendrum lambeauanum De Wild. has larger, erect, plants, the stems with 4 to 6 lanceolate leaves .68 to 1.52" [17 to 38 mm] long, the flowers are cream-colored with the lip reddish purple, and the petals linear-oblanceolate. Epidendrum mathewsii Rchb.f. from Colombia, Ecuador and Peru has small, compact plants with erect stems, an orbicular-sub-quadrate lip with the apex obtuse, and linear, acute petals. The flowers of all these species are very similar, and thus best recognized by the vegetative habit." adapted from plate 1375 Hagsater etal 2010
Synonyms Epidendrum gnomus Schlechter 1921; Nanodes gnomus (Schltr.) Brieger 1977; Neolehmannia peperomia (Rchb. f.) Garay & Dunst. 1976;
References W3 Tropicos, Kew Monocot list , IPNI ; Bonplandia Rchb.f 1854; Bonplandia Rchb.f 1855 as E porpax; Xenia Orchidaceae Vol 3 Reichenbach 1878; Symbolae Antillanae Vol VI Orchidaceae Urban 1909 as Epidendrum porpax; Repert. Spec. Nov. Regni Veg. Beih. 6: 71 Schlechter 1919 as E peperomia; Repert. Spec. Nov. Regni Veg. Beih. 7: 250 Schlechter 1920; Repert. Spec. Nov. Regni Veg. Beih. 8: 79 Ecuador Schlechter 1921; Repert. Sp. Nov. Regni. Veg. Beih. 17: 37. Panama Schlechter 1922 as E porpax; Repert. Sp. Nov. Regni. Veg. Beih. 17: 37. Panama Schlechter 1922 as E porphyrophyllum; Repert. Spec. Nov. Regni Veg. Beih. 10: 71 Bolivia Schlechter 1922; Repert. Sp. Nov. Regni. Veg. Beih. 19: 216. Costa Rica Schlechter 1923 as E porpax; Repert. Sp. Nov. Regni. Veg. Beih. 19: 296. Costa Rica Schlechter 1923 as E porpax; Repert. Sp. Nov. Regni. Veg. Beih. 27:170 Colombia Schlechter 1924; The Genus Epidendrum Ames 1936; Orchids of Peru Vol 2 Fieldiana Schweinfurth 1959; Venezuelan Orchids Illustrated Vol 1 Dunsterville & Garay 1959 drawing fide; AOS Bulletin Vol 30 No 5 1961; AOS Bulletin Vol 36 #9 1967 as E porpax; Flora de Venezuela Foldats Volumen XV Part 3 1970 drawing fide; Fieldiana Biology, Vol 33, 1st Supple. to the Orchids of Peru Schweinfurth 1970; Orquideologia Vol 12 No 1 1977 as Neolehmannia peperomia photo fide; Die Orchideen 3 Auflage Bd 1 Sonderabdruck aus Schlechter Lieferung 9 513 - 576 Brieger, Maatsch and Senghas 1977 as E porpax photo fide; Orchids of Venezuela, An Illustrated Field Guide Vol 2 Dunsterville & Garay 1979 as Neolehmannia peperomia drawing fide; Miniature Orchids Northen 1980 as Neolehmanniana porpax; Orchid Digest Vol 46 No 4 1982 photo fide as Epidendrum porpax; AOS Bulletin Vol 52 No 1 1983 photo not = E perperomia; Icones Planetarum Tropicarum plate 883 Dodson 1983 as Neolehmannia porpax drawing fide; Icones Planetarum Tropicarum Series II Orchids of Bolivia plate 0332 Dodson & Vasquez 1989 drawing fide; Orchids Travel By Air A Pictoral Safari Mulder, Mulder-Roelfsema and Schuiteman 1990 photo fide; Native Colombian Orchids Vol 2 COS 1991 as E porpax photo fide; Field Guide to the Orchids of Costa Rica and Panama Dressler 1993; Manual Of Orchids Stewart 1995; Guatemala Y Sus Orquideas Behar & Tinschert 1998 photo fide; Orchids of Venezuela [An illustrated field guide] Vol. 1 Ramiro and Carnevali 2000 drawing fide; Rudolf Schlechter Die Orchideen Lieferung 42/3 2001 as Neolehmannia peperomia; Icones Orchidacearum Peruviarum Plate 658 Bennett & Christenson 2001 see recognition section; AOS Bulletin Vol 72 No 11 2003 photo fide; Manual de las Plantas de Costa Rica Vol 3 Hammel, Grayum, Herrera and Zamora 2003; Orchids of Bolivia Vol 2 Laelinae Vasquez and Ibisch 2004drawing fide; ; Icones Orchidacearum 7 Plate 739 Hagsater & Sanchez 2004 see recognition section as E gnomus; AOS Bulletin Vol 74 No 3 2005 photo fide; Vanishing Beauty; Native Costa Rican Orchids Vol 1 Pupulin 2005 as Epidendrum porpax; Orchids of Mexico Hagsater, Soto, Salazar, Jimenez, Lopez and Dressler 2005; Miniature Orchids Frownie 2007 photo fide; AOS Bulletin Vol 77 No 11 2008; Icones Orchidacearum Vol 11 Plate 1128 Hagsater & Sanchez 2008 as E gnomus; Orchid Species of Peru Zelenko Bermudez 2009 photo fide; Mille et Une Mini Orchideees Roguenant 2009 photo fide; Orchids of Costa Rica Vol 3 Morales 2009 as E porpax photo fide; Icones Orchidacearum 13 Plate 1375 Hagsater & Sanchez 2010 See recognition section; Orquideologia 28: 1 Ortiz & Hagsater 2011 as E porpax photo fide; Las Orquideas del Peru Izerskyy & Bezverhov 2011 as E mathewsii photo fide; An Illustrated Field Guide to the Orchids of the Yotoco Forest Reserve Colombia Kolanowska, Escobar, Sanchez & Szlachetko 2011 drawing/photo fide; AOS Bulletin Vol 81 #1 2012 photo fide; Miniature Orchids, A Compendium Parsons and Gerritson 2013 photo fide; Le Petit Larousse des Orquidees Lecoufle, Barthelemy and Schmidt 2013 photo fide; Boletim CAOB No 94 2014 photo fide; Orquideas, Tesoro de Colombia Vol 2 Ortiz & Uribe 2017 as E porpax drawing/photo fide; Icones Orchidacearum 16[1] Plate 1615 Hagsater & Santiago 2018 See Recognition section; Icones Orchidacearum 16[1] Plate 1633 Hagsater & Santiago 2018 See recognition section; Icones Orchidacearum 16[1] Plate 1640 Hagsater & Sanchez 2018 See recogniton section; Icones Orchidacearum 16[1] Plate 1643 Hagsater & Sanchez 2018 see recognition section; Orchid Genera and Species in Guatemala Archila, Szlachchetko, Chiron, Lipinska, Mystkowska and Bertolini 2018; Icones Orchidacearum 16[2] Plate 1682 Hagsater & Sanchez 2018 see recognition section; AOS Bulletin Vol 89 #1 2020 photo fide
--------------------------------------------------------------------------------------------------------------------------