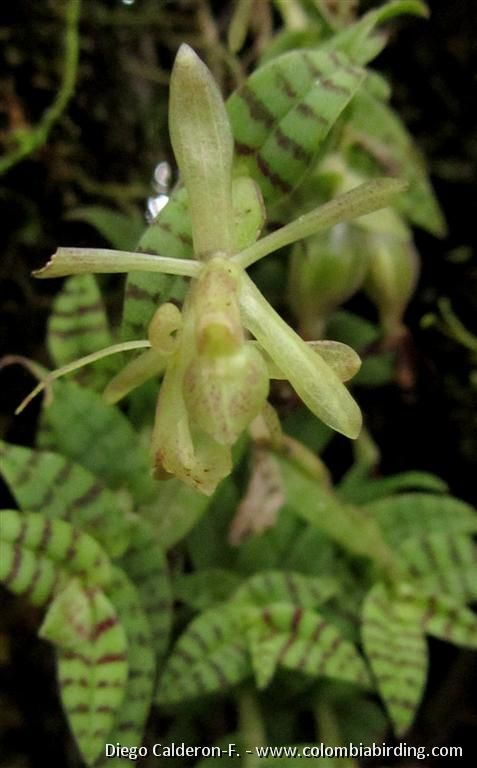 Epidendrum stanhopeanum Kraenzl. 1897 GROUP Megalospathum Photo by © Diego Calderon and his Colombia Birding and Orchid Photo Website
Plant and flowers in situ Jardin Antioquia 5/14? Photos by © Jay Pfahl
Plant in situ Antioquia Photo by © Sebastian Vieira and his Flickr Orchid Photo Website



Common Name Stanhope's Epidendrum [English Earl and Head of Royal Horticultural Society 1800's]
Flower Size
Found in Jardin, Antioquia Colombia at elevations around 2300 meters as a miniature sized, cold growing epiphyte with a lateral to pendent stem enveloped by sheaths carrying ovate, acute, olive green with red brown bars, basally clasping leaves that blooms in the spring on a terminal, short, 2 flowered inflorescence.
CAUTION The first photo may be more correct than the photos that I took. Eric Hagsater [pers. comm.] thinks that my photos may be another similar orchid within the Megalospathum group but as yet we do not know which one.
E stanhopeanum, E obliquifolium, E escobarianum and E tigrifolium all have the greyish green leaves with the transverse maroon bars which is uncommon within Epidendrum.
Synonyms
References W3 Tropicos, Kew Monocot list , IPNI ; Repert. Spec. Nov. Regni Veg. Beih. 7: 252 Schlechter 1920; Native Colombian Orchids COS Vol 2 1991 photo fide; Orquideas, Tesoro de Colombia Vol 2 Ortiz & Uribe 2017 drawing/photo fide;
--------------------------------------------------------------------------------------------------------------------------