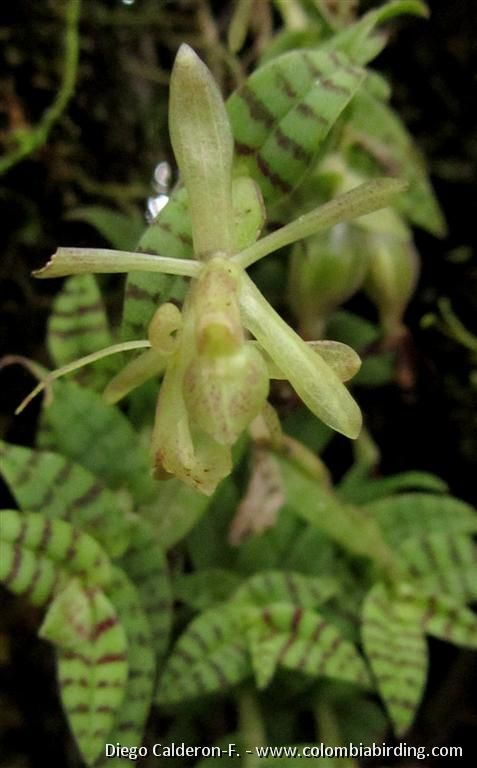 Epidendrum stanhopeanum Kraenzl. 1897 GROUP Megalospathum SUBGROUP Tigriphyllum
Photo by © Diego Calderon and his Colombia Birding and Orchid Photo Website
Plant and flowers in situ Jardin Antioquia 5/14?
Photos by © Jay Pfahl
Photo by © Sebastian Vieira and his Flickr Orchid Photo Website



Common Name Stanhope's Epidendrum [English Earl and Head of Royal Horticultural Society 1800's]
Flower Size
Found in Jardin, Antioquia department of Colombia at elevations around 2300 meters as a miniature sized, cold growing epiphyte with a lateral to pendent stem enveloped by sheaths carrying ovate, acute, olive green with red brown bars, basally clasping leaves that blooms in the spring on a terminal, short, 2 flowered inflorescence.
CAUTION The first photo may be more correct than the photos that I took. Eric Hagsater [pers. comm.] thinks that my photos may be another similar orchid within the GROUP Megalospathum SUBGROUP Tigriphyllum but as yet we do not know which one.
E stanhopeanum, E obliquifolium, E escobarianum and E tigrifolium all have the greyish green leaves with transverse maroon bars which is uncommon within Epidendrum.
"Epidendrum stanhopeanum belongs to the GROUP Megalospathum SUBGROUP Tigriphyllum, recognized by the prominent spathe, few, resupinate flowers, the column united to the lip. The species has somewhat larger flowers, the sepals .52 x .02" [13 x 5 mm] and the reniform lip .4 x .6" [10 x 15 mm]; it was collected around Ocańa in northeastern Colombia (no specimen has been found, the type was apparently destroyed). Epidendrum posadarum has grayish-green, pendant plants with purple bars across the leaves, semiovate spathe, grayish-green flowers, the column and ovary dotted with purple, lip cordiform with entire margin, and linear, 3-veined petals. Epidendrum calacaliense Hágsater & Dodson has yellow flowers, a reniform, bicallose lip and the nectary does not penetrate the ovary which is therefore not swollen. E escobarianum Garay has larger flowers, and a glossy, deep red, acuminate lip. Epidendrum platypetalum Hágsater has very wide petals .74 x 3.04" [18.5 x 7.7 mm] and a short column and the lip has two small, globose calli and a ventral low keel." Adapted from E posadarum Icones 4 Plate 474 Hagsater etal 2001
Synonyms
References W3 Tropicos, Kew Monocot list , IPNI ; Repert. Spec. Nov. Regni Veg. Beih. 7: 252 Schlechter 1920; Native Colombian Orchids COS Vol 2 1991 photo fide; Icones Orchidacearum 3 Plate 370 Hagsater 1999 see recognition section; Icones Orchidacearum 3 Plate 387 Hagsater 1999 see recognition section; Icones Orchidacearum 4 Plate 422 Hagsater 2001 see recognition section; Icones Orchidacearum 4 plate 474 Hagsater & Sanchez 2010 see recognition section; Orquideas, Tesoro de Colombia Vol 2 Ortiz & Uribe 2017 drawing/photo fide; Icones Orchidacearum 18(1) plate 1829 2020 see recognition section
--------------------------------------------------------------------------------------------------------------------------