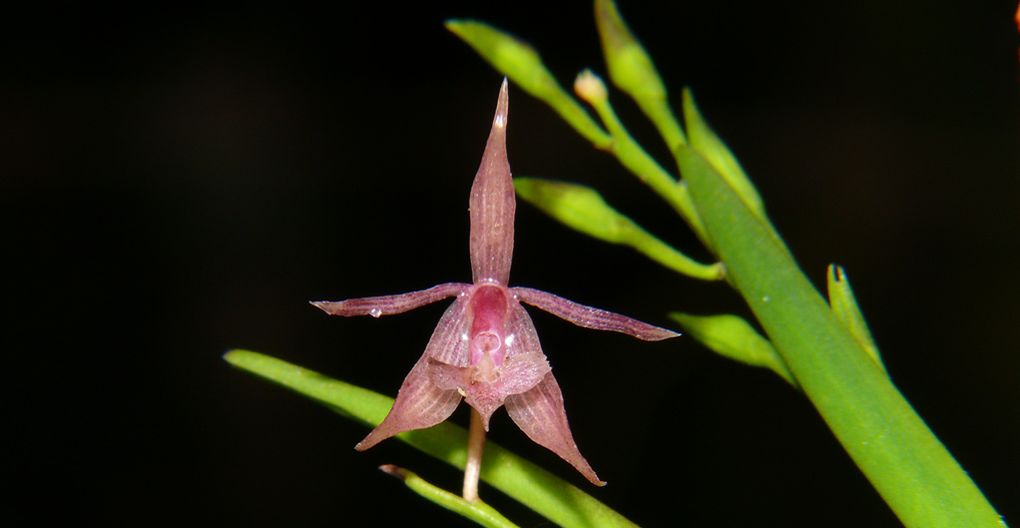 Epidendrum tipuloideum Lindl. 1853 GROUP Tipuloideum
Photo by © J Camilo Farfan and his Flicker Photo site
Photo by © Pieter C. Brouwer and his Nature Photo Website



THROUGH

Common Name The Spider-Like Epidendrum
Flower Size .8" [2 cm]
Found in Venezuela and Colombia at elevations around 1100 meters as a small sized, cool growing epiphyte with elongate, cylindrical, terete, green, dark brown to purple brown, noded, each node slightly swollen in the middle pseudobulbs with a few white sheaths and carrying 1 to 2, green, linear, acute, conduplicate below into the base leaf that blooms on a terminal, smooth, terete, pale green, 2" [5 cm] long, erect, one to few flowered, racemose inflorescence.
"Epidendrum tipuloideum is part of GROUP Tipuloideum characterized by the caespitose, sympodial habit, 1-2 apical leaves on a short stem, grass-like to thickened and fleshy to semi-terete, a short, racemose inflorscence, the flowers green, petals narrower than the sepals, and deeply 3-lobed lip. The species is from the Sierra de los Andes in Venezuela and Colombia and is closely allied to Epidendrum costanense which is restricted to the Cordillera de la Costa in Venezuela but can be distinguished by the heart-shaped, entire, ecallose lip with 5 to 7, basal, low keels; the flowers appear to be always light green or yellowish, without reddish or brown lines. Epidendrum tipuloideum has a clearly 3 lobed lip and a pair of basal, subglobose calli, sometimes extending into short, low keels, and a central low keel, The flowers are generally described as having light red-brown lines and small points or suffusion, especially on the sepals and petals. The shape of the lip is very easily recognized in both live and pressed specimes. Specimens cited from Peru belong to a different unidentifiesd species." Adapted from E costanense Icones 2 Plate 124 Hagsater etal 1993
In Peru, according to Schweinfurth, these plants are found on rocks at higher elevations up to 2300 meters. I have not seen myself any specimens from Peru so I can not determine if they may be a different species or the same. The descriptions are very similar between the two references. Hagsater 1999 [under E costastanense plate 124] states that all specimens from Peru are most likely another undescribed species.
Synonyms Epidendrum broadwayi Ames & C.Schweinf 1932
References W3 Tropicos, Kew Monocot list , IPNI Repert. Spec. Nov. Regni Veg. Beih. 6: 73 Schlechter 1919; Venezuelan Orchids Illustrated Vol 1 Dunsterville & Garay 1959 drwaing fide; Native Orchids of Trinidad Schultes 1960; Fieldiana Biology, Vol 33, 1st Supple. to the Orchids of Peru Schweinfurth 1970; Flora de Venezuela Volumen 15 Parte 3 Foldats 1970 drawing fide; Orchids of Venezuela An Illustrated Field Guide Vol 1 Dunsterville & Garay 1979 drawing ok to the 1st photo; Icones Orchidacearum 2 Plate 124 Hagsater & Sanchez 1990 see recognition section; Orchids Travel By Air A Pictoral Safari Mulder, Mulder-Roelfsema and Schuiteman 1990 photo good; Icones Orchidacearum 2 Plate 124 Hagsater & Sanchez 1993 see recognition section; Orchids of Venezuela [An illustrated field guide] Vol. 1 Ramiro and Carnevali 2000 drawing fide; Orquideas Nativas del Tachira Cesar Fernandez 2003 photo fide; Orquideas, Tesoro de Colombia Vol 2 Ortiz & Uribe 2017; Icones Orchidacearum 17(1) Plate 1791 Hagsater & Jimenez 2019 see recognition section;
----------------------------------------------------------------------------------------------------------