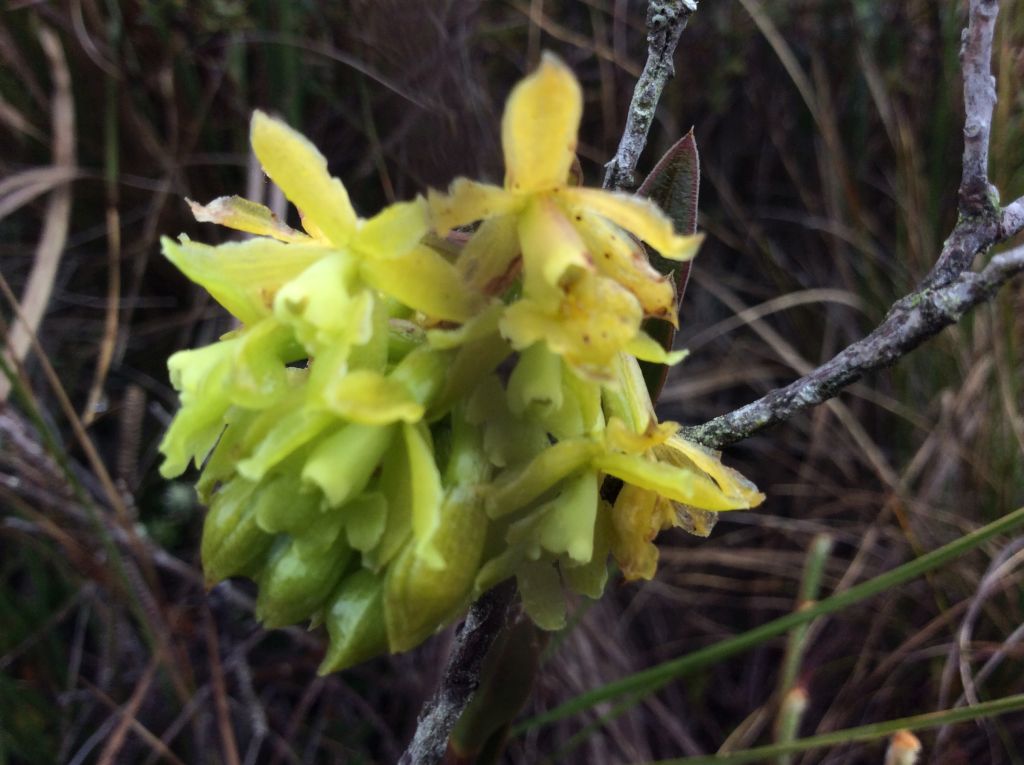 Epidendrum zipaquiranum Schltr.1920 GROUP Andean SUBGROUP Cernuum
Side View closeup in situ Cundinamarca 6/20
Lip Detail in situ Cundinamarca 6/20
Photos by © Jay Pfahl
Photo by © Rudy Bachmann from Slo Orchids.
Photo by © Rafael Robles and Laura Sarmiento and the Orquideas Colombianas Website
TYPE Drawing by © Jimenez, Hágsater & E.Santiago and The AMO Herbario Website







Common Name The Zipaquira' Epidendrum [A town in Cundinamarca Colombia]
Flower Size .6" [1.5 cm]
Found in Cundinamarca department of Colombia at elevations around 2600 to 3000 meters as a large to giant sized, cold growing terrestrial with a with simple to more usually branching sub-apically, cane-like terete, erect stems entirely enveloped by close, tubular leaf sheaths and carrying numerous on the main stem, 9 to 20 on the secondary branches, articulate, distichous, all along the stem, coriaceous, sub-erect, unequal in size, main stem larger leaves that blooms at any time of the year on a terminal, shortly pedunculate, 3" [7.5 cm] long, deflexed, densely successively 8 to 12, 20 to 35 flowered inflorescence with prominent, lanceolate, acute, amplexicaul floral bracts and carrying fragrant, fleshy, greenish yellow to yellowish cream flowers.
Often cited as a synonym of E chioneum but it differs in always having snow white, non-fragrant flowers.
"Epidendrum zipaquiranum belongs to the GROUP Andean SUBGROUP Cernuum, characterized by the monopodial habit, cane-like stems with sub-apical branching, the branches shorter than the main stem, coriaceous to subcoriaceous leaves, fleshy flowers and entire or 3-lobed lip. The species is recognized by the sub-apical branches nearly parallel to the main stem, coriaceous, lanceolate, acute, apiculate leaves, yellowish cream to greenish yellow, fragrant flowers. It has often been treated as a synonym of E chioneum Lindl., which is vegetatively similar but has snow-white, non fragrant flowers. Epidendrum kirkbridei Hágsater & E.Santiago has apically rounded, obtuse leaves, the pink flowers with white calli, and small floral bracts, ca .24" [6 mm] long. Epidendrum torquatum Lindl. has oblong-lanceolate leaves with a rounded apex, larger flower with the sepals .6" [15 mm] long, the lateral lobes of the lip as large as the midlobe, with a single keel on the midlobe. Epidendrum jaramilloi Hágsater & Dodson has narrowly lanceolate leaves with the apex rounded and bilobed, somewhat larger sepals .36 to .52" [9 to 13 mm] long), green to greenish yellow flowers, with the dorsal surface tinged purple brown. The latter two are apparently endemic to Ecuador." Hagsater etal 2090
Synonyms
References W3 Tropicos, Kew Monocot list , IPNI ; *Repert. Spec. Nov. Regni Veg. Beih. 7: 154 Schlechter 1920; Repert. Spec. Nov. Regni Veg. Beih. 7: 253 Schlechter 1920; Beitrage Zur Orchideenkunde Von Colombia 27:78 Schlechter 1924; Repert. Spec. Nov. Regni Veg. Beih. Figuren-Atlas 57: 210 Schlechter 1929 drawing fide; Icones Orchidacearum 7 Plate 729 Hagsater and Sanchez 2004 see recognition section; Icones Orchidacearum 12 Plate 1205 Hagsater 2009 see recognition section; Icones Orchidacearum Part 12 Plate 1221 Hagsater 2009 see recognition section; Icones Orchidacearum Part 12 Plate 1257 Hagsater 2009 see recognition section; Icones Orchidacearum Part 12 Plate 1275 Hagsater 2009 see recognition section; Icones Orchidacearum Part 12 Plate 1300 Hagsater 2009 drawing fide; Icones Orchidacearum 15 [2] Plate 1582 Hagsater & Sanchez 2016 see recognition section; Orquideas, Tesoro de Colombia Vol 2 Ortiz & Uribe 2017 drawing/photo fide;
----------------------------------------------------------------------------------------------------------