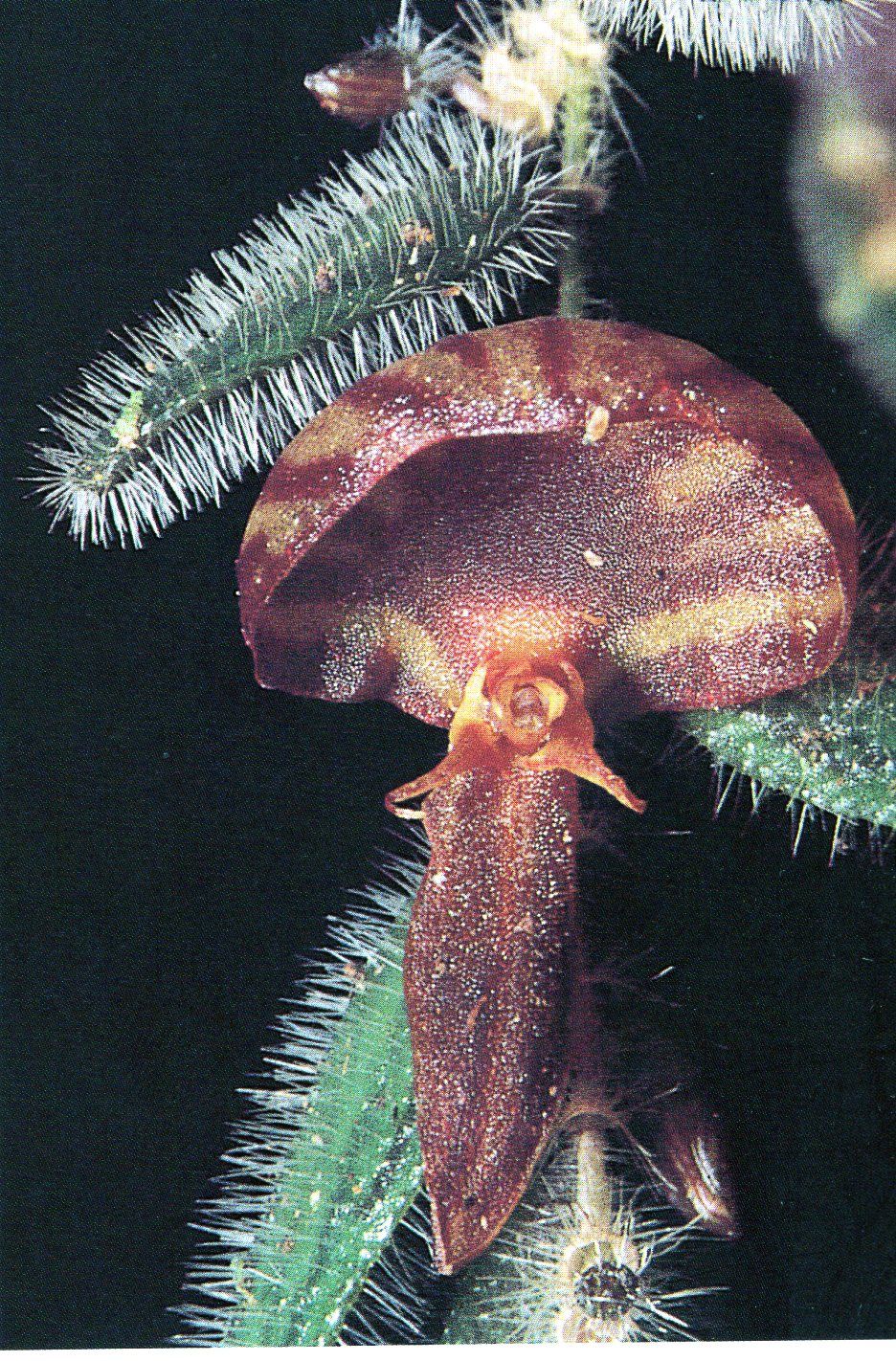 Lepanthes erepsis Luer & Hirtz 1986 SUBGENUS Brachycladium SECTION Amplectentes Photo by © Alexander Hirtz
Another Flower, petals way biggger and concave?
Another Angle? Photos by © Milan Vagner



and

Common Name or MeaningThe Roof Lepanthes [alluding to the broad, concave dorsal sepal]
Flower Size .4" [1 cm]
Found in southern Ecuador in cloud forests on the eastern slopes at elevations of 2000 to 2450 meters as a small to medium sized cold growing epiphyte with pendant, ocasionally branching, to 12" [30 cm] long chain of slender ramicauls enveloped by a close, lepanthiform sheath and carrying a single, apical, pendant, coriaceous, long-pubescent, elliptical, subacute to obtuse, the rounded base cuneate into the petiolate base leaf that blooms in the spring and fall on an ascending .4" [1 cm] long, single flowered inflorescence
CAUTION The photos by Milan Wagner show a similar species but it differs in the elongate, concave, hirsute margin petals, and the widely open lip, as of yet I do not know what species it may represent.
Synonyms Brachycladium erepse (Luer & Hirtz) Luer 2005; Neooreophilus erepsis (Luer & Hirtz) Archila 2009; Oreophilus erepsis (Luer & Hirtz) Archila 2009; Penducella erepsis (Luer & Hirtz) Luer 2010
References W3 Tropicos, Kew Monocot list , IPNI ; Icones Pleurothallidinarum Vol X Luer 1994 drawing fide to the first photo; Native Ecuadorian Orchids Vol 2 2001 drawing/photo fide to the first photo; Icones Pleurothallidinarum Vol Vol XXVII Luer 2005 as Brachycladium erepsis; AOS Bulletin Vol 75 No 5 2006 photo; Orchid Species of Peru Zelenko Bermudez 2009 photo fide; Flora of Ecuador No 88 Lepanthes and affiliates Dodson & Luer 2011 as Penducella erepsis drawing fide to the first photo
--------------------------------------------------------------------------------------------------------------------------