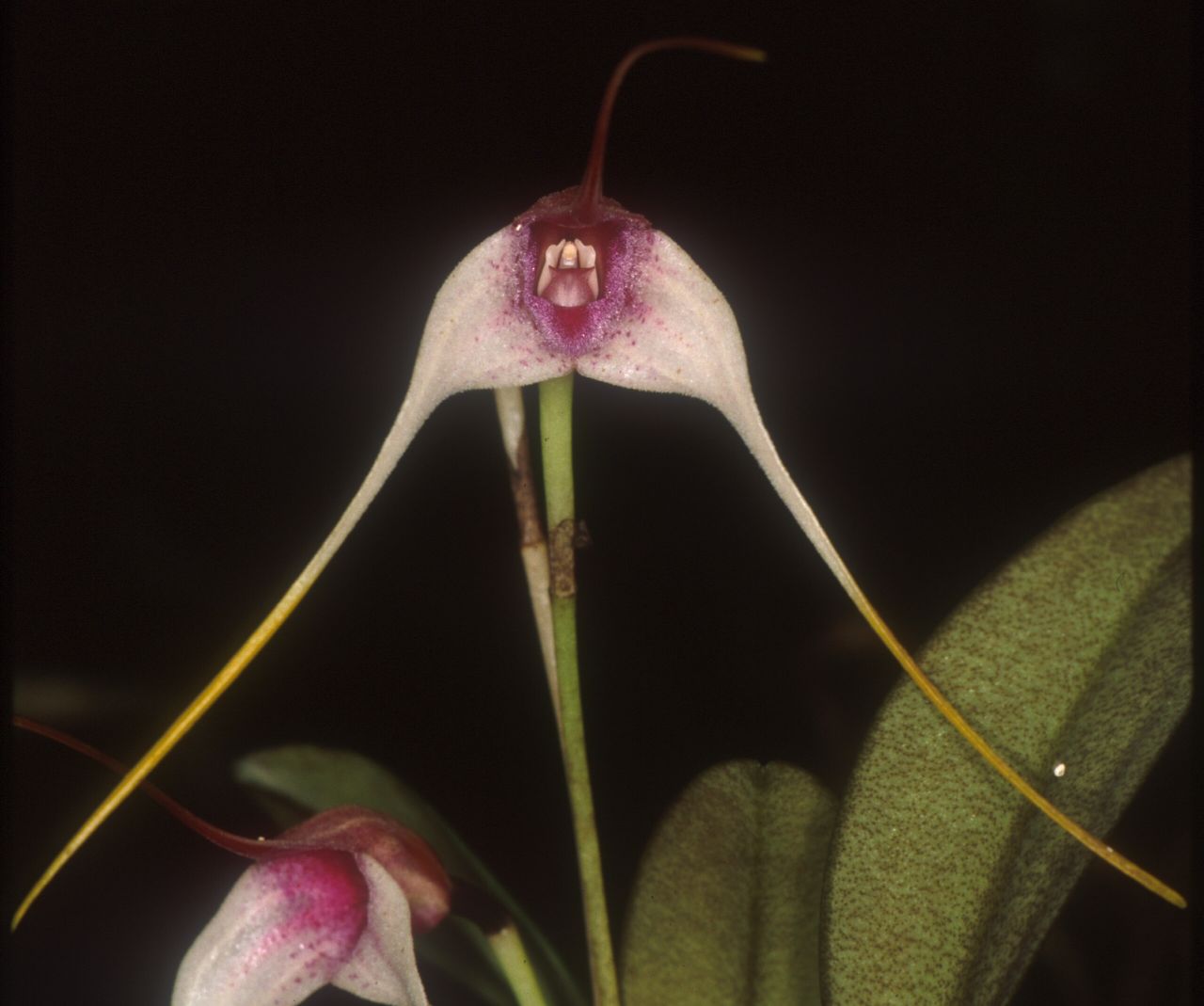 Masdevallia figueroae Luer 1978 SUBGENUS Masdevallia SECTION Masdevallia SUBSECTION Masdevallia
Flower Closeup Photos by © Lourens Grobler.


to




Common Name Figueroa's Masdevallia [Codiscoverer of Species - Ecuadorian current]
Flower Size 1 1/5" [3 cm]
Found in Colombia, Ecuador and Peru in cloud forests at altitudes of 2000 to 3000 meters as a small sized, cold growing epiphytic, species with erect, stout ramicauls enveloped basally by 2 to 3 loose, imbricate, tubular sheaths carrying a single, apical, erect, coriaceous, laterally veined, petiolae, elliptical, subacute leaf with the base cuneate into the channeled petiole that blooms in the fall winter and spring on a erect, slender, 3 1/5" to 3 3/5" [8 to 9 cm] long inflorescence from high on the ramicaul from an annulus that often has previous dead inflorescence, with a bract near the base, a tubular floral bract and holds its single, showy flower amid or just above the leaves.
This species is distinguished by having successive single flowered inflorescence arising from the middle of the ramicaul from an annulus and petiolate leaves. The sepals are pale rose, flecked with purple and are connate into the cylindrical tube and are also suffused and striped with purple along the midveins. The broad petals are speckled with purple and are callous on the labellar half with an obtuse, basal tooth. The slightly pandurate lip is shallowly channeled between a pair of longitudinal calli, and an apical callus as well as a cleft base.
Superficially similar to M ecallosa but it differs from the various shapes and sizes of M figueroae with a very short ramicaul; smaller flowers with shorter tails, those of the lateral sepals being much shorter than the blades; petals with a well-developed longitudinal callus terminating in a retrorse basal process; and a simple lip without a callus." Luer 2012
References W3 Tropicos, Kew Monocot list , IPNI ; Systematics of Masdevallia Vol 2 Luer 1986; Orchids Travel By Air A Pictoral Safari Mulder, Mulder-Roelfsema and Schuiteman 1990 photo fide; Icones Pleurothallidinarum XXII Systematics of Masdevallia Part 3 Luer 2001 drawing fide; Native Ecuadorian Orchids Vol 3 Dodson 2002 photo ok; Orchid Digest Vol 72 No 4 2008 photo fide; Orchid Species of Peru Zelenko Bermudez 2009 photo fide; Orchidaceae Masdevallia and Affiliates Dodson & Luer 2009 drawing ok; Harvard Papers in Botany, Vol. 17, No. 2, pp. 333 to 368 2012 MISCELLANEOUS NEW SPECIES IN THE PLEUROTHALLIDINAE (ORCHIDACEAE) Carlyle A. Luer
--------------------------------------------------------------------------------------------------------------------------