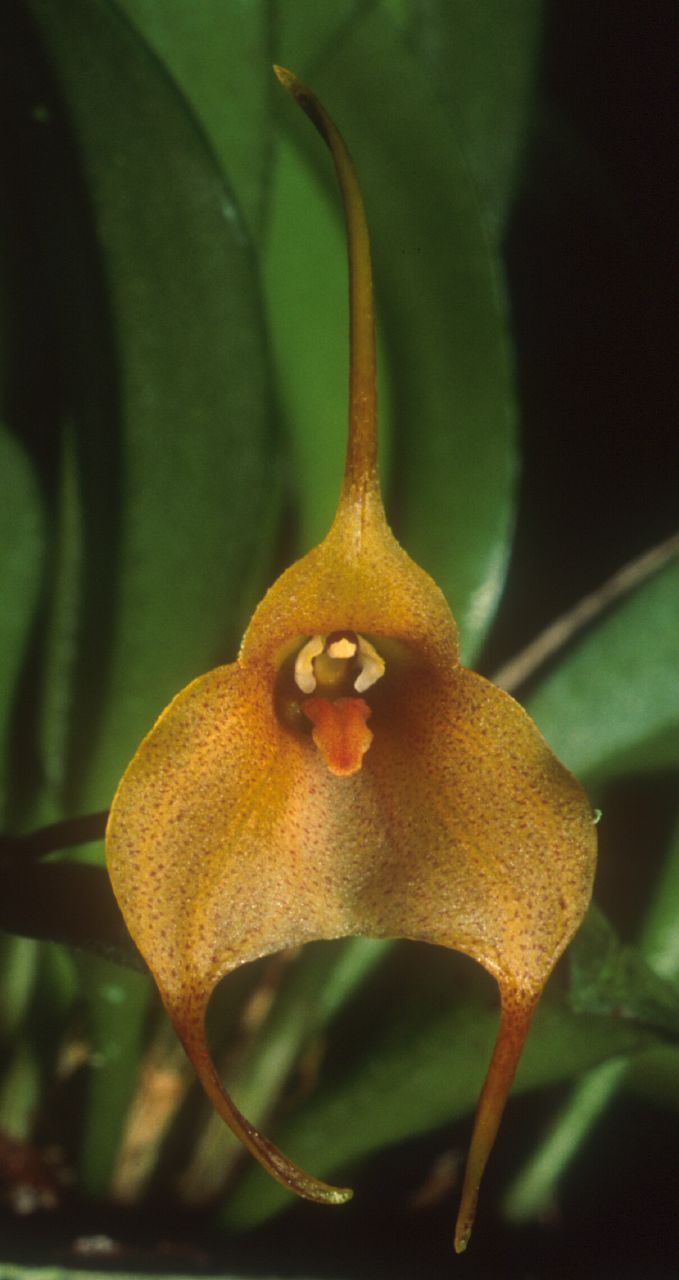 Masdevallia floribunda Lindl. 1843 SUBGENUS Masdevallia SECTION Minutae Rchb.f Ex Woolw. 1896
Maroon variety- Masdevallia tuerckheimii
Photos by Lourens Grobler.


to

LATE

to EARLY

Common Name The Easy-Blooming Masdevallia
Flower Size about 1" [to about 2.2 cm]
This is a mini-miniature to small sized, cool to hot growing, tufted, epiphytic species from Belize, Mexico to Costa Rica and the Caribbean that is found at elevations of 400 to 1500 meters in damp forests with erect, slender ramicauls enveloped basally by 2 to 3 close, thin tubular sheaths carrying a single, apical, oblong-lanceolate, petiolate leaf and blooms with a 3 to 5" [7.5 to 13 cm] long, slender, decumbent to erect inflorescence arising from low on the ramicaul holding the single flower [often followed by a second] just above leaf height and occuring from June through September.
Grow this one hot to cool, with moderate light and high humidity and either potted or mounted.
Synonyms Acinopetala floribunda (Lindl.) Luer 2006; Masdevallia floribunda f. lindeniana (A.Rich. & Galeotti) O.Gruss & M.Wolff 2007; Masdevallia floribunda var. myriostigma E.Morren 1873; Masdevallia galeottiana A. Rich & Galleotti 1845; Masdevallia lindeniana A. Rich & Gal. 1845; Masdevallia myriostigma C. Morr. 1869-70;
References W3 Tropicos, Kew Monocot list , IPNI ; Lankester's Epidendra Website CR ; Die Orchideen Schlechter 1915; Encyclopedia of Cultivated Orchids Hawkes 1965; AOS Bulletin Vol 52 No 6 1983 photo; Systematics of Masdevallia Vol 2 Luer 1986; An Introdution to the Orchids of Mexico Wiard 1987 photo fide; Icones Orchidacearum I Plate 60 Hagsater & Salazar 1990 as M tuerckheimii drawing fide; The Manual Of Cultivated Orchid Species Bechtel, Cribb & Launert 1992; AOS Bulletin Vol 67 No 1 1998 photo; Icones Pleurothallidinarum XXII Systematics of Masdevallia Part 3 Luer 2001 drawing fide; Manual de Plantas de Costa Rica Vol 3 Hammel, Grayum, Herrera and Zamora 2003; AOS Bulletin Vol 73 No 7 2004 photo; Algunas Orquideas de Oaxaca Suarez 2004 photo fide; AOS Bulletin Vol 74 No 3 2005 photo; AOS Bulletin Vol 74 No 10 2005 photo; Orchid Digest Vol 70 #2 2006 photo fide; Icones Pleurothallidinarum Vol XXVIII Luer 2006 as Acinopetala floribunda ; AOS Bulletin Vol 10 2008 photo; Orchid Digest Vol 72 No 4 2008 photo fide; Mille et Une Mini Orchideees Roguenant 2009 photo fide; Guia de Orquideas de Chiapas Carlos Rommel Beutelspacher Baigts 2013 photo fide; Algunas Orquideas de Mexico Tomo 1 Suarez 2013 photo fide
--------------------------------------------------------------------------------------
----------------------------------------------------------------------------------------------------------------