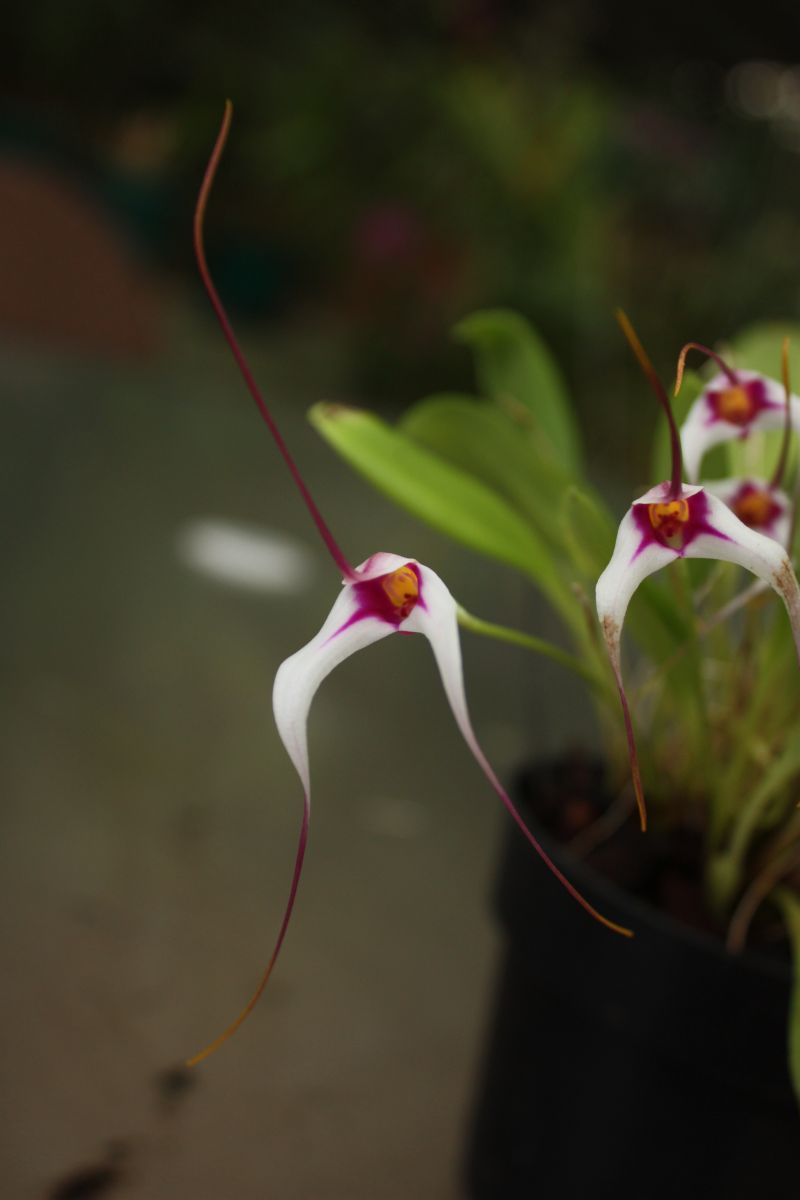 Masdevallia gilbertoi Luer & R. Escobar 1978 SUBGENUS Masdevallia SECTION Masdevallia SUBSECTION Masdevallia
Another Angle Photos by © Jay Pfahl.
Specimen Plant Photo by © Greg Allikas.
Flower Closeup Photo by © Eduoard Faria.




Common Name Gilberto's Masdevallia [Sr Gilberto Escobar Colombian Orchid Enthusiast late 1900's]
Flower Size 1 1/4 to 1 1/2" [3 to 4 cm]
Found in the department of Risaralda in Colombia on the western cordillera in cloud forests at elevations of 1400 to 2000 meters as a miniature sized, cool growing epiphyte on mossy trees with a slender, erect, blackish ramicaul enveloped basally by 2 to 3 loose, tubular sheaths carrying a single, apical, erect, coriaceous, long-petiolate, elliptical, subacute to obtuse leaf that is narrowly cuneate below into the petiole that blooms in the summer fall on a suberect, 4" [11 cm] long, slender, single flowered inflorescence arising from low on the ramicaul with a bract near the base and a thin, tubular floral bract holding the flowers above the leaves. This plant is a cold to warm growing species that likes constant high humidity, moderate shade, good air circulation and potted in a chopped mixture of tree fern, fir bark, perlite and sphagnum moss. This species is distinguished from others by the long, forward pointing tail of the dorsal sepal and the long, crossed, reflexed tails of the lateral sepals.
References W3 Tropicos, Kew Monocot list , IPNI ; *Orquideologia Vol 13 No 1 1978 photo/drawing/herbarium sheet fide; Systematics of Masdevallia Vol 2 Luer 1986; Native Colombian Orchids Vol 2 COS 1991 photo fide; Icones Pleurothallidinarum XXII Systematics of Masdevallia Part 3 Luer 2001 drawing fide; Orquideologia Vol 24 #1 2005 photo fide; Libro Rojo de Plantas De Colombia Vol 6 Primera Parte Saenz 2007 photo fide;
--------------------------------------------------------------------------------------------------------------------------