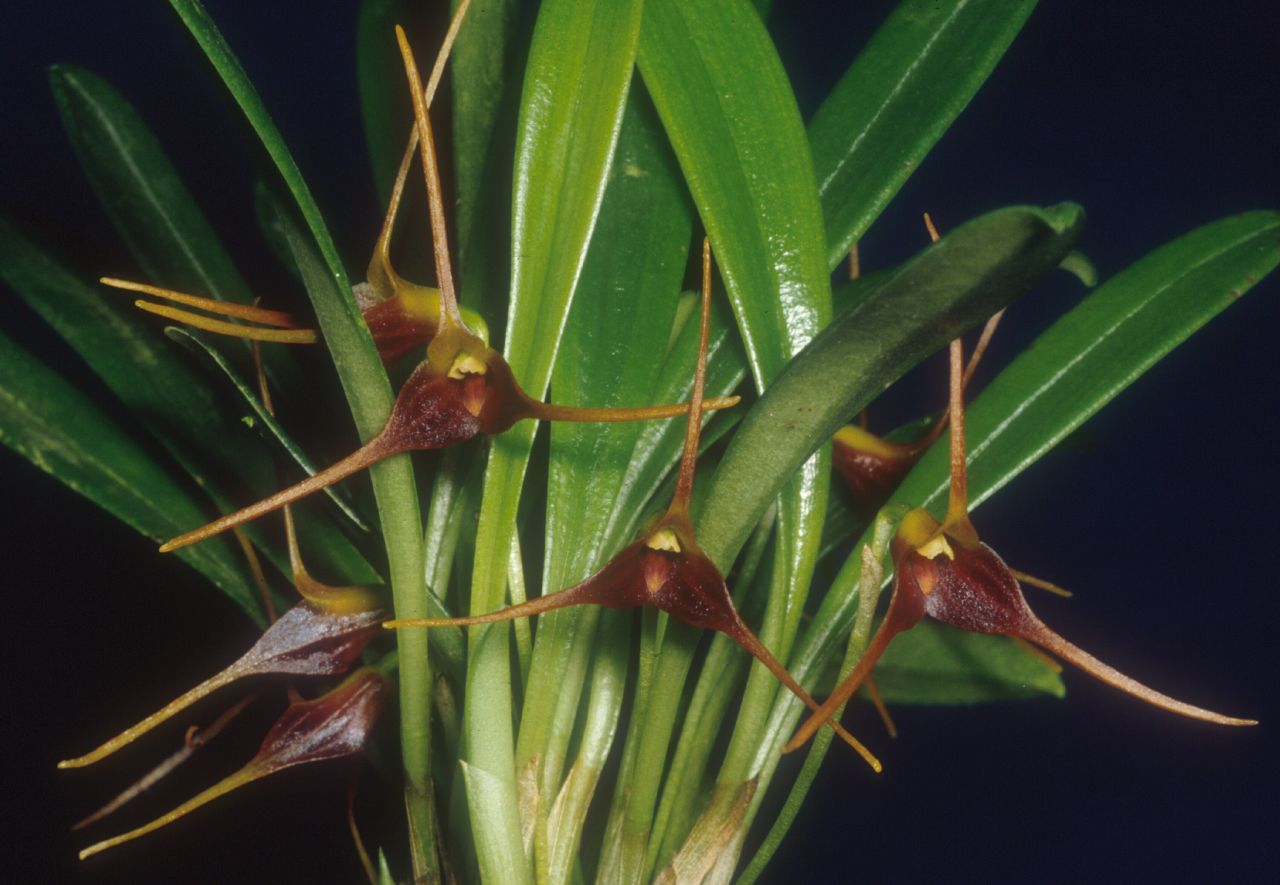 Masdevallia herradurae F. Lehm. & Kraenzl. 1898 SUBGENUS Masdevallia SECTION Minutae Rchb.f Ex Woolw. 1896
Photo courtesy of © Lourens Grobler .
Photo courtesy of Patricia Harding
Photos by © Eric Hunt



to


Common Name The Horse-Shoe Masdevallia
Flower Size 2" [5 cm]
Found in Colombia and Ecuador in the central and western cordillera where it grows on mossy trees at elevations of 500 to 2100 meters as a mini-miniature sized, warm to cold growing epiphyte with slender, erect ramicauls enveloped basally by 2 to 3 loose, tubular sheaths carrying a single, apical, erect, coriaceous, narrowly obovate, acute leaf that is gradually narrowed below into an indistinct petiole and blooms in the fall on a slender, erect, 1 to 2" long inflorescence from low on the ramicaul, with a bract below the middle, and a tubular floral bract carrying a solitary, stale coconut scented flower per inflorescence held at or below leaf height. This is a floriferous species and old leaves can have new flowers year after year. A fast growing, cool to warm growing epiphyte that needs year round moisture, moderate light, and a pot with an open medium of treefern, sphagnum, perlite and pine or fir bark.
Synonyms Acinopetala herradurae (F. Lehm. & Kraenzl.) Luer 2006; Masdevallia frontinoensis Kraenzl. 1921
References W3 Tropicos, Kew Monocot list , IPNI ; Thesarus Masdevalliarum Vol 1 Luer & Treschslin 1983 watercolor fide; Systematics of Masdevallia Vol 2 Luer 1986; Icones Pleurothallidinarum XXII Systematics of Masdevallia Part 3 Luer 2001 drawing fide; AOS Bulletin Vol 72 No 11 2003 photo fide; Orquideologia Vol. 23 No 1 2004 photo fide; Orquideologia Vol 24 #1 2005 photo fide; Icones Pleurothallidinarum Vol XXVIII Luer 2006 as Acinopetala herradurae; Libro Rojo de Plantas De Colombia Vol 6 Primera Parte Saenz 2007; AOS Bulletin Vol 78 #4 2009 photo fide; Mille et Une Mini Orchideees Roguenant 2009 photo fide; AOS Bulletin Vol 85 #10 2016 photo fide; AOS Bulletin Vol 86 #9 2017 photo fide; The Orchid Review Vol 127 No 1328 December 2019 photo fide;
--------------------------------------------------------------------------------------------------------------------------